California Car Accident Lawyer
As we travel the roads and freeways in California each day, we usually trust that we will arrive at our destination without incident. Yet every day, careless drivers cause hundreds of accidents on California roads which lead to countless injuries and fatalities.
Fortunately, accident victims are able to file a claim against the other driver's insurance in order to cover the cost of medical bills, lost wages, and other financial damages caused by the accident.
Maison Law was founded by Martin Gasparian to protect innocent drivers in the aftermath of these difficult situations. Mr. Gasparian worked for large, nationwide corporations for a decade and got a first-hand lesson in how insurance companies maneuver for their own benefit and never for the benefit of the accident victim who has suffered and sometimes continues to suffer. Mr. Gasparian then started his own law firm to give accident victims in California a voice and to make sure they are informed of their rights and given the power to demand what's fair. These are things an insurance agent definitely won't tell victims about.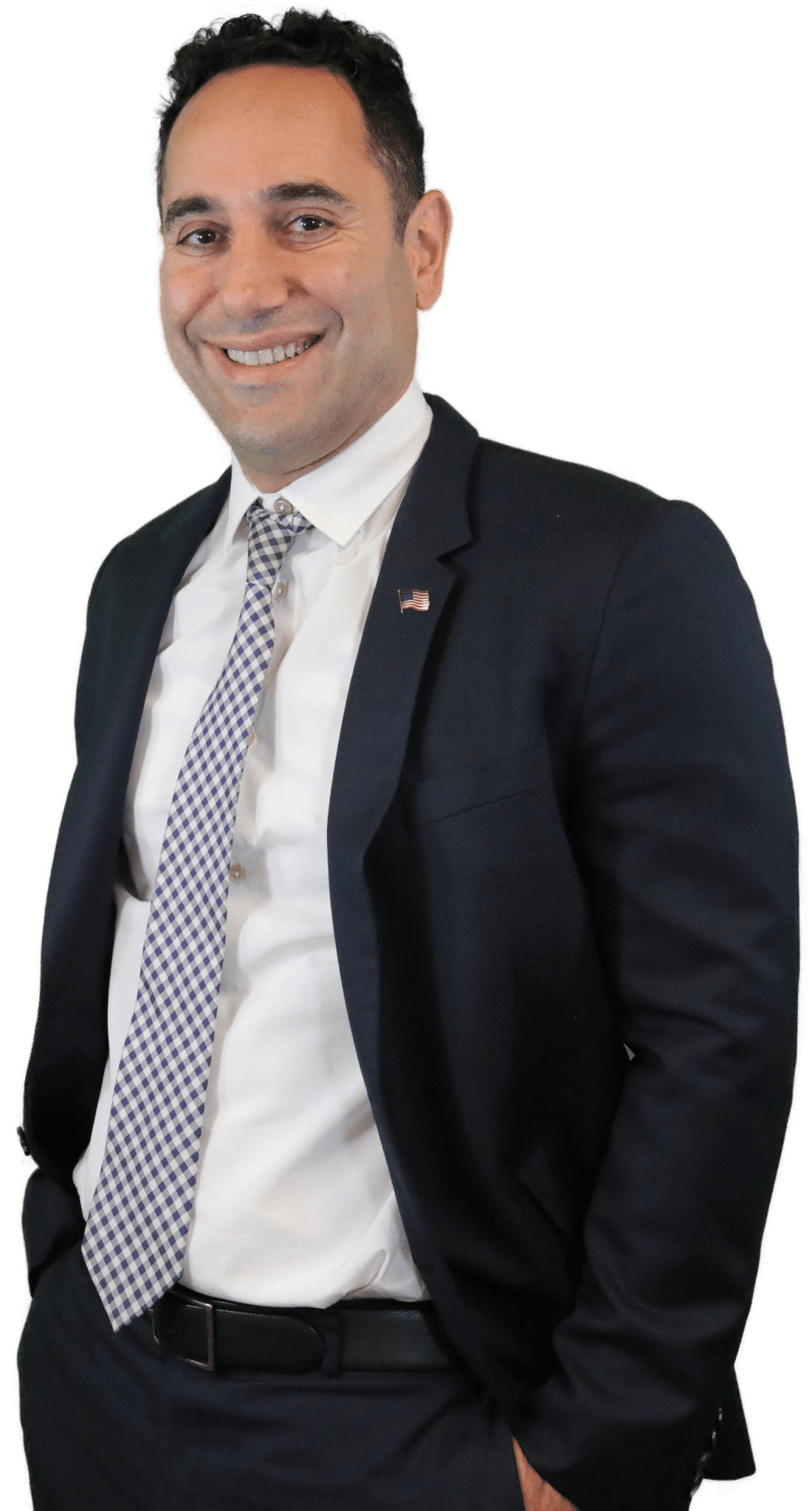 California Car Accident Injury Claims Process
Free Car Accident Consultation
If you have been the victim of a serious collision caused by another driver, don't leave your accident claim in the hands of an insurance adjuster. Contact Maison Law no matter where you are in California for a free, no-obligation evaluation of the circumstances of your case. By having legal representation you'll let an insurance company know that they can't dismiss your physical, emotional, and financial hardships.
Do You Really Need a Car Accident Lawyer in California?
After you've been in a traffic accident on a California freeway, city street, or back road, it's fair to ask if you need a personal injury lawyer? The answer depends on the consequences of your collision.
You may have been shaken up, but if your accident involved mainly property damage, getting fair treatment while your car damage is evaluated shouldn't prove too difficult. Insurance companies have largely standardized the process to get cars repaired or replaced.
It's an entirely different case when you or a loved one are seriously hurt in an accident. A personal injury lawyer can prove crucial in getting the compensation needed to pay for recovery. When another driver is at fault his or her insurance company should be responsible for every medical cost and lost paycheck you endure.
You should call a personal injury attorney when:
You have been badly injured in an accident.
Adjusters want to blame you for part of an accident when you weren't at fault.
Your accident involves multiple parties or is complex.
Your accident was caused by a professional driver like a big rig truck drive or a rideshare driver.
It's also important to seek the counsel of a skilled personal injury lawyer if you've been in an accident involving a government employee or a public transportation vehicle. Accidents involving city, state, or federal agencies can be especially complicated and often provide much tighter deadlines for victims to file an injury claim.
Can I File a Car Accident Lawsuit On My Own?
Injured victims in California are legally allowed to file a lawsuit and represent themselves in court if they choose to do so. However, individuals may not file a lawsuit themselves if they are representing a corporation, filing a class-action lawsuit, or suing on behalf of a child.
It is not recommended that you file your lawsuit unless you have some knowledge of California state law and courtroom proceedings. You'll have to know how to collect and present evidence that proves your case. You'll have to know what to ask witnesses and how to submit their testimony.
Even if you are somewhat familiar with the legal system, it's still a difficult challenge to represent yourself. A vast majority of lawsuits never reach a courtroom and end up settled outside of court. This can also leave people representing themselves at a disadvantage.
Skilled lawyers have a much better idea of how much medical and financial recovery costs. They'll hold out until insurance adjusters make a fair offer for the victim that covers all expenses. When insurance companies know they aren't dealing with a legal professional they commonly offer much less money in the hopes you won't know it's a low-ball offer. You can lose out on thousands of dollars by using your own judgment when assessing a settlement offer.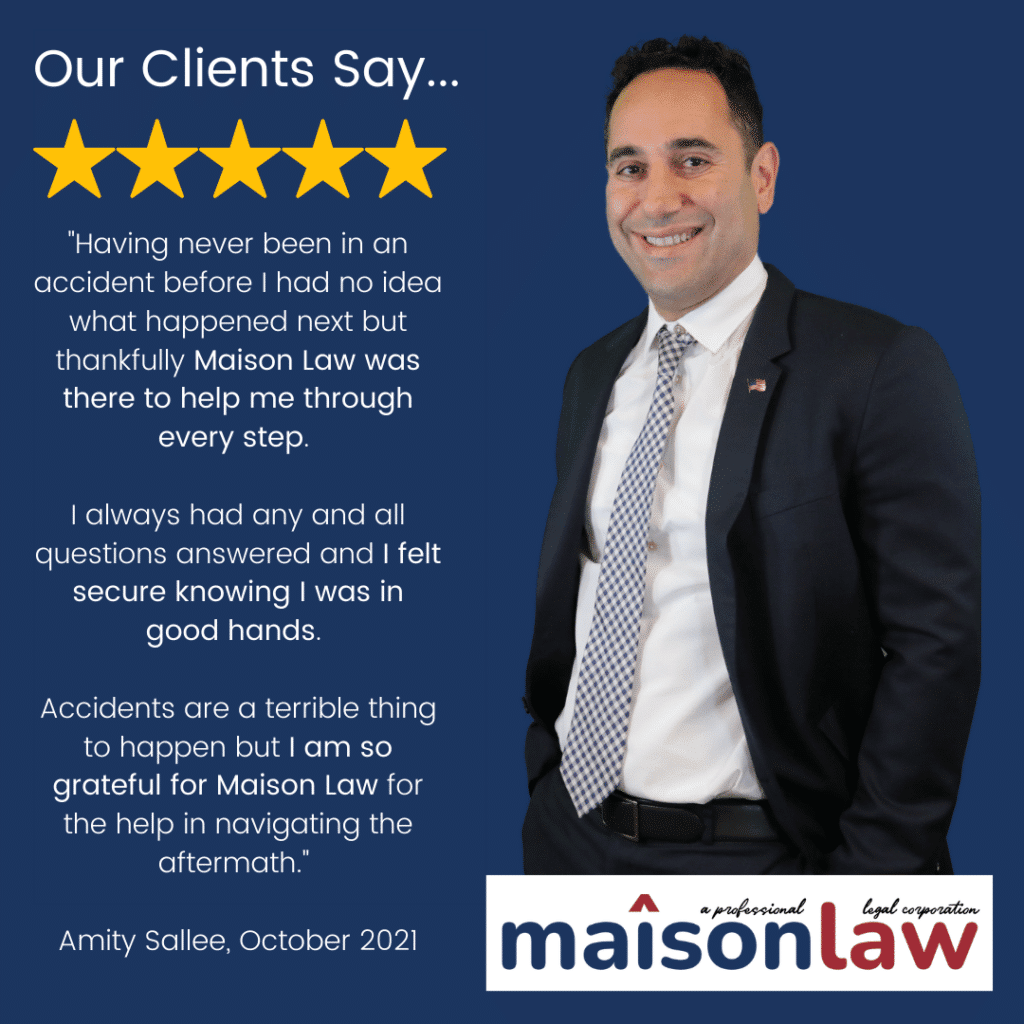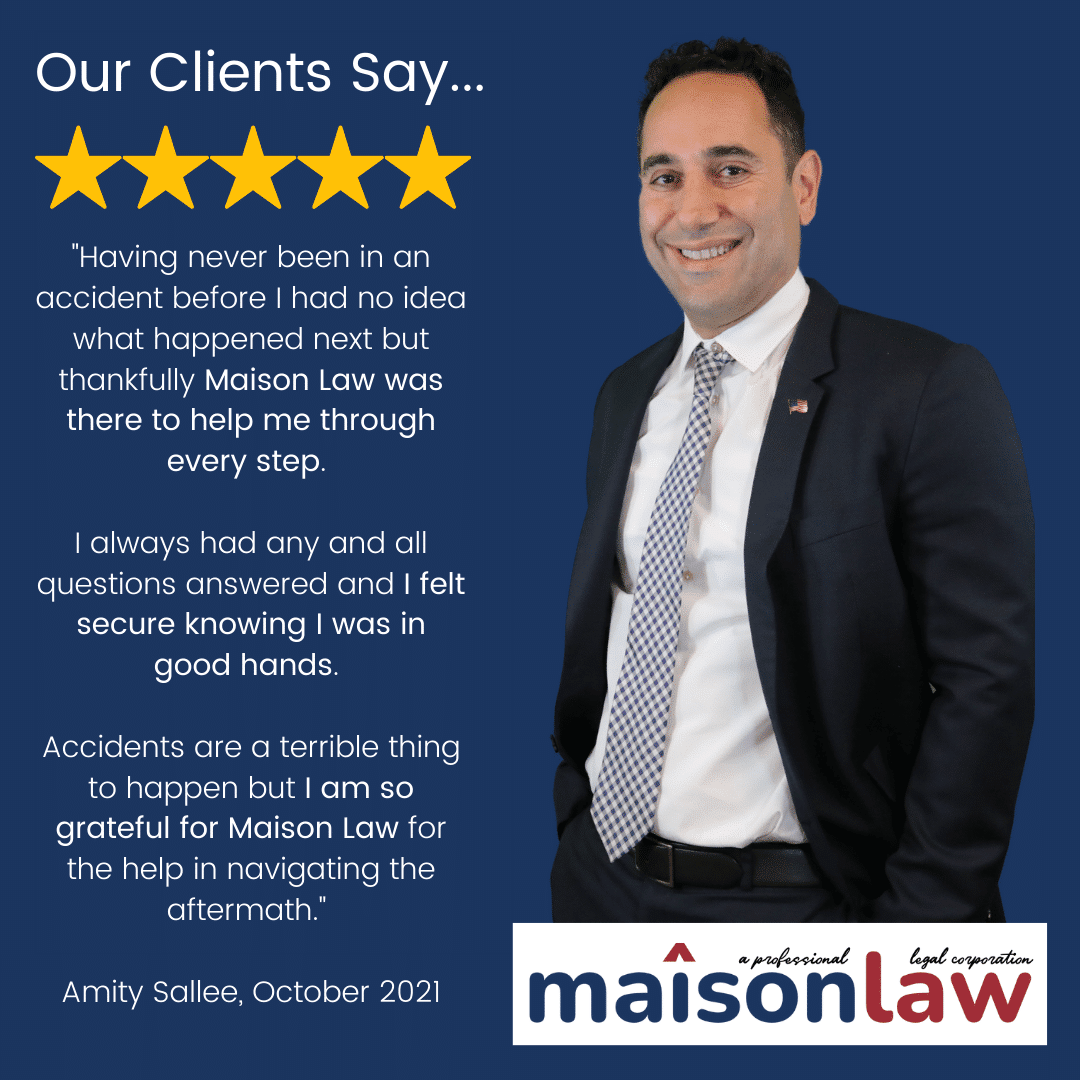 You must also be careful to meet certain deadlines insurance companies won't warn you about. One such deadline is the two years from the time of your accident you have to file a personal injury lawsuit. Wait too long and your chance to earn the compensation you need is lost.
Even if you decide to move forward with your lawsuit on your own, you can still benefit from talking with a California lawyer. Personal injury lawyers offer a free consultation to anyone injured in a car accident and they can help you determine if your lawsuit will earn you considerably more than a standard insurance injury claim.
You may try to avoid using an attorney because you're worried about being able to afford legal counsel. Keep in mind that reputable personal injury lawyers work on a contingency basis and don't get paid unless they win your case. Their fee would come out of the compensation they earn for you.
Common Types of Car Accidents in California
While accidents can happen at any time under any circumstances, there are some common types of accidents that we see regularly at Maison Law. If you have been injured in one of these common accident types, click on the name for additional resources to answer your specific questions.
Common Injuries In California Traffic Collisions
You'll be fighting insurance companies for fair compensation for your accident. It's an important step in your recovery because it doesn't just affect your immediate health and economic stability.
You could have serious injuries that require surgery a year down the road and further physical therapy. You might have a disability that forces you to seek a new career. The costs of job training and medical equipment for travel and home life can add up. All of these costs should be factored into any settlement from an insurance company. They will be factored in if you have an attorney making sure every detail is included.
These settlements are vital for victims and their families because the injuries in car accidents can be so severe and affect everyone's life down the road. Here are a few of the most common injuries seen by emergency room doctors every year:
Brain and head injuries: Severe concussions, skull fractures, brain bleeding, and scalp wounds can all result after taking an impact on the head. Traumatic Brain Injury (TBI) can leave the brain bruised in a collision with the inside of the skull. The symptoms can be memory loss, light sensitivity, and seizures along with other complications.
Spine, neck, and back injuries: Whiplash (a violent tossing of the head back and forth) can leave victims unable to turn their heads. Spinal vertebrae can be fractured in the impact with an airbag or the tug of a seatbelt. Back and spine injures can leave victims facing a permanent disability.
Broken Bones: Fractures can occur in just about any part of the body. The clavicle is one of the most commonly broken bones in an impact. It's the most fragile bone in the body and runs across the top of the ribcage. The fibula (lower leg) and femur (upper leg) are often broken when a car ends up partially crushed.
Soft tissue injuries: Muscles, tendons, and ligaments can all tear or bruise. This tissue connects and holds different organs and other body parts in place.
"I was involved in an accident about 3 years ago and Maison Law and their team helped me every step of the way. It was a long journey and a lot of time and hard work in getting me what I deserved. I couldn't have asked for a better law firm. I highly recommend!"
I got into a fender bender in January and was left dealing with a very unresponsive and terrible insurance adjuster who was basically forcing me to accept only 1k to close my claim prematurely. Thankfully I found Martin and Maison "Law who truly helped ease my mind, took care of my car, rental, treatment and got me an AMAZING settlement in time for Christmas."
"Martin Gasparian and the whole Maison Law team were there for me when I was involved in an accident. They held my hand every step of the way and took care of all my needs. They listened to all my concerns and put my mind at ease and made the whole process pain free. I would definitely refer friends and family to Maison Law.
California Driving Dangers Each Year
When you're behind the wheel in California, your trip can be threatened by extreme weather, natural disasters, and even the bad condition of road surfaces that may have gone unrepaired for decades. You can also face drivers who are distracted by their phones or recklessly speeding and changing lanes. And, way too often, you can face motorists who are traveling under the influence of drugs or alcohol.
You can confront these hazards on any given day on California freeways and streets. The Insurance Institute Of Highway Safety (IIHS) found that California's number of fatal accidents in 2019 led the entire nation in this unfortunate statistic. Our state recorded 3,316 deadly accidents in total resulting in the tragic loss of 3,606 lives. Texas was second on the list with 3,294 recorded fatal collisions. Florida was third with 2,950 fatal crashes over 2019.
California is notorious for its traffic congestion and reckless drivers, but it doesn't matter if you're on a packed freeway when your collision occurs, a narrow city street, or on a long stretch of farmland highway. The number one concern will be your physical recovery from that accident. Once that is addressed, your financial recovery will also become key to rebuilding your life. Unfortunately, insurance companies won't be working quickly to make up for the mistake of their policyholder.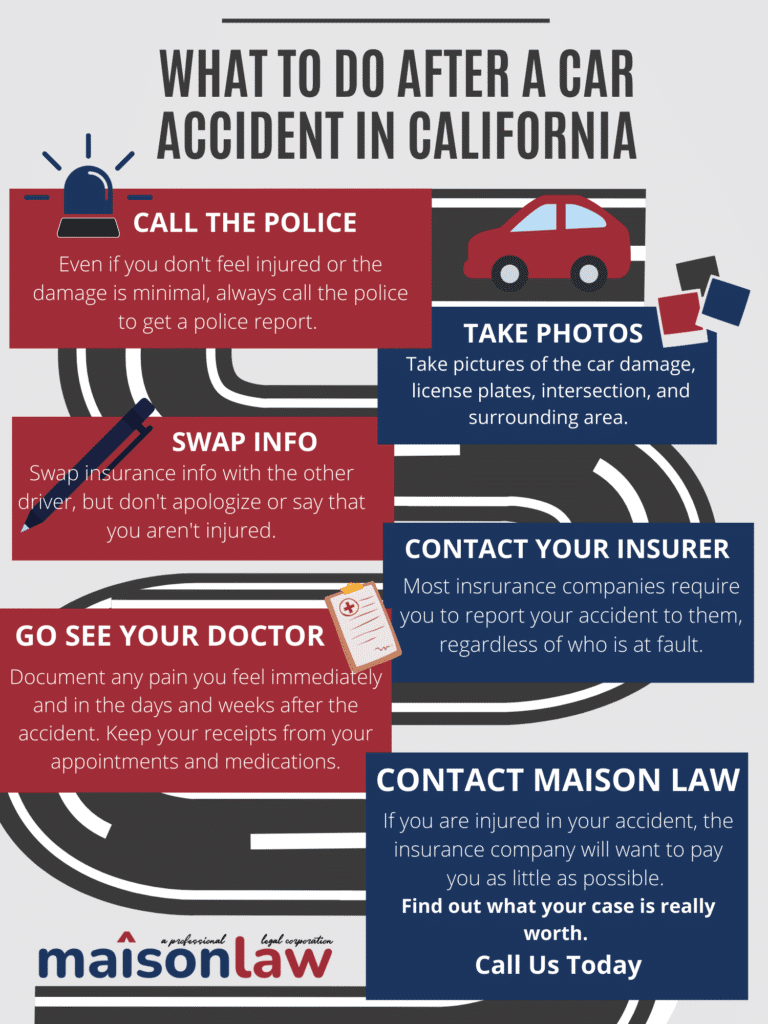 How Much Is a Car Accident Injury Case Worth?
Many factors play a role in how much compensation you'll receive after a car accident. It's impossible to predict an exact amount because every accident case is so different. Injuries, even the same types of injuries, can all heal very differently and require more or less in medical care and medical expense.
One of the key factors in determining the value of your claim is how much your injury changes your lifestyle and for how long. Here are a few of the factors that can affect the support you receive:
Severity of your Injury. A broken bone can lead to surgery, an amputation, and even a permanent disability. Permanent brain damage, organ damage, paralysis are other serious injuries possible after a crash. A permanent disability can diminish your freedom and your ability to support your family over a lifetime. Compensation can reach into the millions of dollars when it must cover care over decades.
Lost Wages. The longer your recovery takes the more time you could spend away from your office or job site. That means more paychecks missed and more reimbursement you'd require.
Driver's Insurance Limits. The negligent driver's chosen insurance provider and level of coverage can also affect your final award. Basic insurance coverage has cap limits that may run out before all of your hospital bills are paid.
Physical and Emotional Trauma. Non-economic damages are awarded for the pain you endure with your injury and the emotional turmoil you've suffered. Victims may experience debilitating anxiety and depression. They may also be unable to enjoy life when they've had to give up the activities they love such as family outings, travel, hobbies, and exercise.
Furthermore, the skill and experience of the personal injury lawyer you chose to represent your case can make a substantial difference in the compensation you receive. A lawyer with an extensive background in injury settlement negotiation will more accurately estimate the costs of recovery you face and make sure you have what you need to pay your recovery bills.
Our Clients Frequently Ask...
Insurance Pitfalls for California Accident Victims
If you are hit by another driver, you will be stuck dealing with the insurance provider the driver has chosen to carry if they carry any insurance at all. If they don't have insurance you may be left to deal with your own insurance company trying to get help through your uninsured/underinsured motorist coverage.
There are dozens of national and local insurers available like Geico, Progressive, and Mercury Insurance and they all operate under the same strategies. Keep a victim confused and ignorant of their true rights.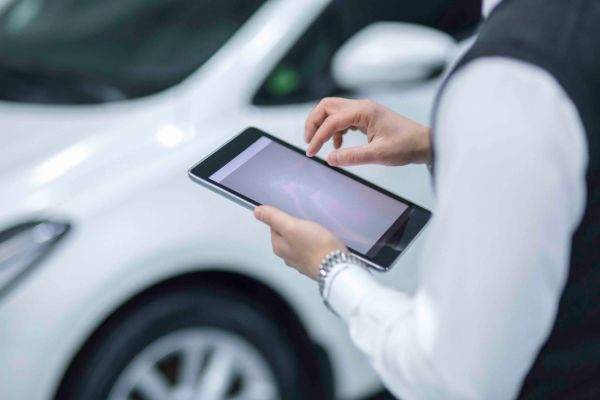 There are several ways that insurance firms weaken a victim's claim and their resolve. These are a few of their tactics.
Stall Tactics: Insurance companies can say that they are experiencing a high volume of accidents and ask you to wait patiently for them to respond to your claim for damages or to make you a settlement offer. This dragging of the feet is often just a trick to let your hospital invoices and monthly bills, like car payments and rent, build up. The longer you have to face those bills and calls from debtors, the more doomed you may feel. Insurance companies want to get you desperate.
Low Settlement Offer: They stall so that you'll be desperate enough to take any amount they offer in settlement. When you're facing thousands of dollars in bills each month and not able to work, any "lowball" offer may look good to you. An experienced lawyer will spot these stall tactics and lowball offers and challenge the insurance firm on their bad faith practices. Insurance companies can start to move much faster when an attorney threatens to take them to court.
Shedding Blame: Insurance adjusters may look for ways to pin the blame in an accident onto you. They do this to either get you scared enough to dismiss your claim or to accept some of the blame in an accident. Don't fall for it. They could check your driving record to try to make you seem like an unsafe driver. They might get their hands on medical information to show that you've had a similar injury in the past. These are all weak arguments that a legal expert on your side will disprove immediately.
Use Your Statements Against You: Another tactic is to call you shortly after an accident under the guise of checking on your recovery. An insurance representative actually wants you to give a recorded statement. Don't give anyone a statement. Politely decline. Insurance agents are looking for you to say something they can use later to discredit your account of what happened. Let your attorney handle all communication for you. It saves you stress and it protects your case.
Contact a California Car Accident Lawyer Today
If you or a loved one are seriously injured in an accident caused by a careless driver, you might wonder if you'll have to cover the cost of recovery alone. According to California Law that should never be the case. If you didn't cause your accident, the person who did and their insurance provider should be front and center to lift those financial burdens off your back.
Unfortunately, insurance companies will make the journey to return to your normal life harder than it has to be. They will have experienced adjusters and agents attempting to weaken your case every step of the way. Make sure you have an attorney from Maison Law watching over every document exchange and communication you have with them.
After an accident involving a serious injury or the tragic loss of life in California, contact attorney Martin Gasparian for a free, no-obligation case consultation for your family. Mr. Gasparian takes a hands-on approach to every case and only gives victims advice that's in their best interest.