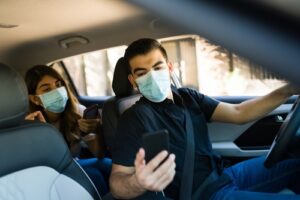 Uber, Lyft and other rideshare companies are on roadways throughout California 24 hours a day. Indeed, they provide valuable transportation services, but if you sustain injuries in an accident because of a driver for one of these rideshare companies, consult with and retain Maison Law to represent you right away. Here's why.
How Does Rideshare Insurance Work After an Accident in California?
According to the Wall Street Journal, Uber alone purports to have 200,000 drivers in California. Independent contractors for Lyft and other rideshare services might make up another 200,000. All of these drivers use their own motor vehicles to provide customers with transportation services. They're so prominent that they're currently big players in the food delivery industry. What comes to issue is their rideshare insurance coverage.
Insurance reps may tell a seriously injured car accident victim that rideshare coverage doesn't apply to an accident, and he or she must make their claim against the rideshare driver's personal insurance. That driver's auto insurance coverage might be as low as California's minimum mandatory coverage of $15,000 per person and $30,000 per occurrence. It's certainly not sufficient for a fractured leg requiring surgery, screws, and a plate.
Common Uber and Lyft Accident Injuries
Although the injured claimant is likely a passenger in a rideshare car, he or she might be the driver or passenger of another car. The claimant could also be a motorcyclist, bicyclist, or pedestrian who doesn't have a steel shell and frame around them with crumple zones, airbags, and seat belts.
It's highly likely that the injuries they suffer will be more severe than those suffered by an occupant of another vehicle. Those can include traumatic brain or spinal cord injuries, fractures, herniated or bulging discs internal organ damage, tearing of tendons, ligaments or muscles, or severe lacerations with infections. Any of these injuries can require surgery.
Learn more about Uber accident claims below.
California Uber Accidents Cities
What Damages Can I Claim After a Rideshare Accident in California?
When an accident causes injuries like the ones above, the victim may seek damages to compensate him or her for their damages. California law contemplates a wide range of damages like the following:
Past and future medical bills as a result of the accident.
Past and future lost earnings in connection with the accident.
Any resulting disfigurement or disability.
Pain and suffering.
Loss of enjoyment of life.
Funeral and medical bills and other valuable damages in the event of wrongful death.
California requires every rideshare company in the state to carry $1 million of liability and uninsured motorist insurance coverage. All drivers are also subject to a background check. Rideshare accident injury insurance goes into effect as soon as a driver who is on call accepts a passenger. It remains in effect until such time as the passenger is picked up and dropped off at their destination.
After the ride ends, $50,000 per person and $100,000 per occurrence coverage remains if the driver stays on call. Coverage reverts back to to the driver's personal insurance when he or she is off duty.
An innocent injured victim can get caught between two different insurance companies pointing their respective fingers at each other. Likewise, neither company wants to compensate that victim for his or her damages. The state legislature put laws in place to control this type of situation. At Maison Law, we know how to break that deadlock and compel insurers to fulfill their obligations.
Are you allowed to file a personal injury claim against a taxi if the meter is off?
Yes. Taxi drivers and the companies they work for are usually responsible for the accidents their drivers cause, even when drivers are off-duty. A skilled California car accident lawyer will help you determine if one or the other, or both should be providing support to you after a crash.
When a taxi driver hits your vehicle or strikes you while you're walking or biking, it's important to file as many claims as possible against everyone who may share liability. This gives you a better chance to secure full compensation for your recovery costs. You want to avoid having to pay for an accident you didn't cause out of your own pocket.
When taxi drivers own their taxis, you'll usually file your injury claim against their commercial car insurance coverage. If drivers rent their cabs from a taxi company, both employee and employer may be liable for the recovery costs of all victims. When cab companies hire their drivers, the company will often be fully accountable for your medical bills and your lost wages while missing work.
Taxi companies have large insurance policies with up to $1 million dollars in coverage in some cases. This sounds like a lot, but large transportation companies will have lawyers on standby ready to cast doubt on the taxi driver's blame and reduce your insurance settlement.
Having a personal injury lawyer working on your behalf can protect you from these insurance tactics. Your attorney will make sure you have what you need to rebuild your life after a collision.
Speak to a California Rideshare Accident Lawyer
Is your Uber or Lyft driver responsible for your personal injuries?  If you were in an accident involving a rideshare insurance claiming their liability coverage does not cover your bills, seek legal advice immediately. Your accident may result in more than physical injuries. For example, you may experience lost wages or have to cease working altogether.
Whether you were a passenger, a driver or occupant of another vehicle, a motorcyclist, bicyclist, or a pedestrian, contact us at Maison Law after sustaining an injury in any rideshare accident anywhere in California. We're happy to speak with you about your accident and injuries at no cost whatsoever. If we represent you, our goal will be to maximize the compensation that you deserve.
Fill out our form to schedule a free consultation today