People 70 or older represent around 11% of the U.S. population. Many of those seniors get behind the wheel most every day. According to the Insurance Institute for Highway Safety (IIHS), the number of licensed drivers 70 and older in the U.S. increased by 83% between 1997 and 2021.
Many senior California residents make good use of California freeways and boulevards. For the most part, they are very safe and cautious drivers, but in the rush of California traffic, older drivers can make mistakes. They can also struggle to avoid the mistakes of other drivers.
Maison Law examined statistics on accidents involving aging drivers nationally and in California. This visual representation of the dangers older drivers can present to themselves and others will hopefully serve as a reminder to all motorists to think of safety first.
National Aging Driver Accident Statistics
The National Highway Transportation Safety Administration (NHTSA) charts the tragic outcomes of accidents involving older U.S. residents each year. Over a recent four-year span, the numbers show a steady and discouraging increase in fatal accidents involving senior victims. That trend holds up through 2021, except for a dip in 2020 accident rates largely due to the reduction of all traffic in response to the pandemic.
In 2021, the number of accident victims 65 and older in the U.S. hit a recent high of almost 7,500 victims.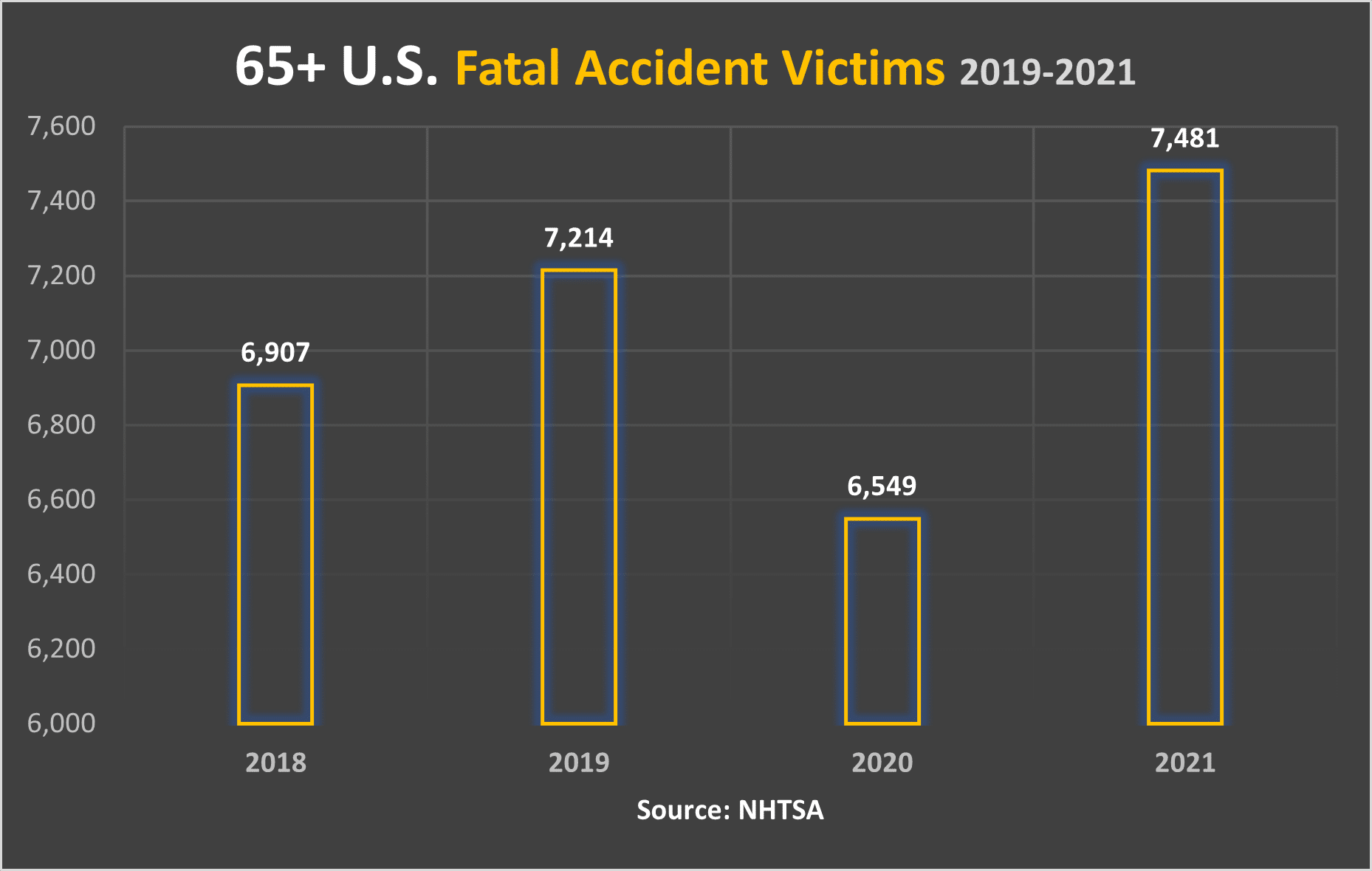 The IIHS found that many drivers over 70 limit their travel greatly, especially at night. The numbers have improved, with data showing that 11% fewer victims aged 70 and older lost their lives in accidents in 2021 than were lost in 1997.
California Senior Driver Accident Statistics
The California Statewide Integrated Traffic Records System (SWITRS) tracks collisions across the state each year. Their records show that on average over 500 people a year lose their lives in accidents involving a senior driver.
In 2022, there were 576 fatal accidents involving an older driver in California.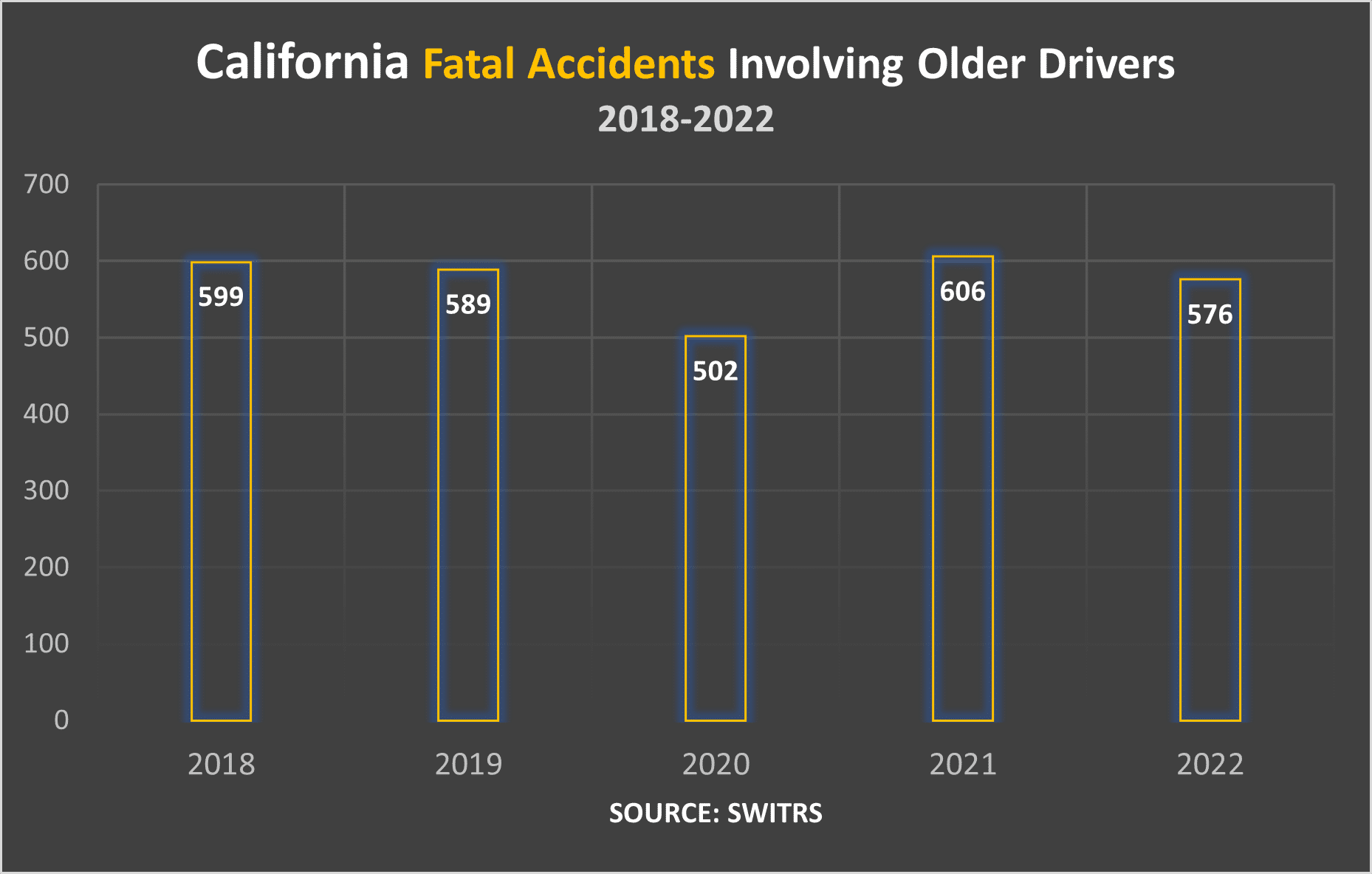 Those same figures for accidents involving older motorists can be broken down for individual counties across the state. Los Angeles County recorded 78 fatal accidents involving an older driver in 2022, while Fresno County documented 27 similar accidents over the same period.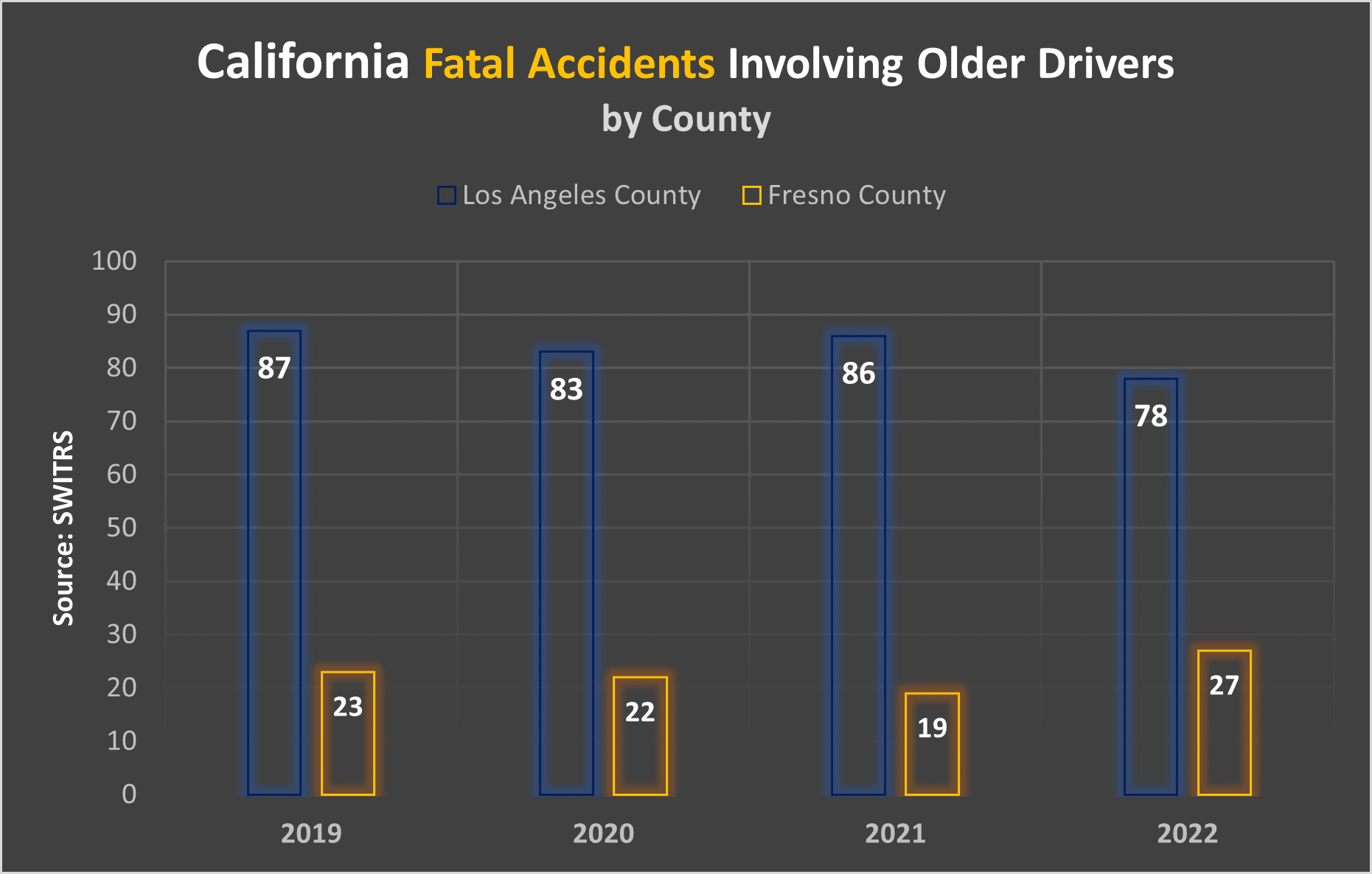 Older Driver Accident Rates in Other California Cities
Every city in California has a percentage of fatal accidents each year that involve aging drivers. For instance, Los Angeles recorded 11,172 accidents that involved serious injury or death in 2022. Of those accidents, 1,401 incidents involved victims over the age of 65 with at least 57 fatalities resulting. That means about 12% of the victims who lost their lives in Los Angeles collisions in 2022 were seniors.
The California DOT examined the number of accidents involving aging drivers (65 and older) over the long term. They found that over a decade's span, the serious accidents involving older motorists increased by 51% statewide.
Between 2008 and 2017, 4,527 people lost their lives and 13,281 people were seriously injured in "aging-driver" collisions on California roads. Below is a look at the percentage of total fatal accidents that involved older drivers in several California cities.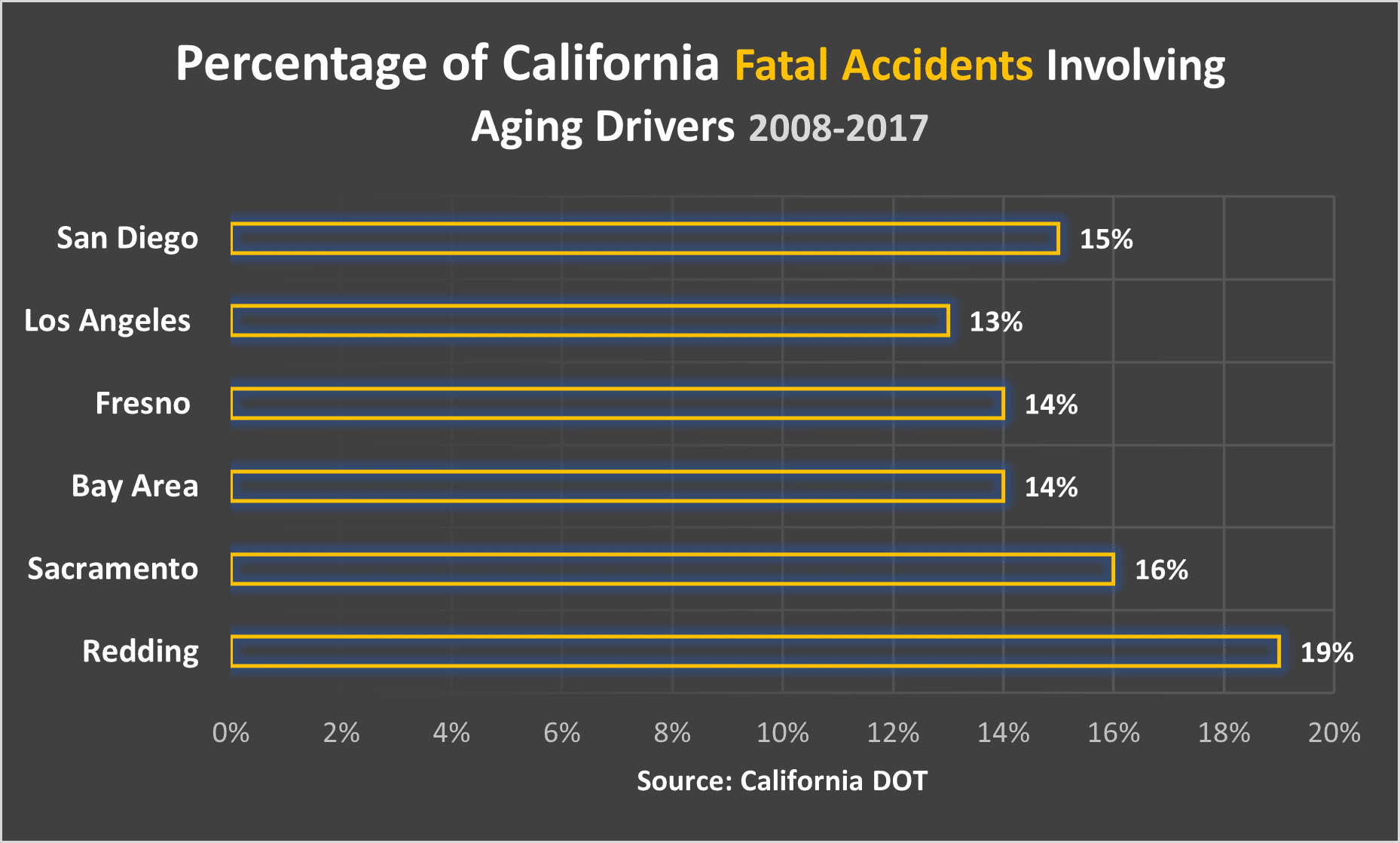 The Cal DOT lists improper turning, unsafe speeds, and failure to yield the right of way as the biggest causes of accidents involving older drivers.
When do accidents involving aging drivers most commonly occur? From 11 a.m. to 5 p.m. is the most dangerous time of day for aging motorists. 55% of their fatal and serious injury collisions occurred during this time.
Keeping California Drivers of All Ages Safe
Many seniors who take the wheel each day are perfectly safe drivers and in fact, may be much safer than the younger drivers traveling alongside them.
But as the number of older drivers increases, it's critical to limit the hazards they could potentially cause on California roadways. Aging drivers should routinely assess their own driving skills and their family members should also take time to make sure their loved ones have the ability to remain on the road.
The NHTSA posted some important information for older drivers and their family members. It includes specific information for seniors considering driving with certain medical conditions such as Parkinson's Disease and sleep apnea.