Sunny California weather encourages lots of people to get out and walk. For some, walking is the primary means to travel to work or school or just around the block to the store. Pedestrians may be focused on crossing streets safely, but that can mean little when careless drivers start to lose focus and fail to monitor the road and crosswalks in front of them.
If you or a loved one was injured as a pedestrian, you shouldn't be responsible for paying for your own recovery. In California, the careless driver's insurance should cover every expense associated with your recovery. Even though your medical bills can range into tens of thousands of dollars, insurance companies want to pay you as little as possible.
Maison Law helps accident victims by standing up to the insurance companies and demanding what is rightfully owed to you.
Contact us today for a free consultation and we will help you understand how California legally protects pedestrian accident victims.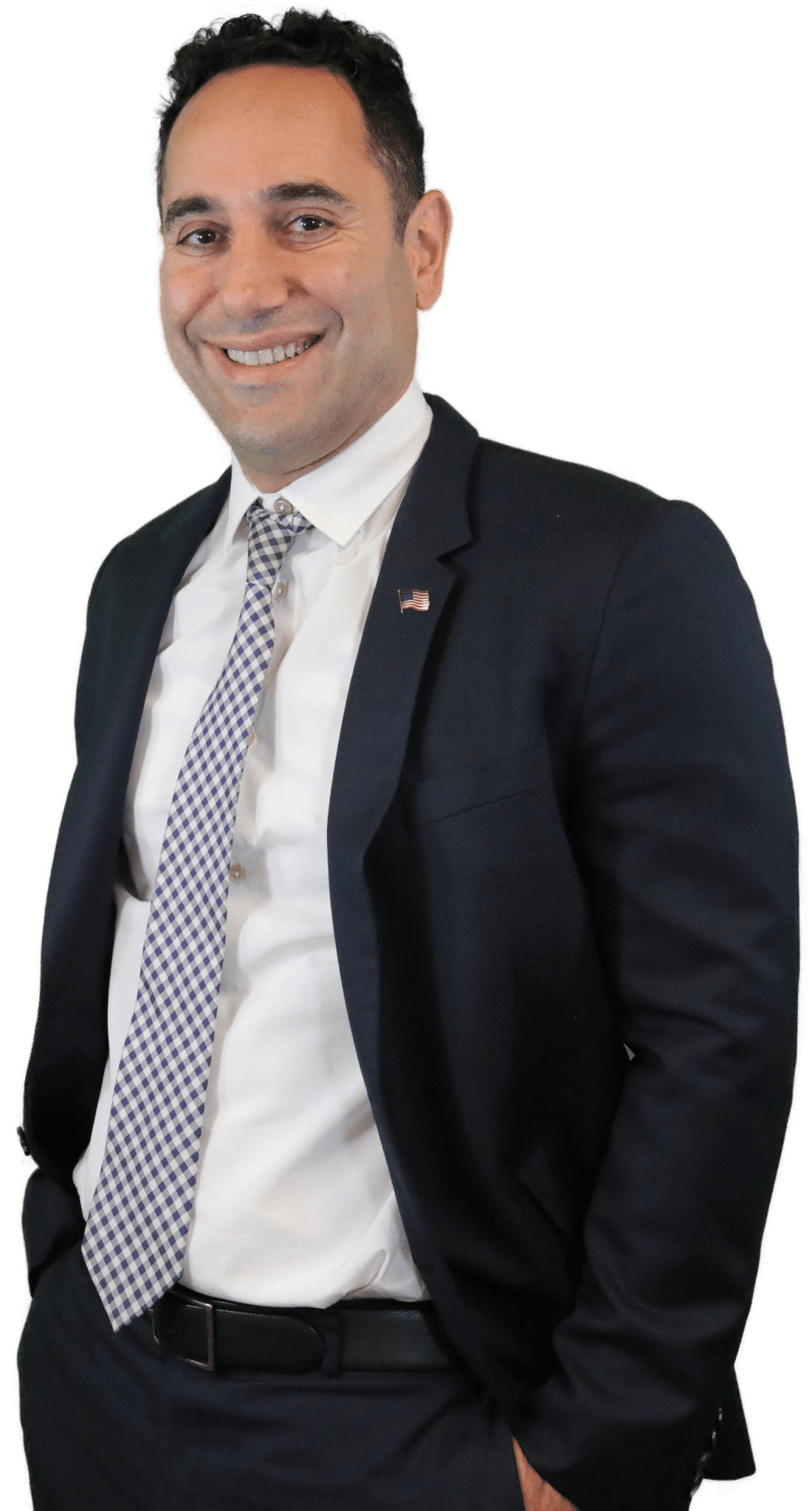 California Pedestrian Accident Claims Process Call Us For A Free Consulation
Call us 24/7 with No Obligations Describe Your Accident Details
We will then discuss your legal options and decide whether to move your case forward. Retain Maison Law w/ No Upfront Fees
We work on contingency. No attorney fees unless you win your case. Receive Your Compensation
We will fight for you to earn the highest possible payout for your damages.
Free Pedestrian Accident Consultation
Few events in life are scarier or more painful than a pedestrian accident. These accidents can lead to serious injuries that leave victims with a long, expensive road to recovery.
Fortunately, California offers legal protections for pedestrian accident victims. When a pedestrian accident is caused by a careless driver in California, that driver's insurance company is responsible for paying for the full recovery of the injured victim.
Insurance companies will try to take advantage of pedestrian accident victims by diminishing the value of their claim or the severity of their injuries.
Maison Law offers free consultations so that you can understand your full range of legal options. If you retain our services, we will demand that the insurance company pays the maximum amount owed to you.
"I was involved in an accident about 3 years ago and Maison Law and their team helped me every step of the way. It was a long journey and a lot of time and hard work in getting me what I deserved. I couldn't have asked for a better law firm. I highly recommend!"
I got into a fender bender in January and was left dealing with a very unresponsive and terrible insurance adjuster who was basically forcing me to accept only 1k to close my claim prematurely. Thankfully I found Martin and Maison "Law who truly helped ease my mind, took care of my car, rental, treatment and got me an AMAZING settlement in time for Christmas."
"Martin Gasparian and the whole Maison Law team were there for me when I was involved in an accident. They held my hand every step of the way and took care of all my needs. They listened to all my concerns and put my mind at ease and made the whole process pain free. I would definitely refer friends and family to Maison Law.
Supporting Pedestrian Accident Victims in California
If you are the victim of a careless driver's error while out walking, don't trust your recovery to that driver and his or her insurance agent. Martin Gasparian, the founder of Maison Law of California, has seen the insurance industry from both inside and out over his long career and he knows what kind of tricks they use to rob hurting victims of the compensation they need to resume their lives.
Contact Maison Law to talk over what happened to you and let us help you decide the best course of action to get your recovery paid for and your financial hardships erased. It's a no-obligation consultation that comes at no charge to you.
Distracted Driving Dangers in Pedestrian Accidents
Drivers who hit pedestrians often say they didn't see the walker. This usually means they weren't paying attention at the time and forgot to look out for any unprotected person on foot as they drove.
Of course, the greatest source of distraction is the cellphone. Drivers can be tempted to text, play music, and even play games while in traffic. Picking up or touching a cellphone while you drive is illegal in California. You can only use hands-free devices. And if you're under 18 you can't use a cellphone for any reason while driving, hands-free or not.
This will be of little comfort to a pedestrian attempting to recover from an injury caused by a driver distracted by a text notification.
The California Department of Motor Vehicles reported that there were over 426,000 handheld cell phone and texting convictions in a single year and found that the use of a cellphone triples a driver's chances of hitting another car, a motorcyclist, a bicyclist, or a pedestrian.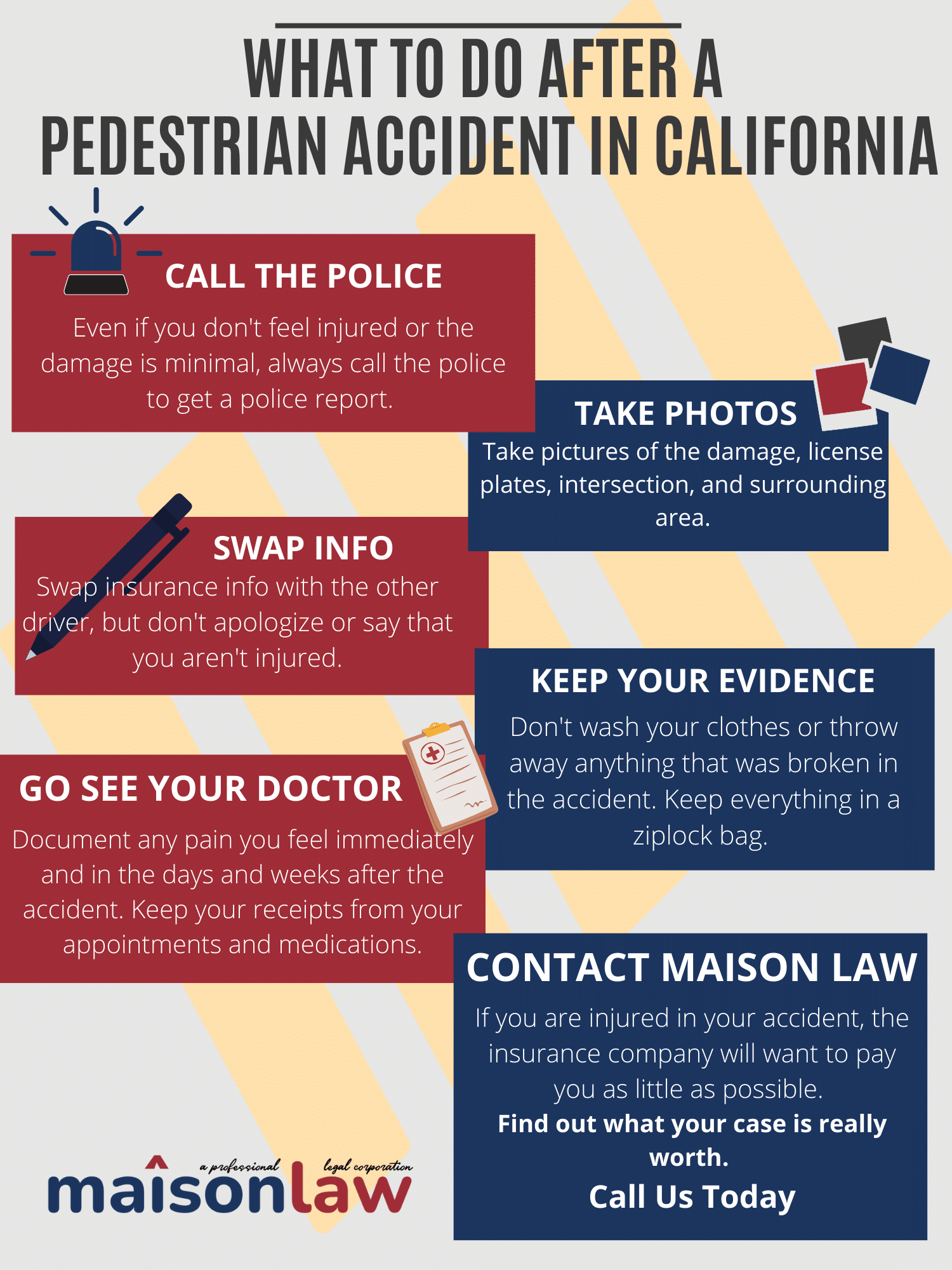 How Much Is My Pedestrian Accident Case Worth in California?
Predicting the monetary value of a pedestrian accident case is difficult because each accident and injury is different. However, several factors can greatly affect the amount of a potential settlement or judgment a victim may receive. 
The severity of an injury is one such determining factor. Generally, the longer it takes for a victim to recover from an injury and the more the injury affects or prohibits the normal routine of a patient, the more financial support should be expected. 
When an accident results in a permanent disability, compensation can factor in a lifetime of medical care, medical equipment, and must consider any loss of the ability of victims to work and support themselves.
The insurance limits of the policy an at-fault driver carries can also affect the amount victims can count on after an accident. Some drivers carry only the minimum insurance coverage required by California. When insurance limits fall far short of covering the victim's hospital bills and lost wages, a personal injury lawyer can explore other options to secure further compensation. This can include making a claim against the victim's own car insurance under the policy's uninsured/underinsured motorist coverage.
The physical pain and emotional trauma an accident inflict on victims and family members can also result in bigger awards. These non-economic damages can include the anxiety and depression experienced by the victim while navigating a difficult recovery. The strains an injury puts on family relationships, particularly between spouses, can also factor in.
Damages That Can Be Claimed in a California Pedestrian Accident Case
Medical expenses and any future care expected to be needed.
A permanent physical disability resulting in the need for therapy, medical equipment, and training for a new career if needed.
Travel costs for doctor's visits, appointments with specialists, and trips out of the area for second opinions and surgeries.
Lost earnings and factoring in the time you may be away from work in the future.
Emotional trauma, such as depression, anxiety, and PTSD symptoms from the collision. A claim can earn money for counseling and psychological services.
A loss of enjoyment of life and damage to family relationships.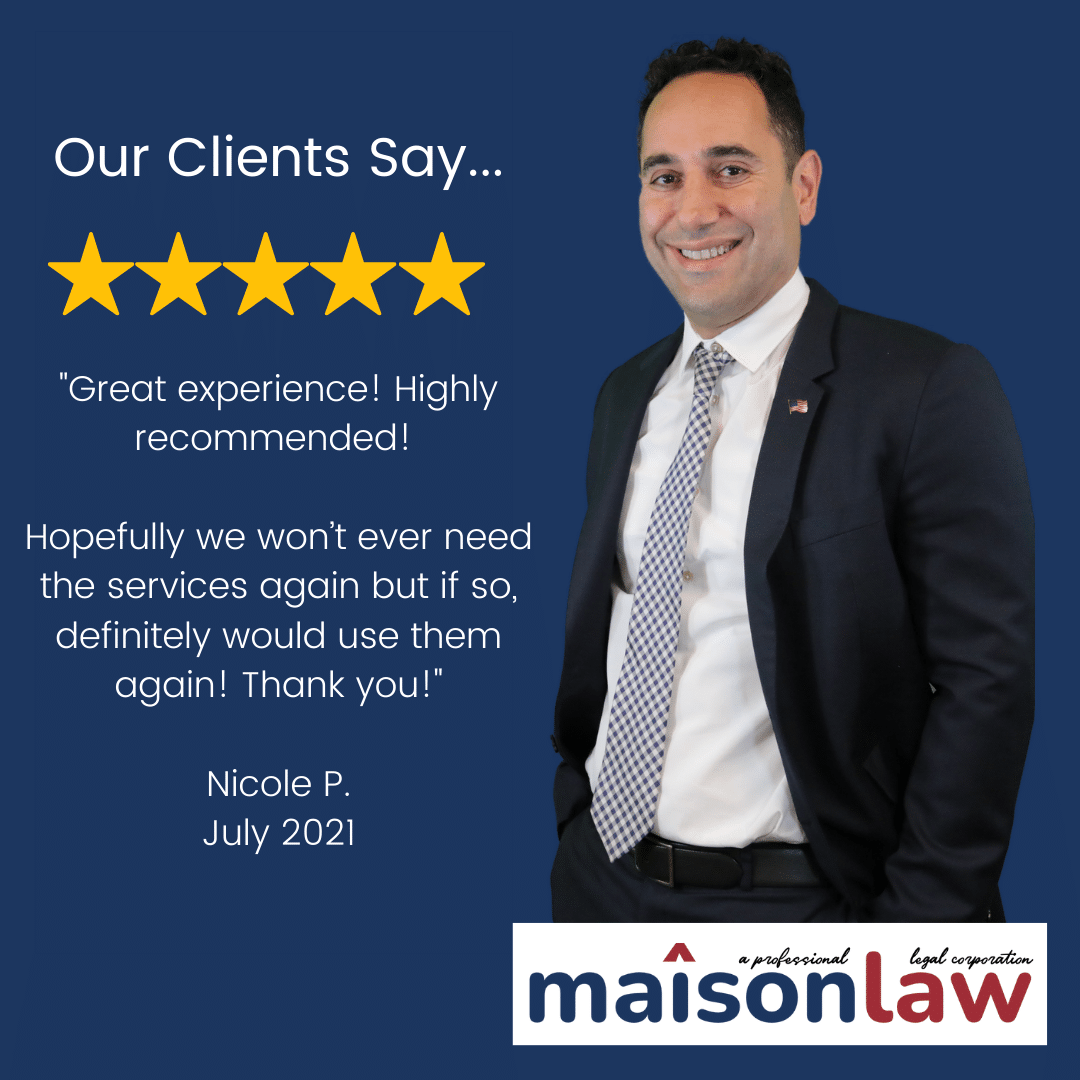 Frequently Asked Questions About California Pedestrian Accidents
Contact a California Pedestrian Accident Lawyer Today
Pedestrian victims may be told they can't expect compensation for their injuries because their accident happened outside of a crosswalk. This is untrue. Drivers owe people on foot a "duty of care" no matter where they encounter them. Your injuries are likely worth more than insurance companies will let on. Don't leave compensation on the table that you may definitely need to help rebuild your life.
If you are the victim of a scary mistake by a careless driver, discuss your options with attorney Martin Gasparian. It's a free and confidential consultation that might open your eyes to what it will actually take for you to recover from your injury and get back on your feet financially.  Mr. Gasparian believes that every client should work directly with their lawyer, get honest advice, and the personalized attention to detail their case deserves.