Semi-trucks and tractor-trailers densely populate California's roads and highways. Since California is a production and manufacturing giant, other drivers must constantly watch out for tired, distracted, or otherwise unsafe truck drivers sharing the streets.
Drivers of giant big rigs and tractor-trailers may not properly look when they turn in front of you. As a result, they are prone to causing devastating collisions.
When you are involved in an accident with a semi-truck, tractor-trailer, or other large truck and it was a trucking company's driver's fault, you shouldn't have to pay for your own recovery. Their insurance company is liable to compensate you for all of the damages you suffer as a result of the accident.
Especially with expensive big rig accidents in California, the insurance company is interested in paying you as little as possible. Contact Maison Law today for a free case analysis to find out what your truck accident case is really worth.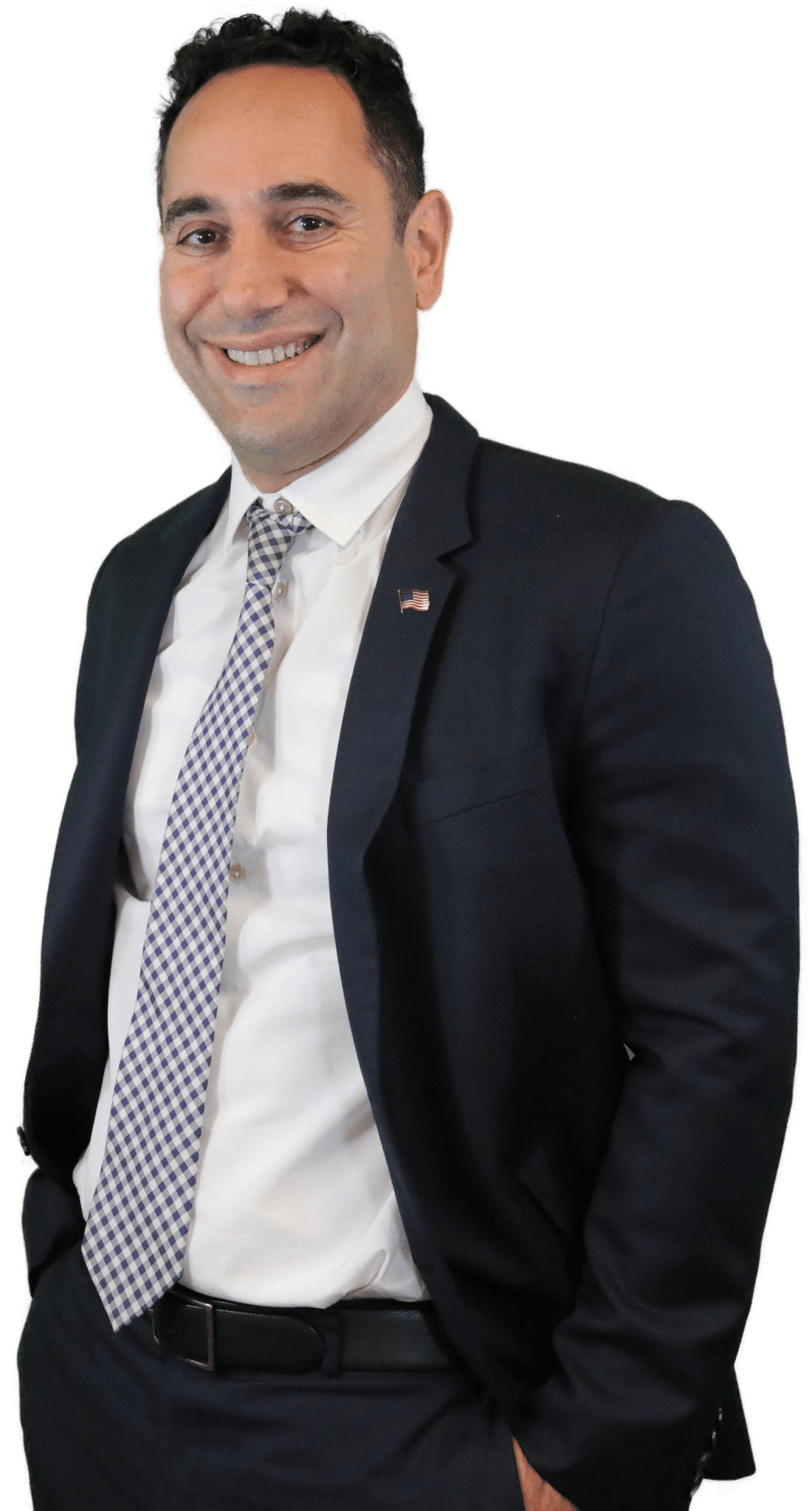 California Truck Accident Claims Process Call Us For A Free Consulation
Call us 24/7 with No Obligations Describe Your Accident Details
We will then discuss your legal options and decide whether to move your case forward. Retain Maison Law w/ No Upfront Fees
We work on contingency. No attorney fees unless you win your case. Receive Your Compensation
We will fight for you to earn the highest possible payout for your damages.
Free Big Rig Accident Consultation
Any collision with a semi-truck or tractor-trailer in California can lead to disastrous consequences.
Even with the serious injuries that often result from big rig accidents in California, insurance companies try to pay as little as possible for victims' recovery.
That is why Maison Law offers a free, no-obligation consultation to California truck accident injury victims. We will be happy to answer your legal questions and discuss your full range of options for moving your accident case forward.
Semi-Truck Accidents in California
California's high-volume manufacturing sector ships out food, cars, home goods, and hi-tech products across the globe. Those vital industries are great for the economy and provide jobs for millions of people, but provide a hazard for drivers sharing the road with big rigs.
If you're driving to work in your car or SUV you might feel like you're constantly dodging giants on the road. One mistake by a tired or distracted big rig driver can have devastating results for the smaller vehicles on the road.
Some of the causes of California's semi-truck accidents include:
Who Can Be Sued After a Truck Accident in California?
California big rig accident cases involving professional drivers can get very complex because there can be so many different parties and insurance providers bearing responsibility.
Independent Driver — You may have been hit by a local driver who is only covered by his or her personal insurance policy.
Local Transport Company — Drivers may be working for a smaller, local delivery or shipping company that provides some insurance.
National Distributor — That local company may be contracted out by a national distributor who works to move goods for large corporations.
Large Corporations – These national and international companies may have their own in-house network of shippers. Companies like Amazon or Grimmway Farms can rely on their own drivers and also use local trucking companies or drivers when their orders are at overwhelming levels.
Truck Manufacturer – If there's a defect with the truck that causes an accident, perhaps there's been a recall, the maker of the vehicle can also be called upon to provide compensation for their mistake.
A California Big Rig Accident Lawyer works to identify every party that bears fault in your accident. This is the only way to make sure you receive the support you need to make a full recovery.
One of these parties may be held responsible for your accident, or perhaps all of them depending on the circumstances. And when larger companies get involved, there's always the chance that corporate lawyers get called in to work against you and try to prove their company isn't liable for your injuries.
For all of these reasons and more, you need an experienced California big rig accident lawyer working for you to sort everything out for you while you heal. Sadly, the bigger the company that you must go through to find compensation, the bigger the fight you'll likely have on your hands. But not to worry, Martin Gasparian, the founder of Maison Law, started his career working for large corporations and uses that inside knowledge to make sure regular people who are in serious need of help don't get taken advantage of.
How Much Is a Big Rig Accident Case Worth in California?
The amount of money you'll earn from a personal injury claim is hard to predict because each case is so different. 
The severity of your injury can play a major factor in compensation totals. Truck accident cases generally involve more serious injuries because of the size, weight, and shape of the massive vehicles involved. 
Severe injuries often require longer stays in the hospital, longer rehabilitation, and have a greater effect on your life. Long-term injuries or permanent disabilities could require financial support over years or even a lifetime. 
Here are a few other factors that can affect how much you are awarded in a big rig accident settlement or from a court judgment: 
Lost Paychecks. The longer you are down with an injury the more shifts you miss at your place of employment. You'll need to be reimbursed for your lost wages and potentially compensated for raises, bonuses, and promotions you may have been absent for.
Driver's Insurance Limits. The big rig driver's insurance may have cap limits that run out before all of your hospital bills are paid. In truck accidents, once a truck driver's insurance has been exhausted, it's often possible to sue the trucking company for the additional compensation you require.
Physical and Emotional Hardships. Non-economic damages are awarded for your pain and suffering. After a devastating big rig accident, victims can suffer anxiety and depression. Especially when injuries keep them from doing things they once enjoyed.
Your Personal Injury Lawyer's Level of Experience. A skilled California attorney with experience at the negotiating table and in the courtroom can make a substantial difference in the compensation you receive.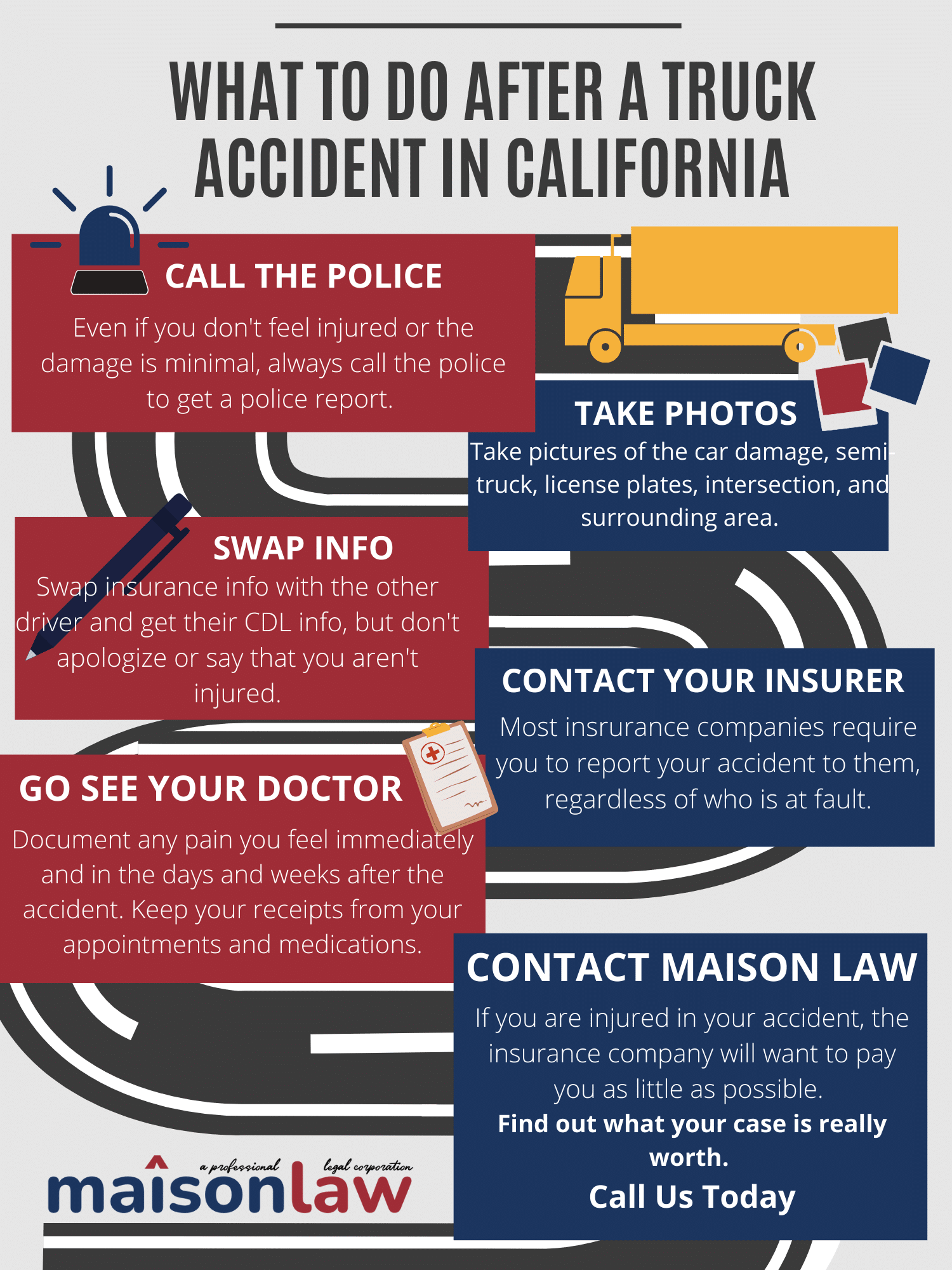 Do You Need a Truck Accident Lawyer to File a Lawsuit in California?
Victims are permitted to file a lawsuit on their own behalf in an accident. However, this is not in the victim's best interest, especially in an accident involving a large truck in California. 
In a normal traffic accident, the issue of compensation for property damage and treatment of injuries is generally between you, the other driver, and that driver's insurance company. Truck accident claims can play out very differently, because the at-fault truck driver may be driving for a local company or a national trucking corporation. 
This means you may have to sort out just who shares in the blame for your accident. Truck drivers may work for themselves and have commercial truck accident insurance to compensate victims. The driver could also work for a trucking company that might share in the liability for your hardships. 
Some of these businesses may send corporate lawyers and insurance representatives to your doorstep. They are there to get you to drop your expectations for support or perhaps get you to accept the blame for an accident you didn't cause.
Insurance claims involving commercial trucks can quickly become complex cases and it's important to have a skilled attorney on your side just to even the playing field. Your personal injury attorney will make sure you earn what's fair for your injury and protect you from the tactics insurance companies turn to when seeking to rob victims of compensation.
"I was involved in an accident about 3 years ago and Maison Law and their team helped me every step of the way. It was a long journey and a lot of time and hard work in getting me what I deserved. I couldn't have asked for a better law firm. I highly recommend!"
I got into a fender bender in January and was left dealing with a very unresponsive and terrible insurance adjuster who was basically forcing me to accept only 1k to close my claim prematurely. Thankfully I found Martin and Maison "Law who truly helped ease my mind, took care of my car, rental, treatment and got me an AMAZING settlement in time for Christmas."
"Martin Gasparian and the whole Maison Law team were there for me when I was involved in an accident. They held my hand every step of the way and took care of all my needs. They listened to all my concerns and put my mind at ease and made the whole process pain free. I would definitely refer friends and family to Maison Law.
Frequently Asked Questions About California Semi-Truck Accidents
Contact a California Truck Accident Lawyer Today
An attorney representing your injury case can begin investigating and collecting evidence and testimony from your accident immediately. Insurance agents and corporate lawyers may begin to work every angle to try to discredit you and your claim. They may look into your past driving record or medical history to somehow cast doubt on your innocence in your current truck accident case.
These are just tricks to get you frightened enough to accept their lowball offers. That's why it's so important to build a strong case before they start to try to undermine you. Once they realize you've got an experienced attorney on your side they are much more likely to make you a fair offer that covers all of your medical care now and any needed in the months down the road.
If you are facing a long recovery with a serious injury due to the negligence of the driver of a truck or any large vehicle contact attorney Martin Gasparian as soon as you are able. Mr. Gasparian offers a free, no-obligation appraisal on your case and can determine just how many parties should be held liable for your accident and your pain. With Maison Law, you'll get honest advice and the personalized attention to detail your case deserves.