Los Angeles Bicycle Accident Lawyer
After a serious bicycle accident in Los Angeles, victims are often severely injured. Their recovery often includes emergency treatment and ongoing medical care. These expenses are usually extremely costly, and getting the driver's insurance company to pay for the full recovery can be an additional headache. If you have been injured in a bicycle accident in Los Angeles, you deserve to have an experienced bicycle accident lawyer represent your case so that you can rest and recover in peace. Let Maison Law construct your case and argue with the insurance company so that you can receive the highest settlement possible, all while you focus on your recovery. Contact Maison Law for a free case evaluation. We can help you understand your legal options and give you a ballpark idea of what your case might be worth.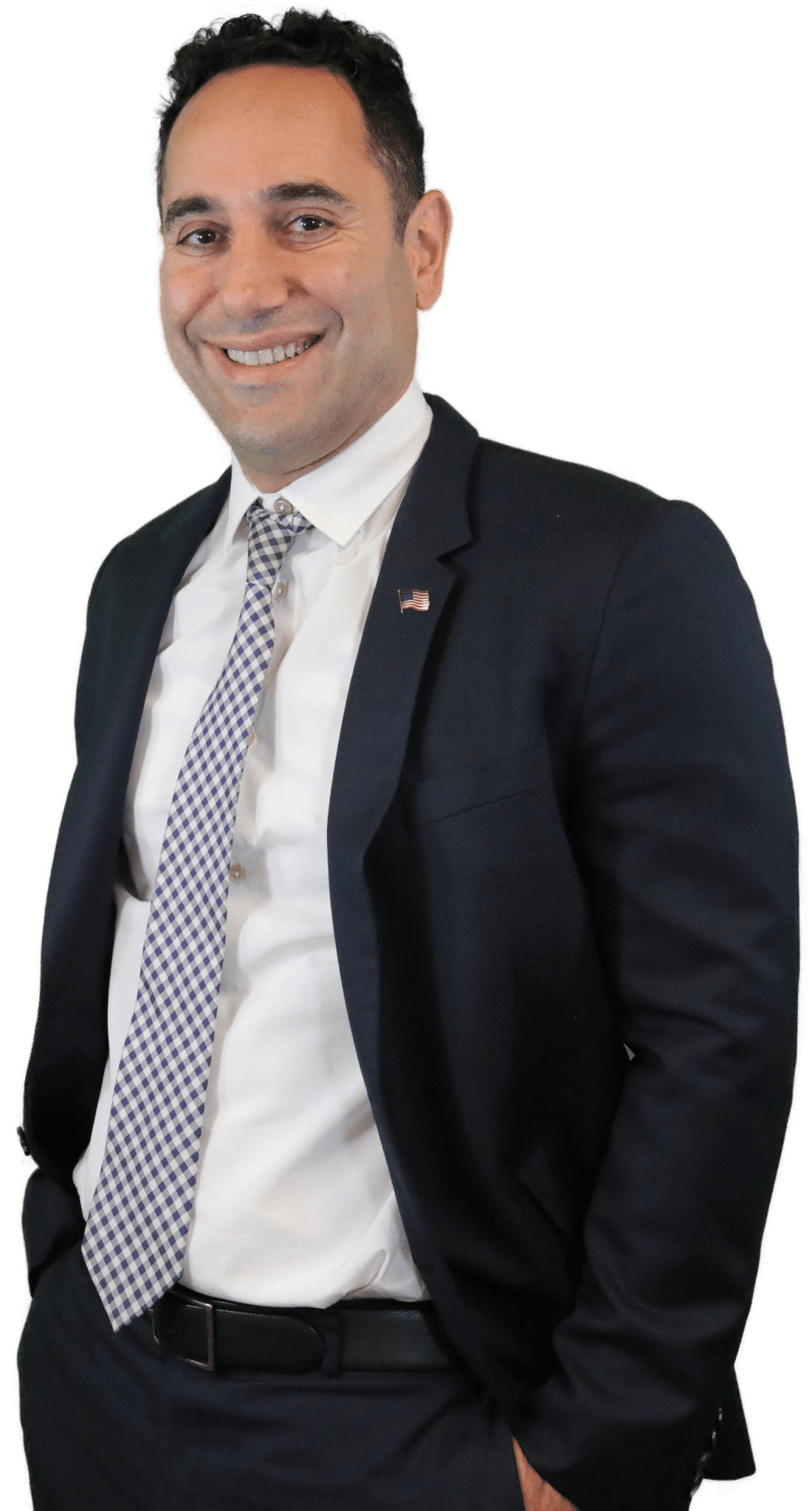 Los Angeles Bicycle Accident Claims Process Call Us For A Free Consulation
Call us 24/7 with No Obligations Describe Your Accident Details
We will then discuss your legal options and decide whether to move your case forward. Retain Maison Law w/ No Upfront Fees
We work on contingency. No attorney fees unless you win your case. Receive Your Compensation
We will fight for you to earn the highest possible payout for your damages.
Support for Los Angeles Bicycle Accident Victims
If you or a loved one has been the victim of a Los Angeles bicycle accident due to the negligence of a driver, you should seek professional legal advice before talking to an insurance representative. Insurance adjusters like to downplay the injuries riders receive and shortchange them on compensation when hospital bills come due.
Martin Gasparian founded Maison Law to provide accident victims with the best chance of securing the support they need to recover. Bicycle accident victims should get the best medical care available, without worrying about how much it costs. Mr. Gasparian fights for a cyclist's right to the lanes and aggressively goes after insurance companies who like to keep injured riders waiting on support.
Contact Maison Law for a free case evaluation for victims and their families. Allow us to fight for your fair compensation while you focus on recovery and returning to your bike as soon as possible.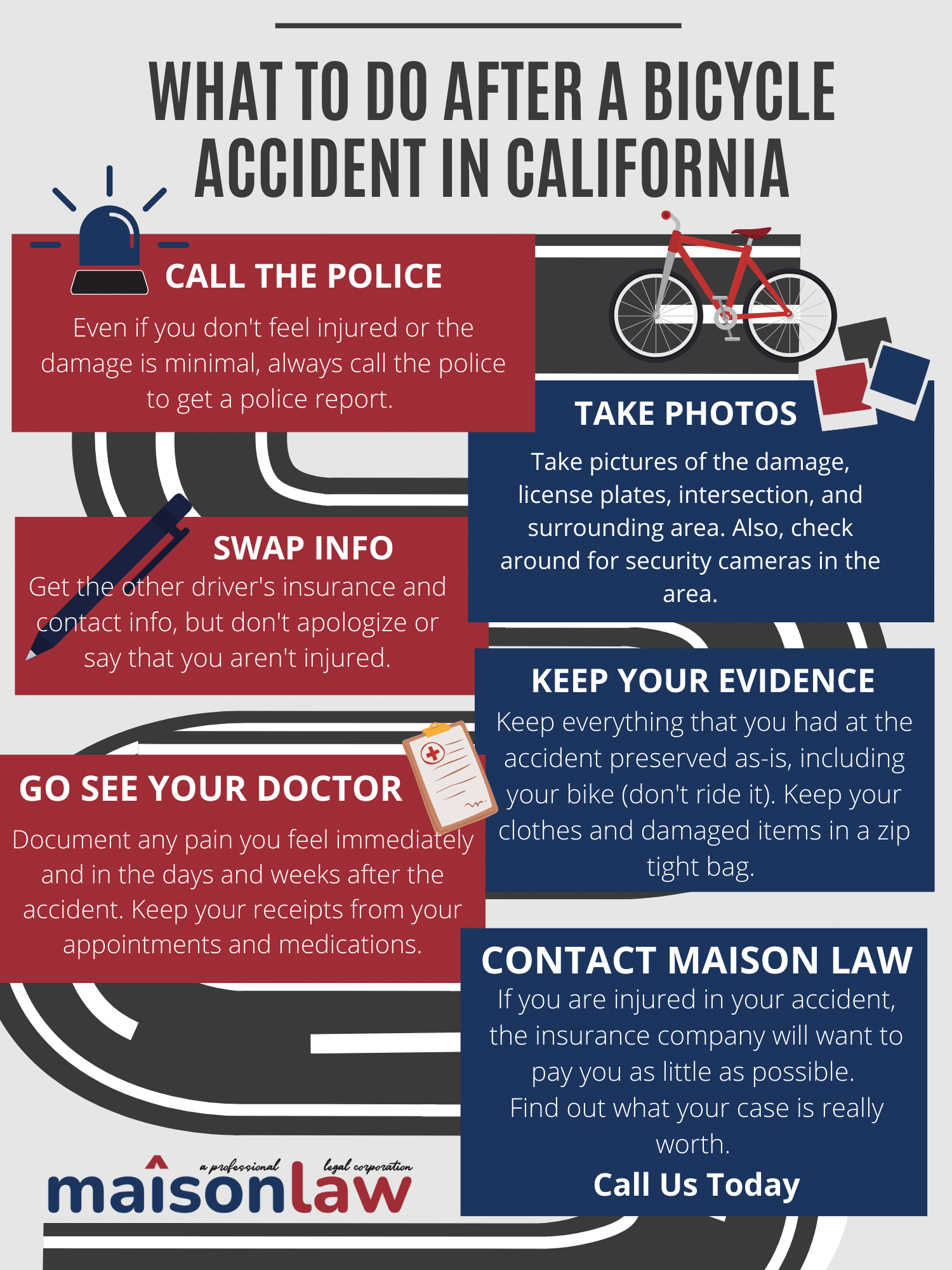 Los Angeles Bicycle Accident Dangers
Los Angeles is an imperfect paradise for cyclists who enjoy the scenery and the amazing weather Southern California offers. There are rarely any rainy days to spoil a ride.
L.A. has the qualities to be a cycling haven, but notorious Los Angeles traffic issues can override those benefits and turn city streets into a nightmare for riders.
Recently, The Guardian reported that in 2019 Los Angeles County recorded at least 36 cycling deaths. Those tragic deaths accounted for around a third of all bicycle-involved fatalities in all of California for the year.
The year before, Bicycling Magazine deemed Los Angeles the "worse bike city in America." They pointed out how distracted drivers put anyone on a bike in the crosshairs for an accident. They also noted how the city spends its time paying out injury lawsuits instead of adding safe lanes to ride in and improving road conditions.
Additional Resources:
What To Do After Getting Hit on a Bike in Los Angeles
Bike accident victims can first take a hit from a vehicle and then absorb a powerful impact with the pavement. They may suffer a serious injury and, understandably, be in shock.
But if you are strong enough after a collision or someone with you can help, it's important to get your accident documented and visually recorded. This evidence gets included with your injury claim filed against an at-fault driver's insurance provider. It prevents insurance adjusters from relying on making up their own account of who was at fault.
Focus on collecting this evidence if possible:
Call 911 and get an LAPD response. Give a full account to dispatchers and police. Let an ambulance crew check you out completely. Go to the hospital if you need to.
Take photos. Document the scene. Show vehicle and bike damage, and damage to your clothing. Get pictures of any visible injuries. Show bike lane markings and traffic signs that were ignored by the driver.
Jot down the addresses of businesses or homes nearby that might have security cameras that recorded your accident.
Find out what witnesses saw and find out how your Los Angeles Bicycle Accident Lawyer.
Exchange information with at-fault drivers but don't make any statements about the accident to them. Insurance companies can use these statements against you later. If a driver is working for a trucking company, a delivery company, or rideshare try to get an employee number.
See your own doctor in the days to come. Note any pain you didn't feel on the scene but then noticed the next day. Get everything documented. See specialists if you are advised to.
Keep your damaged bike. Don't throw evidence out.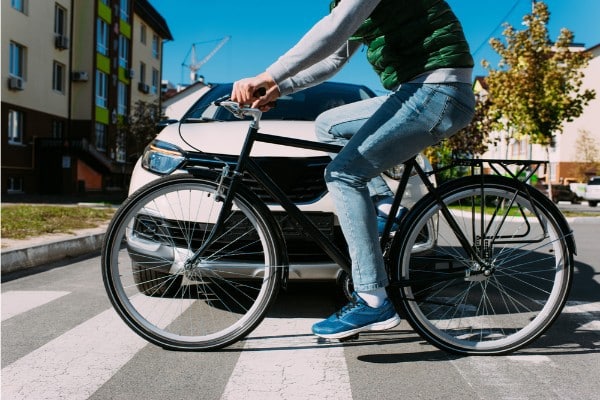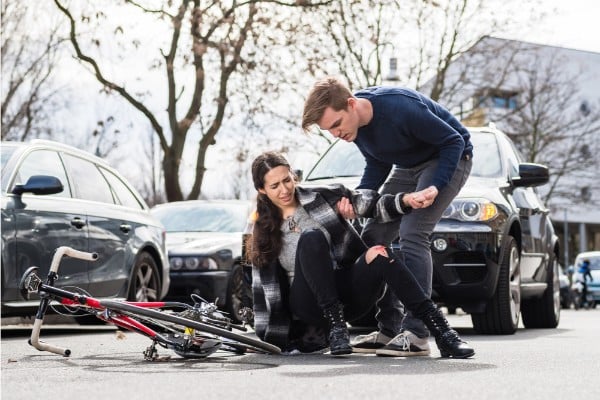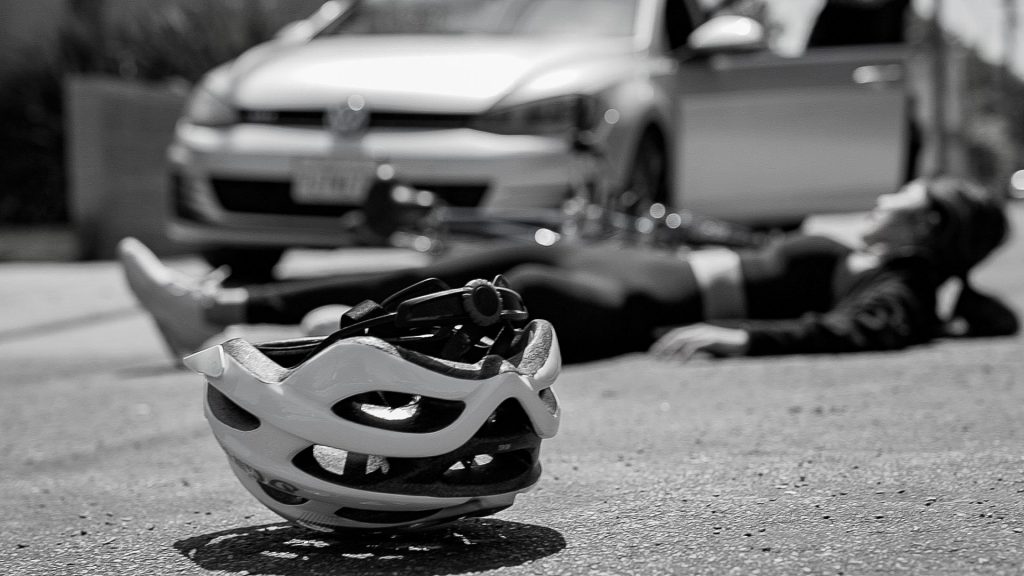 What Can I Earn Compensation for After a Los Angeles Bicycle Accident?
Once your evidence has been turned over to your L.A. Bicycle Accident Attorney, your lawyer will also conduct a full investigation into what happened and the driver responsible.
Once your lawyer has constructed a strong case for you, you'll then file an injury claim with the insurance company seeking a fair settlement check. This claim must include a list of every bill and non-economic damage you've suffered during recovery. Anything that gets left off could end up as a cost you must cover out of your own pocket.
These and other hardships will contribute to the amount you see in a Los Angeles bicycle accident injury settlement:
Costs of medical bills now and those expected in the future.
Estimates for care over a lifetime for permanent disfigurement or permanent disability.
Pain and suffering. This includes the non-economic damage you endure emotionally in the accident and during recovery. You may suffer from anxiety after a major collision. Depression may arise in recovery as you experience a loss of enjoyment of life. Being off your bike for an extended time can contribute greatly to emotional trauma.
Past and future lost earnings.
Repairs to bicycle or replacement.
Hit-And-Run Bicycle Accidents in Los Angeles
On top of every other traffic problem across Los Angeles County, hit-and-run drivers continue to plague accident victims. They can leave a bicyclist on the ground in pain and decide to flee the scene to avoid all responsibility for their actions.
Fortunately, an injury victim has several options to receive help even if the driver responsible is never tracked down. Bicyclists may have their own auto insurance and could request support from their uninsured motorist coverage. Victims could also enjoy coverage on a close family member's policy and receive help.
If a hit-and-run suspect is located and arrested, the cyclist can file a claim for damages against the driver's car insurance provider almost immediately. This is a civil claim and it proceeds separately from any criminal trial the suspect may face.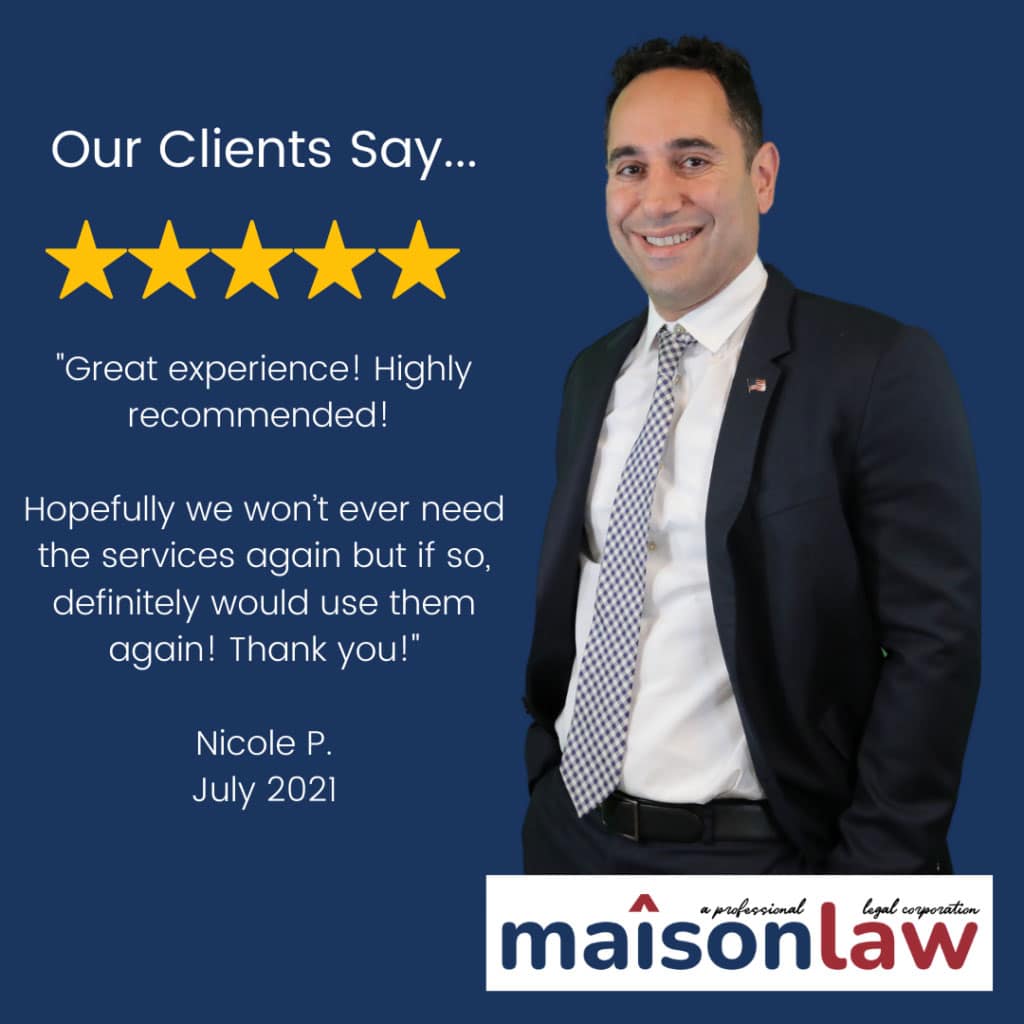 Wrongful Death Bicycle Accidents in Los Angeles
In the worst cases, cyclists can lose their lives while doing something they enjoy so much. Families will be devastated by the loss of a loved one and will struggle to cope with such a tragedy.
Under such heartbreaking circumstances, families are, unfortunately, forced to protect themselves financially in the aftermath of a terrible accident. Close relatives can risk bankruptcy as emergency service and ambulance bills arrive in the mail. The costs of any hospital care accumulated before the deceased passed on can also come due. The expenses of a funeral and a burial also add up quickly.
A spouse, children of the victim, and in some cases the parents of the victim can file a wrongful death lawsuit on behalf of the entire family. This wrongful death claim can stabilize the family as they inch closer to bankruptcy under such financial strain. A wrongful death lawsuit also seeks to protect the family from harm in the future when they'll be without the guidance and financial support a loved one would have provided.
Frequently Asked Questions
No. Preserve damaged clothing. Don't wash bloody clothing. Save the shoes and socks you were wearing on your bike and don't wear them again until your lawyer says it's okay. Always keep your damaged bike.
Two years. Los Angeles bicycle accident victims must file an injury claim within two years of the event. If they wait beyond this point, they will likely have the case rejected. Make sure you talk to a lawyer as soon after a crash as possible.
Yes. A judge may find that helmet use may have reduced your injuries and assign you partial blame for an injury. But the driver involved will likely face a higher percentage of liability and you could receive a proportionate amount of support.
Contact a Bicycle Accident Lawyer In Los Angeles
After a bicycle accident, please rely on an experienced Los Angeles personal injury attorney to handle your case and protect your interests. Insurance companies aren't required to tell you about every benefit available to you. When you aren't informed of your rights you can lose out on valuable resources and end up paying for some of your recovery costs out-of-pocket.
That should never be the case when you are put through such a traumatic accident through no fault of your own. Take advantage of a free case consultation that comes with no obligation to you or your family. 
Maison Law is a strong advocate for safe rides for all cyclists. We are also proud sponsors of the Los Angeles County Bicycle Coalition. We strive to see injured cyclists get the support they need to recover and return to their bikes.