Big rigs pull out of farms and ranches in California's agricultural regions day and night. Trucks leave processing and manufacturing centers throughout California with full loads each morning.
Truck drivers work long hours to keep California's products moving across and out of the state. These big rig operators also try to stay as safe as possible when using California roads.
The problem is that truck drivers can become distracted or drowsy just like any driver. The difference is in the greater risks present when unfocused drivers are behind 80,000lb vehicles that stretch 70ft or more. Any small mistake can lead to major accidents and life-threatening injuries.
Maison Law of California authorized a comprehensive look at recent truck accident statistics in California and the U.S. It's a way to highlight the dangers on California roadways that, sadly, continued in 2021. It's also hoped that a reminder of these sometimes shocking California big rig accident numbers can encourage all motorists to exercise more caution for the rest of 2022 and beyond.
National Big Rig Accident Statistics
Nationally, accidents involving large semi-trucks and tractor-trailers have been steadily rising for almost a decade. 2020 saw a slight step-back in dangerous big rig accidents, but that was likely the effect the COVID-19 protocols had on traffic overall for the year.
Official truck accident statistics for 2021 aren't in yet, but as commerce reboots after the pandemic, and trucks and cars returned to the road, collision levels are expected to leap back to normal levels and beyond.
The numbers in the chart below were provided by the National Safety Council (NSC). The group defines large trucks as any medium or heavy truck, not including buses and motor homes, with a gross vehicle weight rating greater than 10,000 pounds. Both commercial and non-commercial vehicles are included.
In 2020, big rig accidents claimed almost 5,000 lives on U.S. roadways. What's more, 147,000 people were injured in these collisions.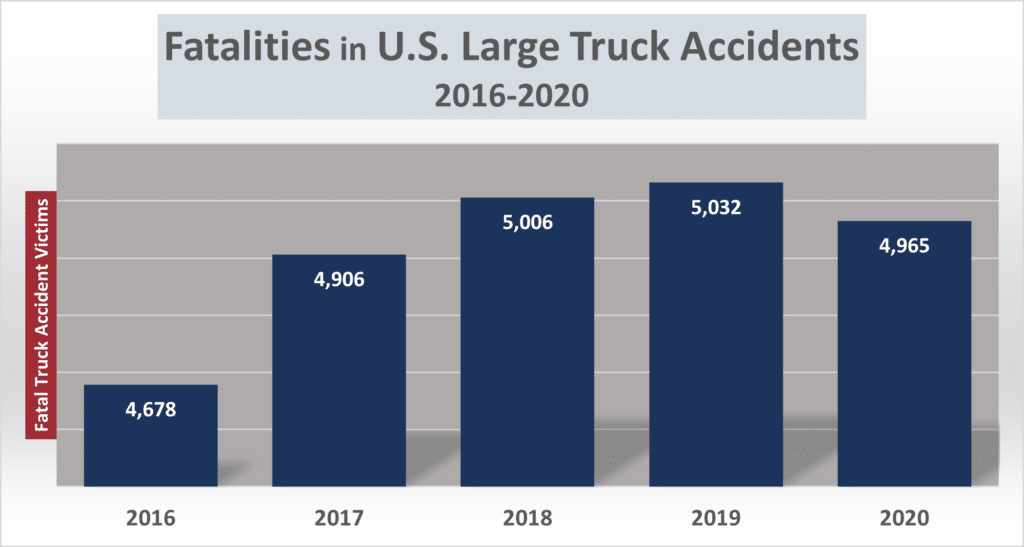 California Big Rig Accident Fatalities
Over the past five years, California's large truck crash cases have remained fairly steady. Which is to say they've remained consistently high with predictably devastating consequences.
This unfortunate trend is easy to spot in the big rig accident figures recorded over the past five years. The numbers for California are tracked by the Federal Motor Carrier Safety Administration (FMCSA). Their data shows that big rigs remain a major threat to California travelers.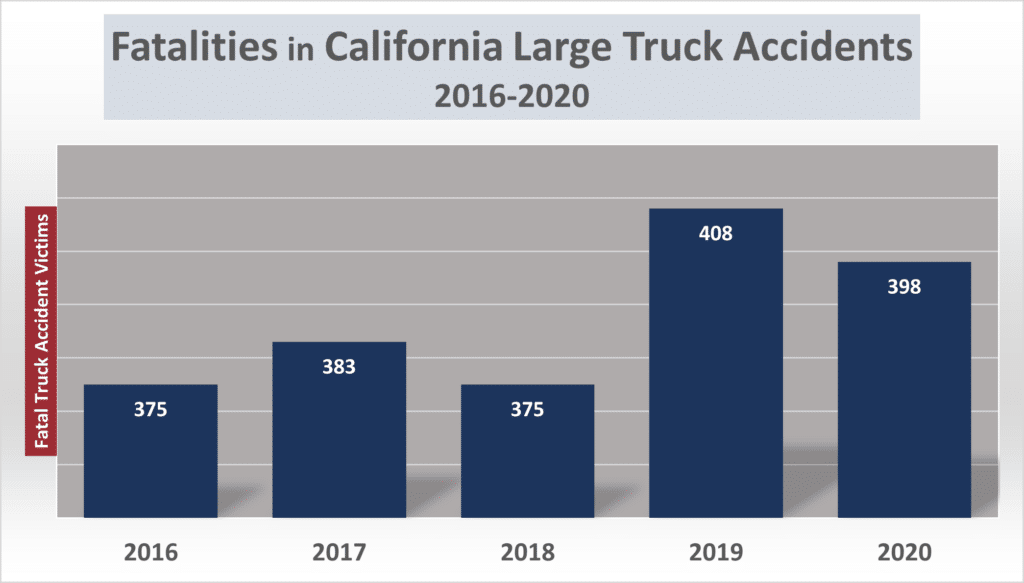 According to the National Safety Council (NSC), California ranked second in fatalities resulting from large truck crashes in 2020.
Texas – 643 deaths
California – 398 deaths
Florida – 344 deaths
NSC researchers found that in most cases it was the victims in smaller cars, SUVs, pickups, and motorcycles who suffered the most life-threatening injuries. Truck drivers are more protected in their bigger, stronger semi-trucks and in many cases remain unharmed even in major impacts.
The statistics for big rig collision fatalities include a category for "non-occupant victims." This represents anyone, not in a vehicle involved in a large vehicle crash. That would include the devastating consequences of a big rig striking a pedestrian or cyclist.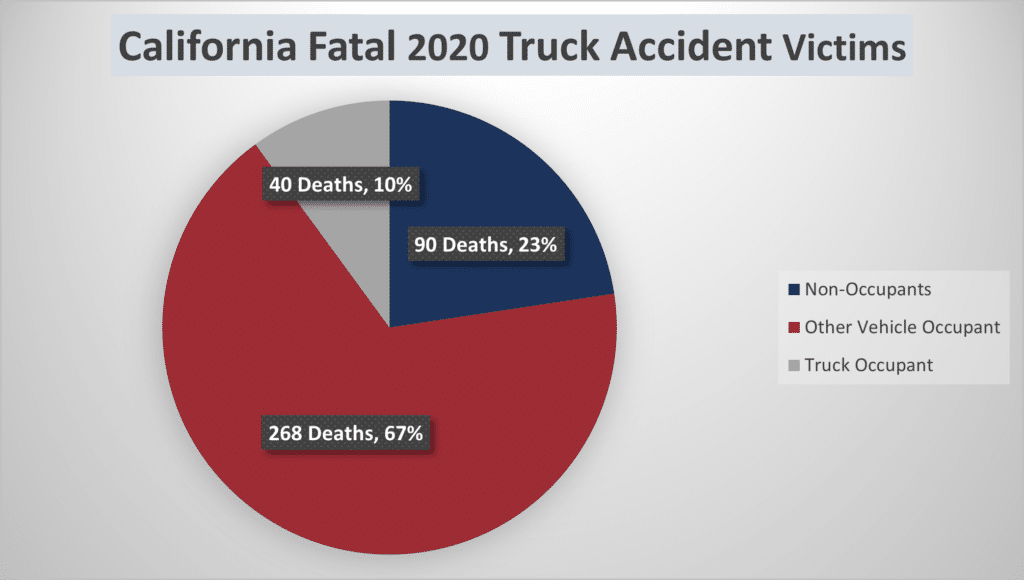 California is one of the few states that regulates the speeds of big rigs on all roads. It's the law that truck drivers on any California boulevard, freeway, or highway may go no faster than 55mph. This is true no matter what the posted speed limit is for other motorists. It's a mandate intended to reduce California big rig accidents, but there are still far too many lives put at risk by careless and reckless truck driving.
Truck Accident Dangers in California's Biggest Cities in 2021
Los Angeles is a city notorious for accidents and they occur almost hourly on the worst days. It's no surprise that the city and county lead all of California in frightening big rig crashes.
California's Transportation Injury Mapping System (TIMS) tracks these accidents all year long. They recorded well over 2,000 injuries caused by semi-truck impacts in Los Angeles County in 2021.
An unofficial total of 2021 accident numbers shows that truck accidents are on the rise again in California's most populated county. This hike came after the abnormal events of 2020 when the pandemic reduced traffic overall and allowed for positive gains in truck accident incidents.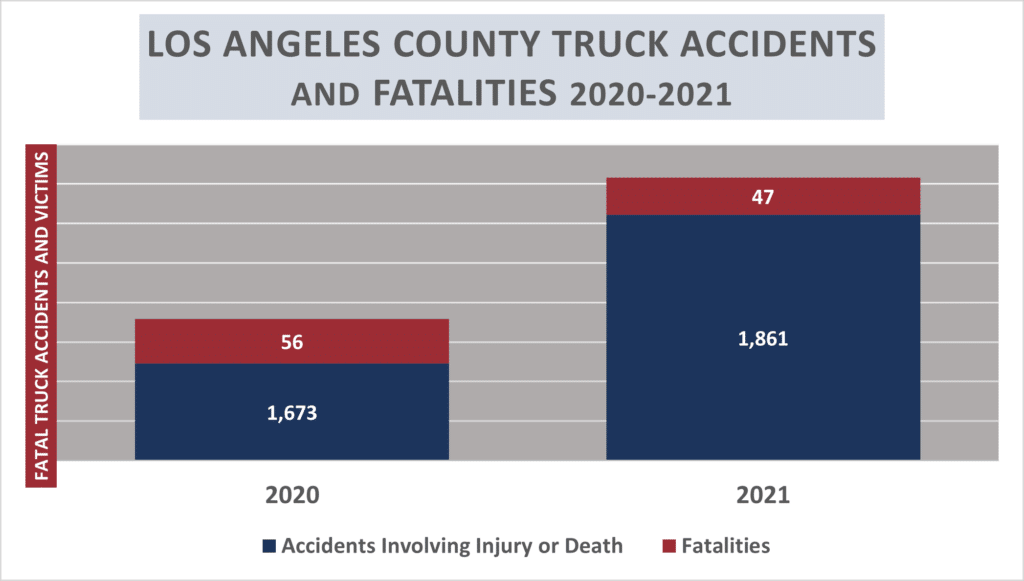 San Jose, Sunnyvale, and Mountain View make Santa Clara County one of the most industrious places in the country. Innovations are shipped out on Interstate 280 and Highway 101 year-round.
A thriving economy means more drivers are more likely to see tractor-trailers walling off lanes during rush hour. TIMS noted steady levels of truck accidents involving injury or a tragic fatality in cities like San Jose and Milpitas. Researchers documented over 159 injuries in Santa Clara County semi-truck-related crashes.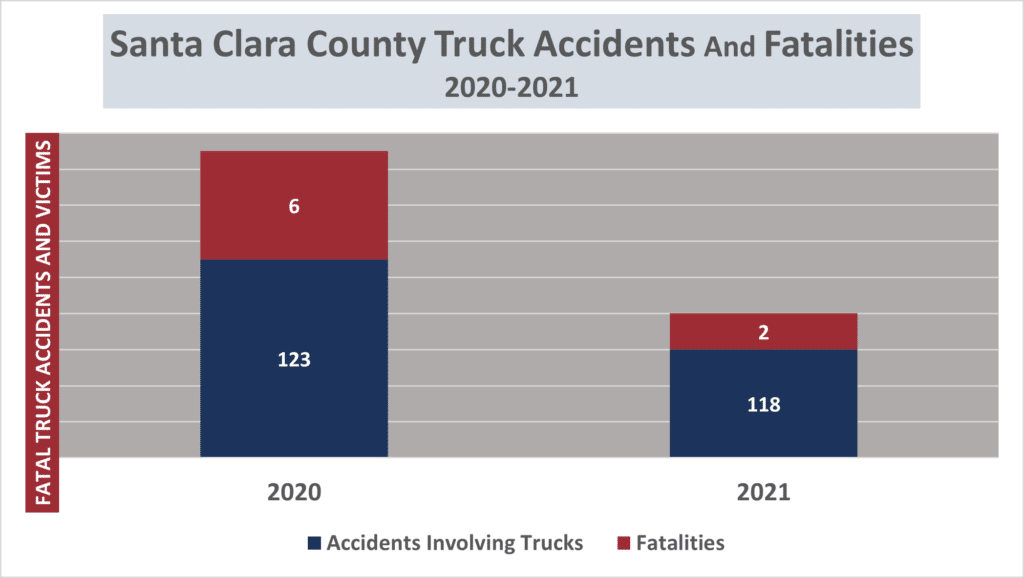 Fresno is in the heart of Central Valley where agriculture is the backbone of the economy. Travelers on Highway 99 and other rural roads in Fresno County are used to seeing livestock trucks, produce haulers, and every other manner of big rig.
TIMS revealed that the county recorded nearly 341 injury victims in crashes involving semi-trucks in 2021. After a quieter 2020, 2021 saw around 50 more truck accidents in and around Fresno.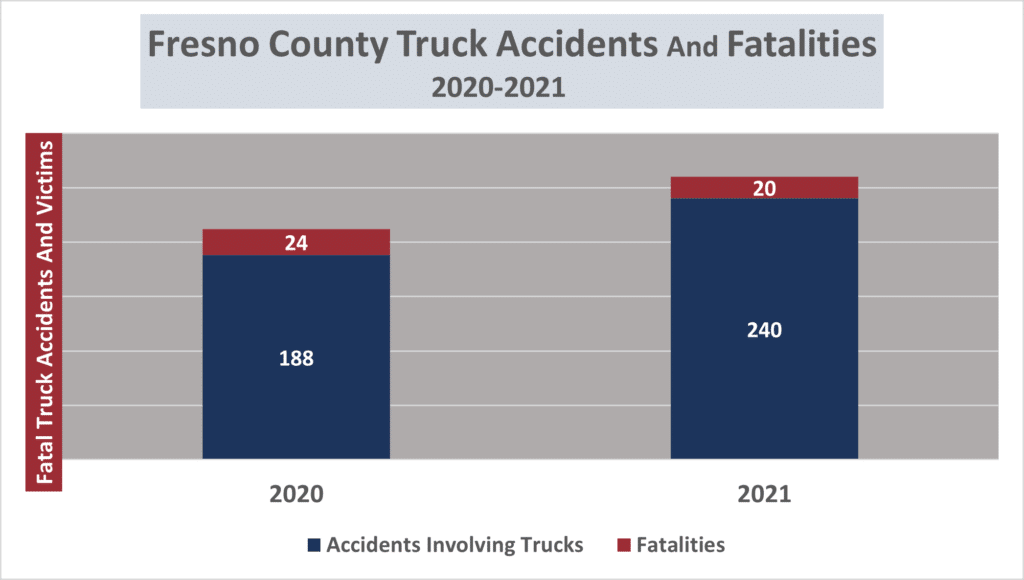 Plan for a Safer 2022 and 2023 on California Freeways
With the discouraging statistics released by traffic analysts in recent years, it's critical that every motorist, not just truck drivers, commits to safer behavior on California roads. This is one of the few changes that will make a real difference in the tragic accident numbers tallied across our state and within our cities each year.
If you or a loved one become the victim of a truck driver's carelessness, don't wait to seek legal help. Take advantage of a free consultation with a California Truck Accident Lawyer to find out what your injuries may be worth. Maison Law works with big rig accident victims to make sure insurance companies provide them with everything they need to rebuild their health and their lives.