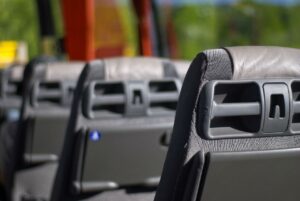 When you buy a ticket for a seat on a Greyhound Bus, you trust that your safety will be the number one concern. Unfortunately, bus companies and their employees can become careless and end up putting passengers in harm's way.
Passengers on California Greyhound Buses may or may not have seatbelts provided to them. Regardless of the situation, a bus driver's mistake can cause devastating accidents. Passengers can be thrown about the bus or against their seatbelts to suffer a serious injury. Once an injury has been stabilized, victims may wonder if a big company like Greyhound can be held responsible for a bus accident.
Greyhound Bus Crash Injures Several Passengers in Tulare County
A Greyhound bus carrying approximately 34 passengers crashed in Tulare County early Wednesday morning. ABC30-TV reports the accident occurred on Highway 99 near the Avenue 264 exit between Tulare and Visalia on August 3, 2022.
The California Highway Patrol responded to the scene off the northbound lanes shortly after 3:15 a.m. They believe the 45-year-old man driving the bus allowed the vehicle to veer into the right shoulder. The bus was then sent through a chain-link fence and eventually tipped over in a packing house parking lot.
Officers on the scene said that 21 passengers were treated for minor to moderate injuries and were taken to hospitals in Tulare, Visalia, and Hanford. Officials say the bus was on its way from Bakersfield to Fresno. CHP investigators continue to work to determine the circumstances surrounding the accident, but they don't believe drugs or alcohol played a role.
Earning Support for Tulare Greyhound Bus Accident Victims
Being in a large Greyhound Bus during a major accident can be a traumatic experience. It may also leave passengers with serious injuries and wondering how they'll pay for their medical care. A bus driver involved may be a great person, but the driver and the driver's employee must be held accountable for the harm caused to victims.
Bus accident victims are permitted to file a claim against Greyhound if the conduct of the driver or the company put their customers in danger and caused injuries. This claim would seek support for victims and their families including reimbursement for all medical expenses.
Injured patients could also ask for help with replacing paychecks they lose while having to miss work. Greyhound victims should also receive compensation for the physical pain they endure and the emotional trauma they are likely to suffer after a violent crash.
Contact a California Greyhound Bus Accident Lawyer Serving Central Valley
After a Greyhound Bus crash, their insurance representatives will be calling victims trying to get them to sign off on settlement offers that don't cover the full costs of recovery. Don't fall for this. Contact a skilled Fresno and Bakersfield personal injury lawyer serving Fresno, Tulare, and Bakersfield bus accident victims.
Maison Law offers a free case consultation to all victims. It's a no-risk way to find out what your injury claim should earn you and your family. It's also a chance to learn about the other benefits available to you.
If you decide we can help you earn more in compensation from Greyhound, you won't need any upfront money. We don't get paid unless we win your bus accident claim for you.