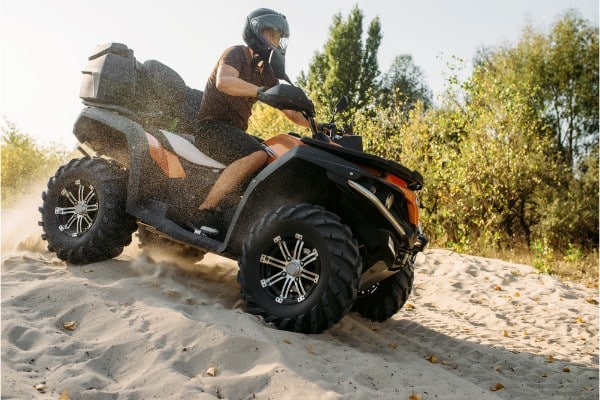 California is known for its outdoor adventures. Our beautiful mountains provide recreation, with fishing in the lakes, skiing and hunting. The ocean welcomes you to the coastline, inviting you to surf, swim and explore its depths, with deep sea excursions. Huge expanses of dirt and sand comprise the deserts of California, where people take their dirt bikes, jeeps and ATVs (All Terrain Vehicles) out for a spin. But it's not all fun and games. An ATV accident could land you in the hospital, or worse, if you're not careful.
Recreational Toys
Of course, having off-road, all-terrain vehicles can alleviate an afternoon of boredom, but there is also a great responsibility that comes with these "toys." They are powerful machines capable of catastrophic injuries or even death, if not handled properly. Sometimes, even when being used exactly as directed, mayhem can ensue due to manufacturer issues.
ATV Accident Dangers
Even if you are operating safely, there are a number of things that could derail your fun.
Design Flaw – Is there a feature or aspect of the ATV that makes it unsafe or defective?
Driver Error – Were you hit while someone was speeding, intoxicated or driving recklessly?
Trail Maintenance – Are there dangerous conditions or obstacles that helped contribute to an ATV accident?
A common issue with ATVs is the design; they rollover easily. This is the main cause for ATV accidents. Manufactures don't always provide sufficient warning or instructions on how to avoid rollovers, and that could make them liable.
Safety Tips
The Consumer Product Safety Commission releases statistics on ATV-related deaths and injuries. Between 1982 and 2012, there were 12,391 reports of ATV fatalities, with 24 percent of that number comprising minors younger than 16 years of age.
There are a few things you can do to prepare and protect yourself against accidents and against liability. One of them is to read the owner's manual and enroll in a training course to ensure you know how to operate the ATV safely. Also, always wear a helmet and other protective gear. Never ride on pavement or in traffic with an ATV, and never ride while intoxicated.
Protect Yourself
Maison Law Firm is a premier law firm that specializes in personal injury claims. Call us today to see what we can do for you – 559-203-3333.