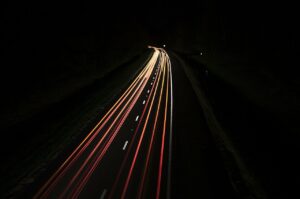 A wrongway driver on a Los Angeles County freeway can cause a devastating accident. The victims of head-on collisions may suffer severe injuries and even have their lives placed in jeopardy.
Traveling a freeway at night in Los Angeles County can make it easier to spot other vehicles with their headlights on. Unfortunately, the reliance on all of those lights can confuse some drivers and lead to travelers ending up facing the wrong direction on a freeway.
This error in judgment often leads to devastating head-on accidents. Motorists in the correct lanes aren't given much time to react to the unexpected sight of a car coming right at them. These powerful impacts can have devastating consequences for drivers and passengers in multiple vehicles.
Wrongway Accident in Lancaster Kills 34-Year-Old Victim
A multiple-vehicle accident tragically claimed one life early Monday morning in Lancaster. My News LA reports the accident occurred sometime before 12:07 a.m. along the Antelope Valley Freeway/Highway 14 on February 14, 2022.
The California Highway Patrol says the crash happened in the northbound lanes just south of Avenue H. They say the head-on accident involved multiple vehicles. A witness on the scene also said one of the drivers involved was traveling the wrong direction down the freeway.
The victim who died was pronounced dead on the scene. It was unclear if anyone else involved in the accident was injured.
California Highway Patrol investigators continue to work to determine the circumstances surrounding the accident.
Finding Support for Victims and Families After a Lancaster Accident
Victims of frightening accidents must often deal with long and expensive recoveries. A claim for damages is a powerful option for survivors when trying to get help with the basic costs of medical care. A claim filed against the at-fault driver's car insurance also asks for help with the wages lost while the victim is forced to miss work hours.
Families who have lost a loved one will, of course, never completely get over the pain of such a heartbreaking tragedy. The close relatives left behind are encouraged to file a wrongful death claim against an at-fault driver's auto insurance provider.
Family members should expect help with the costs of a memorial ceremony and burial and ambulance services. A claim can ask for assistance with these expenses and other losses, like the financial support the deceased can no longer provide the family through employment.
Contact a Los Angeles County Car Accident Lawyer
If you or a loved one have been the victim of a serious accident, allow a skilled Los Angeles Car Accident Attorney to protect yourself and your family members.
In order to hold an at-fault driver's insurance company fully responsible for your devastating losses, you may need the experience of a Los Angeles lawyer on your side.
Contact Maison Law to schedule a free and confidential consultation with Martin Gasparian, the founder of Maison Law. You'll take to a real lawyer with actual experience in protecting Los Angeles County accident victims. Mr. Gasparian makes sure victims have everything they need in the aftermath of a frightening accident.