A whiplash happens most often in rear-end accident and the impact sends the victim forward and then immediately backward both extending and then compressing the neck region. The results are typically some immediate pain, but the adrenalin often masks the severity of pain which then becomes more severe over time. If you've suffered even a mild whiplash injury, you know how the pain can significantly impact your quality of life.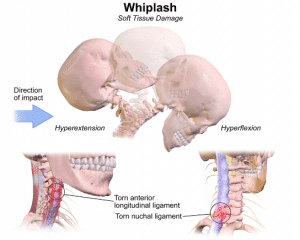 The hyper-extending and compressing causes damage to the muscles, tendons, and soft tissue in the neck region. The results in pain and a differing degree of loss of mobility. In most cases, the symptoms last a few weeks to a couple of months, but some can linger longer or become permanent.
Symptoms and Levels of Whiplash
At first, it's difficult to know what neck pain could be whiplash or just pain from the shock of the accident. However, after a couple of days, then the whiplash pain and discomfort will become more apparent.
Not all soreness around the neck area after an accident is whiplash. However, there are some common symptoms that can indicate whiplash.
Mild to Moderate Whiplash Symptoms
Neck Pain
Pain with Movement
Stiffness
Dizziness
Headaches
Loss of Range of Motion of Neck
Tingling in the arms
Tiredness
Severe Whiplash
Deep pain to the neck area
Loss of Range of Motion
Headaches
Vertigo
Memory Loss
Lack of Concentration
Depression
Sleep Problems
Tinnitus (Ringing in Ears)
Treatment
In most cases, the pain, discomfort, and other mild symptoms will resolve with rest and immobility of the neck. In mild to moderate cases, the treatments usually resolve the problem. In severe cases, the treatments are about the same, but the symptoms take longer to abate and sometimes become permanent.
If that happens, a specialist can help form a long-term treatment plan designed to bring relief to the victim.
Immobility, usually by the collar
Pain Relievers
Cold and heat therapy to get swelling down and then increase circulation
Ultrasound
Physical Massage
Chiropractic Treatments
At Maison Law, we have seen all levels of whiplash and know that it's no joking matter. The inability to move without pain and the feeling that your life will never get back to normal can be overwhelming. We have made it our mission to help those with whiplash and other accident-related injuries to get financial compensation for their injuries.
Contact a Personal Injury Lawyer.
After an accident involving a serious injury in the Central Valley, contact attorney Martin Gasparian for a free consultation and case evaluation. Mr. Gasparian takes a hands-on approach to every case. He believes that every client should work directly with their lawyer, get honest advice and personalized attention to detail their case deserves.