A frightening collision on a California highway can expose the occupants of cars to powerful forces. Bodies often suffer violent jolts and the head and neck might be thrown back and forth. Among other serious effects, this motion may cause what's known as whiplash.
You might have seen someone wearing that awkward neck brace and thought that it looks like a relatively minor injury. But if you've never suffered whiplash, you wouldn't know how much pain victims can suffer through or how debilitating the restriction of movement can be.
After any accident involving a neck injury, it's important that victims seek full financial support for their emergency care and for the care they may need months and years in the future.
Contact a California Whiplash Accident Lawyer for a Free Consultation
A careless driver could crash into your vehicle and leave you or a family member with a painful neck injury. Whiplash often leads to weeks or months of physical therapy, rounds of expensive pain medication, and even surgery.
A negligent driver and the driver's insurance provider should take full responsibility for all expenses as you recover. Unfortunately, this isn't an automatic process. Reckless motorists and their insurance adjusters often deny blame and try to get away with offering as little support as possible.
Contact Maison Law, serving California whiplash victims, for a free, no-obligation case consultation.  It's a no-risk way to discover how much your injury and your related damages may be worth. A skilled California Traumatic Injury Lawyer works to make sure you receive every benefit available to you and your family through recovery.
What Is Whiplash After a California Traffic Accident?
Whiplash happens during an impact that sends the victim forward and then immediately backward, both extending and then compressing the neck region. These injuries most often occur in rear-end accidents but can result from all types of traffic impacts and even in sporting accidents.
Whiplash often results in pain in the neck, arm, back, muscles, or shoulders. Pain is typically felt immediately, but adrenaline and shock often mask the severity of the injury but the pain becomes more severe over time. If you've suffered even a mild whiplash injury, you know how the pain can significantly impact your quality of life.
The hyper-extending and compressing causes damage to the muscles, tendons, and soft tissue in the neck region. This results in pain and a differing degree of loss of mobility. In most cases, the symptoms last a few weeks to a couple of months, but some can linger longer or become permanent.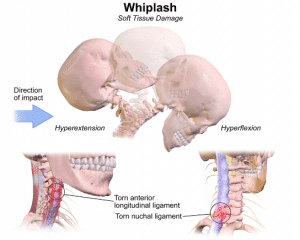 Doctors admit that they don't fully understand everything that contributes to whiplash and that can make it hard to treat. It's why patients often suffer for extended amounts of time and end up needing personal injury compensation to cover more than just one night in the emergency room.
Symptoms and Levels of Whiplash
At first, it's difficult to know what neck pain could be whiplash or just normal bumps and bruises after a California roadway accident. However, after a couple of days, the whiplash pain and discomfort could become more apparent.
Victims may suffer excruciating pain when sneezing, coughing, or trying to move the head just the slightest bit.
Not all soreness around the neck area after an accident is whiplash. However, there are some common symptoms that can indicate whiplash.
Mild to Moderate Whiplash Symptoms
Neck Pain
Pain with Movement
Stiffness
Dizziness
Headaches
Loss of Range of Motion of Neck
Tingling in the Arms
Tiredness
Severe Whiplash
Deep pain to the Neck Area
Loss of Range of Motion
Headaches
Vertigo
Memory Loss
Lack of Concentration
Depression
Sleep Problems
Tinnitus (Ringing in Ears)
Common Treatment for Whiplash Injuries
In most cases, the pain, discomfort, and other mild symptoms will resolve with rest and immobility of the neck. In mild to moderate cases, the treatments usually resolve the problem. In severe cases, the treatments are about the same, but the symptoms take longer to abate and sometimes become permanent.
If that happens, a specialist can help form a long-term treatment plan designed to bring relief to the victim. These are just a few of the expensive diagnostic methods and treatment options the victim will be asked to try:
X-rays and MRIs
Immobility, Usually by the use of a Whiplash Collar
Pain Relievers, Steroids, and Muscle Relaxers
Cold and Heat Therapy to get Swelling Down and then Increase Circulation
Ultrasound
Physical Therapy
Treatments from a Chiropractor or an Osteopath
Compensation Available After a California Whiplash Accident
That fair compensation is absolutely vital because whiplash can leave more than just medical bills behind. Victims and their families can watch as family life changes. The pain victims experience may leave them out of family activities and keep them from the hobbies they love.
A California personal injury lawyer will file a claim that includes a list of every physical, emotional, and financial hardship the client has faced in recovery:
All hospital and physical therapy expenses.
Medical equipment and prescription costs over the entire recovery.
Physical pain. The intense and sometimes long-term pain brought on by whiplash symptoms.
Emotional distress. The trauma experienced in the accident and during a difficult recovery. Depression, anxiety, and PTSD symptoms are common. Other changes in lifestyle the injury forces a victim to make.
Damage or destruction of property.
Past and future lost earnings as victims miss time at work.
Contact a California Whiplash Injury Lawyer
After an accident involving a serious neck injury in California, contact attorney Martin Gasparian for a free consultation and case evaluation.
Mr. Gasparian, the founder of Maison Law, knows that whiplash is no joking matter. The inability to move without pain and the feeling that your life will never get back to normal can be overwhelming. Martin Gasparian has made it his mission to help those with whiplash and other accident-related injuries receive a fair settlement check for their suffering.
Additional Resources: