Visalia has many roads where there are no bike lane designations, and it certainly isn't Davis. However, we do have a few Class 1 bike paths. The Class 2 bike lanes along Tulare Ave, Whitendale Ave and other arterial roads are a good start as well, however, all too often cyclists find themselves trying to avoid a door being flung out into their path. Class 3 bike routes exist as well, however, each cyclist has deal with disrespectful drivers who feel like they own the road when behind the wheel.
The California Vehicle Code gives cicyclists the same rights on a roadway as the drivers of motor vehicles. Unfortunately, a crash can occur in an instant. If a driver's carelessness and negligence caused you to be seriously injured in a bicycle crash in or around Visalia, Tulare County or anywhere in the Central Valley, you'll want to speak with an experienced and effective Visalia bicycle accident lawyer from our offices. You might be eligible for compensation for your injuries.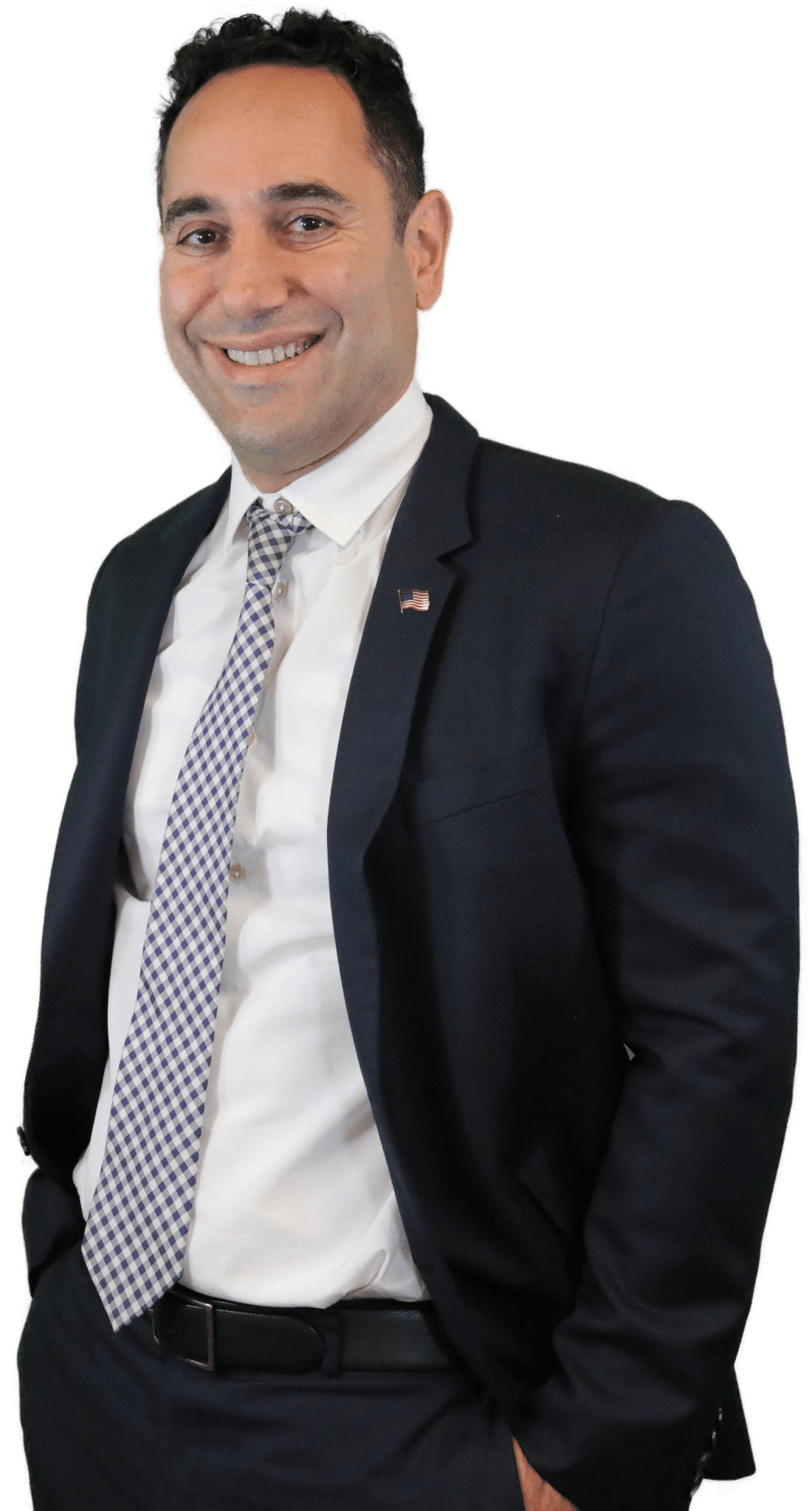 "Maison law is outstanding. The entire team was very attentive to my question and concerns. They even went out of their way to find a chiropractor closer to me because I was not able to commute far for my appointments. I was confused on what was next after my accident but The Maison Law team quickly made me feel comfortable. They are here to work for you."
I got into a fender bender in January and was left dealing with a very unresponsive and terrible insurance adjuster who was basically forcing me to accept only 1k to close my claim prematurely. Thankfully I found Martin and Maison "Law who truly helped ease my mind, took care of my car, rental, treatment and got me an AMAZING settlement in time for Christmas."
"Martin Gasparian and the whole Maison Law team were there for me when I was involved in an accident. They held my hand every step of the way and took care of all my needs. They listened to all my concerns and put my mind at ease and made the whole process pain free. I would definitely refer friends and family to Maison Law.
Common Bicycle Accidents
As a bicyclist, you don't have a metal body and frame around you with bumpers. The only crumple zones are your skin, muscles, joints and bones. You're exposed and vulnerable to severe injuries. You're not afforded the protection of air bags or seat restraint systems either. As history tends to repeat itself, so do bicycle accidents. Here are some of the most common types:
Vehicles Turning Left: Bicycles present small, low and narrow profiles on roadways. Drivers just don't see them, or they don't see them until it's too late, especially when they're turning left, and the bicyclist is going straight ahead.
The Right Hook: The cyclist will be going straight, and the motorist will overtake him or her on the left and then, the motorist will make a right turn in front of the bicyclist.
Right cross crashes when a vehicle exists a side street, private drive or alley and turns right in front of the bicyclist.
Getting Doored: This happens when a parked driver opens his or her door to get out of their vehicle. The cyclist has no time to avoid the door and slams into it.
Rear-End Crashes: Yes, bicyclists get rear-ended too. These are particularly dangerous crashes as the rider can be propelled over the bike's handlebars.
Hit-and-Runs: These are legally difficult for bicyclists. By the time that the rider might come to their senses and get their bearings, the motorist is long gone.
Poor road design or maintenance like steep drop-offs or deep potholes, loose or missing storm sewer grates and covers.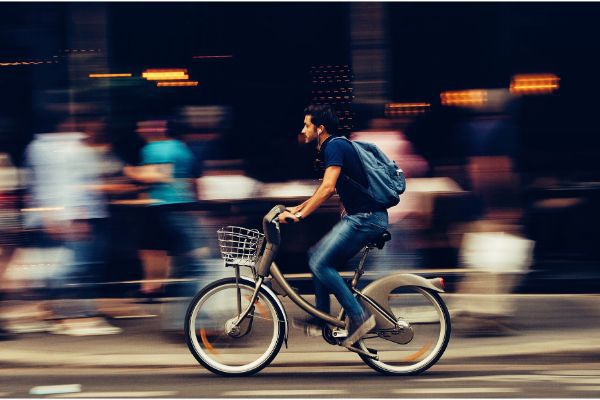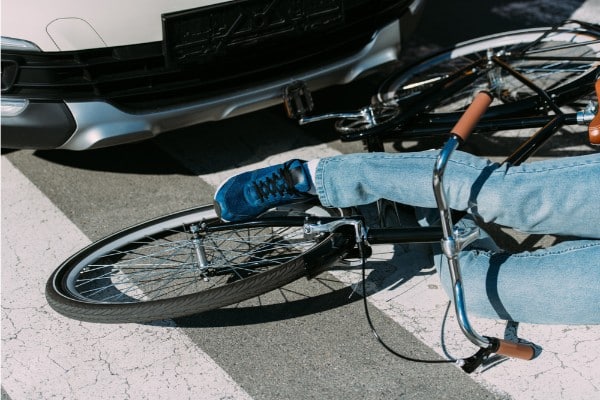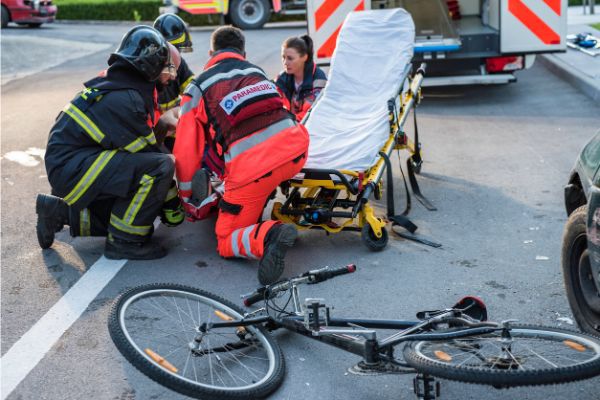 Common Bicycle Accident Injuries
Bicyclists often have little or no time to attempt to avoid an impact with a motor vehicle. With no protection around them, the injuries that they suffer can be permanent and severe. Here are some of the more common injuries that our bicycle accident lawyers in Tulare County see:
Traumatic brain injuries, even when the bicyclist is wearing a helmet.
Spinal cord injuries are likely to result in some degree of paraplegia or full quadriplegia.
Multiple fractures, especially from the pelvis on down.
Damage to vital organs.
Facial fractures and serious dental injuries.
Joint and ligament damage to the spine and extremities.
Deep cuts and road rash.
Insurance Company and Juror Bias Against Bicyclists
Notwithstanding California law, many people are perfectly willing to assign blame to a bicyclist who was in an accident with a motor vehicle just because that person was on a roadway and using two wheels rather than four. This bias needs to be confronted head-on from the beginning of a claim or lawsuit. That's how we approach it from the moment that we're retained in a bicycle accident case.
Hit-and-Runs
Most bicyclists don't realize it, but if they own a car, and they elect to be insured by uninsured motorist coverage, they're likely covered when injured as a bicyclist in a hit-and-run that was caused by a motorist. Members of their family who are blood relatives and residents of their household might also be covered as bicyclists or as pedestrians.
Don't Speak With the Opposing Insurer
Given the law of negligence, the serious injuries that are likely to result from a bicycle accident and the bias against cyclists, bicycle accidents are a complex area of the law. Even if an accident wasn't your fault, the opposing insurer will have you right where it wants you if you try to represent yourself and give that opposing insurer a statement. Your own words will then be used against you in the future to attack your credibility and devalue your case.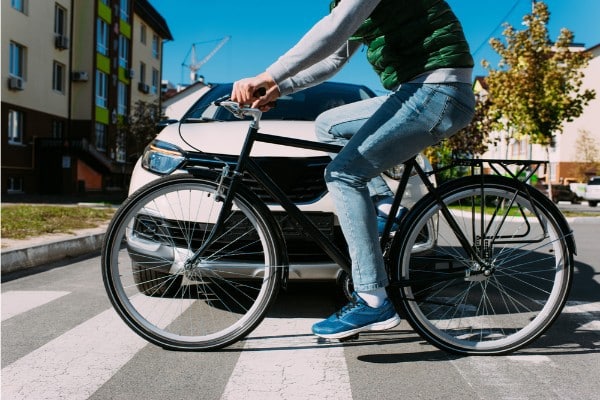 Contact a Visalia Bicycle Accident Lawyer
Rather than hurting your case, protect it, and contact us to arrange for a free confidential consultation and case review. You can tell us what happened and how it has affected you. We're going to answer your questions, too. After that, we'll provide you with our legal analysis and advise you on all of your legal options. If we end up entering into a retainer agreement with you, no legal fees will even be due unless we obtain a settlement or award for you. Contact us right away after being injured in any bicycle accident.