Los Angeles Pedestrian Accident Lawyer
Pedestrian accidents are a constant issue in Los Angeles and those on foot, just trying to get to work or school, face an unacceptable amount of risk each day. If you are unfortunate enough to get hit by a careless driver, you have to think of your physical recovery first.
Yet, after your health has stabilized, you will understandably wonder how to hold the driver responsible liable for every expensive medical bill you receive.
Pedestrian accident victims and their families should be safeguarded as they heal. They shouldn't have to stress over mounting medical bills and unpaid rent or utility invoices. These costs are 100% the responsibility of the at-fault driver. Unfortunately, the insurance companies for these drivers don't always make it easy to earn support.
A Los Angeles pedestrian accident lawyer at Maison Law can help you assess the true range of your damages and hold the driver's insurance company accountable for paying out every penny that your case is worth.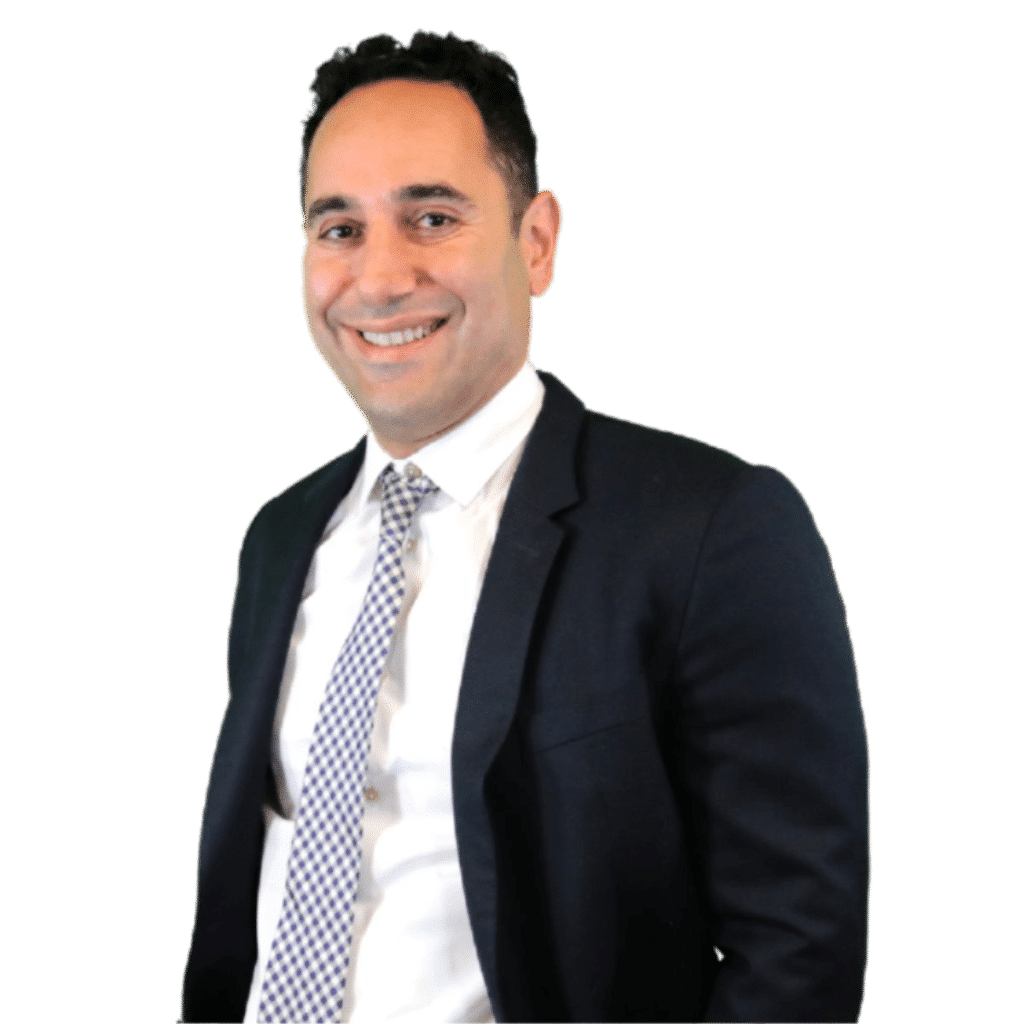 Los Angeles Pedestrian Injury Claim Process
Free Consultations for  L.A. Pedestrian Accident Victims
Martin Gasparian, the founder of Maison Law, offers all victims and their families a free, no-obligation consultation. Victims should know about all of the benefits available to them.
Insurance companies try to pay out as little as possible. They might try to convince you to accept unnecessary responsibility for your accident or offer you a much lower settlement than your case is worth.
Contact Maison Law of Southern California to schedule your free case evaluation today. We will gladly answer your questions and help you navigate your next steps.
Common Dangers for Los Angeles Pedestrians
Despite pedestrian and cyclist safety initiatives like Vision Zero, those on foot or two wheels still face enormous hazards at crosswalks and intersections. Local drivers still don't show the proper level of care and there are still two few walking paths and biking lanes installed around the city.
An article in the LAist on traffic violence shed no positive light on the plight of those on foot in the city. In 2019, 134 pedestrians were killed along Los Angeles streets. That equates to one death every two-and-a-half days.
In 2020, when a pandemic cut traffic levels drastically at times, pedestrian fatalities were only slightly down. According to California traffic accident monitoring, Los Angeles recorded over 2,500 injuries in accidents involving pedestrians over the year. In 2021, Los Angeles recorded 2,437 pedestrian accidents involving injury.
Hit and Run Pedestrian Accidents

Pedestrians struck by a driver who leaves the scene and goes unidentified can still seek financial support through their recovery.
When hit-and-run drivers are involved, there are generally two paths to securing the compensation a victim and the victim's family will need:
The driver isn't caught. If this is the case, pedestrians must seek financial support from any auto insurance coverage they carry. A claim would get filed against the policy's uninsured motorist coverage. If victims don't have car insurance, they should check to see if they might be covered under a family member's policy.
The driver is arrested. This is good news. An injury claim for damages can be filed immediately against the driver's car insurance provider. The driver faces criminal charges, but the civil case can move forward regardless of the driver's criminal status. The injured victim will work towards securing financial support through an insurance settlement or, if necessary, through a judgment in court.
What to Do After Pedestrian Accidents on Major Los Angeles Routes: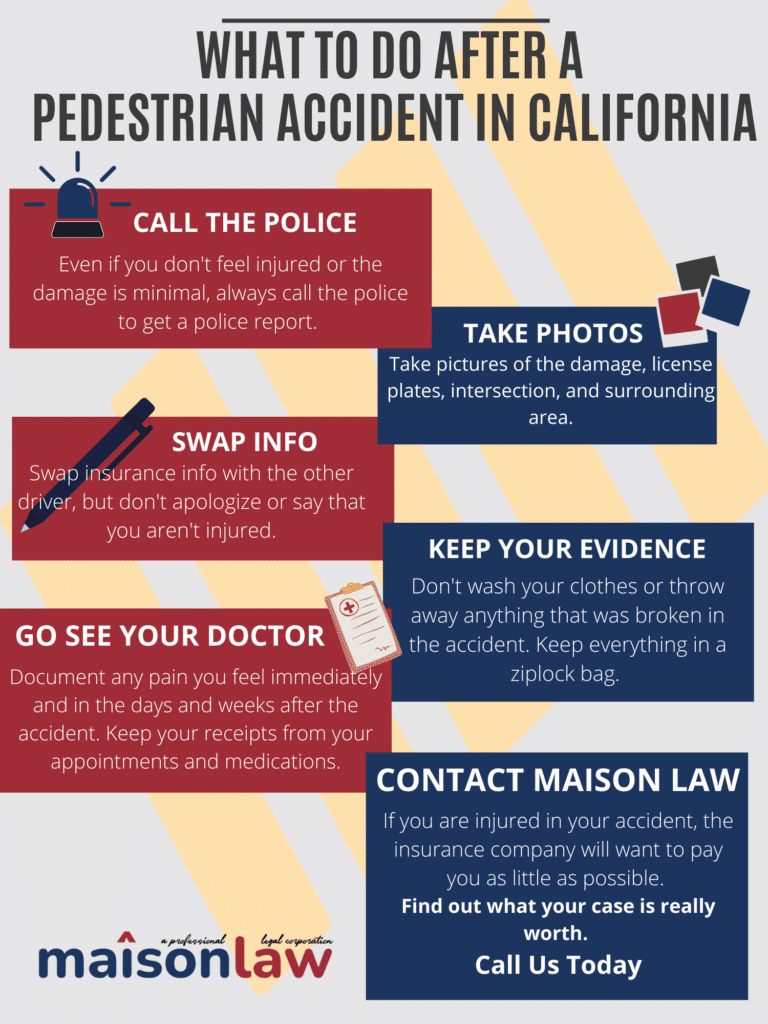 What Should I Do Right After a Los Angeles Pedestrian Accident?
Plenty of people get out each day in Los Angeles to walk to work or class, or to run for exercise. We must keep in mind that we all become pedestrians when we park in downtown L.A. and walk to a store, a restaurant, or a government building.
You can be struck in a parking lot or at a busy intersection like those on Alvarado Street along MacArthur Park. These often devastating accidents happen all the time and it's critical that have the proof they need to hold an at-fault driver's car insurer fully responsible for recovery costs.
After an L.A. pedestrian collision, it's critical to make sure you leave the scene with as much evidence as possible. Having strong proof that shows a driver is at fault is the best way to prevent a car insurance provider from rejecting your claim.
If you're physically strong enough, try to collect this evidence in the moments after an accident:
Call 911. Give a full report to the responding LAPD officers. Tell paramedics about every pain you have. Go to the hospital if necessary. Ask someone with you or a helpful witness to gather evidence for you if you must leave.
Take photos of the scene. Show the damage to cars that the collision caused. Show crosswalk markings, lights, and any skid marks. Show any visible injuries.
Get contact information from witnesses.
Scan the area for the potential of any security cameras. Alert your Los Angeles pedestrian accident lawyer about the presence of these cameras.
Keep all evidence. Don't wash any bloody clothing. Preserve your clothes and your shoes.
Get yourself checked out by your own doctor. Follow your doctor's orders. Save all medical invoices.
What Kind of Things Can I Earn Benefits for After a Los Angeles Pedestrian Accident?
After an accident, your L.A. pedestrian accident lawyer works with you to form a list of the financial damages and hardships you've endured. Every damage must be on this list when submitted to an insurance company in an injury claim. Because everything left off this list will become an expense that becomes your family's responsibility.
Your Los Angeles personal injury attorney will know to include some losses you may not have thought of. These are just a few of the things that will determine the amount on your pedestrian accident settlement check:
Medical bills–The bills already sent to your mailbox and the cost of any care you're expected to need in the years to come.
Permanent disability or disfigurement — Money for the long-term physical therapy and medical equipment needed. Compensation for career training if you can't go back to your old job. House renovations. Reconstructive surgery costs to restore your appearance.
Wrongful Death – After the tragic loss of life, the family should receive support for funeral and burial costs. The guidance and income the deceased can no longer provide in the coming years must also factor into a settlement check for loved ones.
Physical pain and emotional trauma – Enduring extreme pain suffered with an injury will factor into compensation. Emotional trauma in the crash or in recovery also must be considered when negotiating a personal injury settlement with insurance companies.
Loss of income and benefits — The wages you've given up by having to miss work hours over your injuries.
Travel costs: The expense of travel to see doctors and specialists. The added cost if you are temporarily off your feet and are on crutches or in a wheelchair.
New 2023 Jaywalking Law in Los Angeles
In 2023, there's a new law that affects pedestrians in Los Angeles. As NBC4-TV reported, Assembly Bill 2147, also known as the Freedom to Walk Act, makes citations for jaywalking far less common across California.
Pedestrians are able to jaywalk without fear of getting a ticket in most cases. LAPD officers are no longer able to issue jaywalking citations unless a pedestrian is in immediate danger of getting struck by a car.
This change is meant to decriminalize jaywalking and cut down on confrontations between police officers and those traveling on foot.

"I was involved in an accident about 3 years ago and Maison Law and their team helped me every step of the way. It was a long journey and a lot of time and hard work in getting me what I deserved. I couldn't have asked for a better law firm. I highly recommend!"
I got into a fender bender in January and was left dealing with a very unresponsive and terrible insurance adjuster who was basically forcing me to accept only 1k to close my claim prematurely. Thankfully I found Martin and Maison "Law who truly helped ease my mind, took care of my car, rental, treatment and got me an AMAZING settlement in time for Christmas."
"Martin Gasparian and the whole Maison Law team were there for me when I was involved in an accident. They held my hand every step of the way and took care of all my needs. They listened to all my concerns and put my mind at ease and made the whole process pain free. I would definitely refer friends and family to Maison Law.
Frequently Asked Questions About Los Angeles Pedestrian Accidents
You have two years from the date of your California pedestrian accident to file an injury claim. You should act quickly because waiting can mean that evidence disappears, and witnesses become harder to locate.
Yes. Drivers can be held responsible for failing to slow down and not showing you care no matter where you were crossing a street. You can seek injury compensation even if you weren't following all traffic laws and using a crosswalk.
Don't say "my bad" or "I'm fine" on the scene. Insurance companies can claim these statements mean you admitted fault or that you weren't hurt at all. Also, avoid giving recorded statements when an insurer calls you.
Contact a Los Angeles Pedestrian Accident Lawyer
No matter whose insurance company you end up facing off with, it's important to ensure you are treated fairly after a pedestrian accident. Victims and their families can easily be robbed of compensation by their own insurance companies.
Martin Gasparian, the founder of Maison Law of Los Angeles, has spent a career giving a voice to victims when their accidents bring them in contact with giant insurance companies. Insurance tactics steal compensation from accident victims each day. Make sure your interests are safeguarded by a skilled California attorney.
Contact Maison Law for a free and confidential case evaluation. Mr. Gasparian will listen to you and help you determine the best path to earning the maximum in financial support for what you and your family have been through.