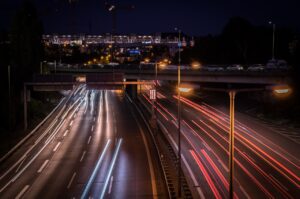 Traffic on 110 Freeway can be hazardous at any time of day. Unfortunately, traveling at night can put drivers at risk of encountering even more reckless drivers. Motorists might meet a driver looking at a cell phone instead of the road, or a drowsy driver making bad choices in the lanes.
Drivers under the influence of drugs or alcohol are also more common at night. A distracted or impaired driver can make dangerous mistakes, including entering an interstate going the wrong direction. Drivers who usually have a chance to avoid the poor choices of other motorists can be left with little time to react to avoid a major collision.
Wrong-Way Driver Crash in L.A. Causes One Fatality and Three Serious Injuries
California Highway Patrol (CHP) investigators blame a wrong-way driver for a multi-car accident that claimed at least one life in downtown Los Angeles. According to NBC-4 TV, the accident occurred early Friday morning on May 26, 2023, on 110 Freeway.
Investigators arrived on the scene in the northbound lanes sometime after 2:49 a.m. near the Exposition Boulevard exit. They discovered that several vehicles, including a taxi, had been part of a chain-reaction impact.
A man hurt in the crash was rushed to a local hospital where he was pronounced dead. Three other people involved suffered major injuries and were transported to a hospital. The patients were said to be in critical condition at the time.
The CHP said a driver traveling in the wrong direction on the freeway caused the devastating pile-up. They continue to examine the circumstances leading up to the crash.
Support for Victims and Families After a Devastating Downtown Los Angeles Accident
Families who have had a loved one taken from them in a tragic accident will face extreme emotional trauma and be subjected to unfair expenses. The expense of a burial service and the costs of emergency response comes due in a matter of weeks. This is also the period when close relatives will miss the guidance and financial support the deceased had always provided.
A wrongful death claim filed against an at-fault driver's car insurance provider strongly requests financial assistance with these expenses. The civil claim can be filed by a spouse or domestic partner, or children of the victim to recover only what's fair to protect the family financially now and in the years ahead.
For surviving victims, a claim for damages is the best way to ensure every cost of recovery gets paid for. This civil claim seeks to earn an insurance settlement to pay all medical expenses and can also be counted on to support victims as they remain out of work and miss valuable paychecks.
When an at-fault driver faces a criminal hearing, victims don't have to wait on the results of a criminal trial to file an accident claim. The accident claim is a civil claim and is separate from the criminal proceedings. Victims and their family members can file a claim against a driver's auto insurance provider as soon as possible so they can secure the support they need.
Contact a Bakersfield Car Accident Lawyer
After an accident involving a serious injury or the loss of a loved one, contact a skilled Los Angeles car accident lawyer such as Martin Gasparian for a free and confidential case evaluation.
Mr. Gasparian takes a hands-on approach to every case and works closely with victims and their families to make sure insurance companies can't ignore their needs after an accident.
If you decide Maison Law can help you and your family earn more in support, you won't need any upfront money. We don't earn anything unless we win your case for you. Then, our fee comes out of the settlement you are awarded.