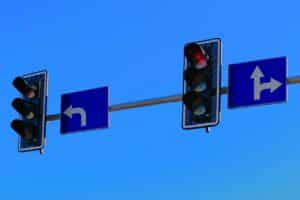 State routes through Fresno can feature traffic lights at busy intersections. These stop-and-go spots may catch unfocused drivers by surprise after they've been traveling without stops for awhile. A glance at a cell phone or a radio dial might leave motorists unaware that traffic had stopped ahead.
These small mistakes can cause major accidents, especially when a car travels at full speed into the back of a stopped vehicle. This often creates a chain reaction that results in several cars being smashed and many drivers and passengers in need of medical care.
Five-Car Pile-up Injures 10 People in Fresno Weekend Accident
Ten people were hurt in a chain-reaction accident in southern Fresno on Saturday afternoon. KSEE-TV reports the crash occurred along Highway 41 north of American Avenue on January 28, 2023.
The California Highway Patrol was sent to the scene in the southbound lanes shortly before 1 p.m. They determined that a driver traveling an estimated 50 to 60 mph approached stopped traffic at a stop light but failed to slow down. The vehicle smashed into the back of one vehicle and sent that vehicle into other vehicles. In all, five vehicles were damaged. Several small cars and at least one pickup truck were involved.
Ten victims were injured in the collisions and six of them were sent to the hospital. One person had a major injury. Two suffered what were described as moderate injuries. The rest had minor injuries.
CHP officers believe distracted driving may be to blame for what happened. They don't believe drug or alcohol use played a role.
Finding Recovery Assistance for Fresno Car Accident Victims
For victims injured in a frightening accident, filing a claim for damages is the most effective way to ensure every cost of recovery is covered.
This claim is directed at the insurance provider for an at-fault driver. In a multi-vehicle collision, there may be several drivers assigned blame and more than one insurance company may owe victims compensation.
Compensation would be expected to cover all of the victim's medical care expenses now and for care expected to be needed in the future. The victim's missed time at work would also need to be reimbursed. A Fresno Car Accident Lawyer would also work to secure support for a victim's pain and emotional trauma experienced in a collision and during recovery.
Contact a Fresno Car Accident Lawyer
If you or a loved one were the victims of a careless driver, don't allow an insurance adjuster to determine how much support you should receive. Adjusters work for their insurance companies and want to save money for their shareholders. Your recovery and your family's recovery are much more important than their profits.
To make sure your family is protected from an insurance company's tactics, contact an experienced Fresno car accident attorney such as Martin Gasparian for a free case consultation. Mr. Gasparian works closely with victims and families to earn the compensation they'll need to get back on their feet again physically and financially.