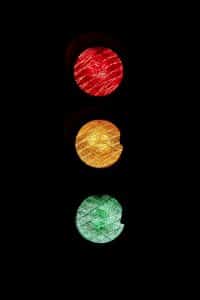 Fresno intersections are hot spots for frightening accidents any time of the day or night. They become especially dangerous after the sun goes down. It can be difficult for safe drivers to spot the mistakes of other motorists who may not be following the right-of-way.
A turn at the wrong time or a driver running a red light often make a collision unavoidable. Victims can suffer traumatic injuries and face long recoveries in the hospital.
Two Drivers Hospitalized After a Collision in Northeast Fresno
Two victims were rushed to the hospital after a two-car collision in northeast Fresno early Thursday morning. KSEE-TV reports the accident took place at the intersection of Clovis Avenue and Dakota Avenue on November 17, 2022.
California Highway Patrol investigators say the crash happened around 3 a.m. Officers determined that two vehicles were involved in a collision. Video from the scene showed a small light-blue hatchback car with driver's side damage and a gray sedan with major front-end damage.
Officials on the scene said that both drivers involved were rushed to the hospital with major injuries. The conditions of the patients have not been released. The California Highway Patrol continues to investigate what led up to the devastating crash.
Securing Injury Support for Fresno Car Collision Victims
When car accident victims find themselves with a serious injury, it's critical that they get the best  medical attention available. It's also key that victims aren't left to worry about how they'll pay for hospital bills from an accident they weren't to blame for.
Filing an injury claim against an at-fault driver's insurance company is vital to the physical and financial health of the victim and the victim's family. Even a relatively minor injury can easily create over a thousand dollars in medical bills. There is also the possibility of further complications for the patient in the future and those estimated costs should factor into any settlement check. These costs should never come out of a victim's pocket.
The lost income a victim forfeits while unable to work is another damage that can be included in an insurance claim. The physical pain and the emotional trauma a Fresno car accident victim suffers with might earn additional compensation through a claim for damages.
Contact a Fresno Car Accident Lawyer
Injured victims often don't know how much their injury is worth and insurance companies can take advantage of this fact. Insurance adjusters can work to talk a victim out of filing a claim or move to provide far less in compensation than a victim will need to fully recover.
After you or a loved one has become the victim of a careless driver, reach out to a Fresno Car Accident Attorney for a free consultation on your best options and to learn about your rights.