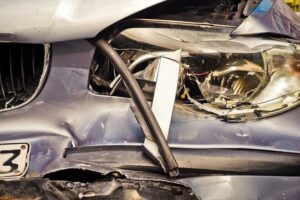 A small error in judgment by one driver can quickly spark a collision that draws in several other vehicles. Victims can suffer impacts from several directions. In some of the worst cases, victims can be left stranded in a crushed vehicle waiting on medical attention until they can be rescued.
These powerful collisions can leave victims with broken bones, internal injuries, and brain trauma. In severe cases, injuries can claim the lives of those hurt in a crash.
Four Hospitalized After Frightening Traffic Accident in Northridge
Two people had to be rescued from a car after a three-vehicle crash in northwest Los Angeles on Wednesday morning.   NBC Los Angeles reports the accident occurred in Northridge along West Plummer Street near White Oak Avenue on November 9, 2022.
The accident involved three vehicles. Firefighters say they had to rescue two people from a white car using hydraulic tools to peel back the vehicle's top. In pictures from the scene, the white car is shown with its roof completely removed.
In all, four victims involved were rushed to the hospital. Officials say their injuries ranged from fair to critical. The Los Angeles Police Department continues to investigate the circumstances that led to the accident.
Seeking Financial Help for Victims After a Major Northridge Accident
California traffic codes allow the victims of a car accident to ask an at-fault driver's car insurance provider for support for the many hardships they face in recovery. The medical bills built up during a hospital stay should all be covered. The time a patient loses at their office or job site must also be part of the compensation involved. The physical pain and emotional trauma victims are put through should also earn support.
Insurance companies won't just provide this support automatically, unfortunately. Insurance adjusters can spend more time trying to shift blame from their policyholders and downplay the injuries victims receive. It's important for collision victims and their families to discuss their options with a real legal representative so that they aren't talked into forfeiting their rights to benefits.
Contact a Northridge Car Accident Lawyer
If you or a loved one was the victim of a careless driver, don't allow insurance adjusters to determine how much support your family should receive. They work for their insurance company and want to save money for their shareholders. Your family's financial security after a devastating accident is much more important than their profits.
To make sure your family is protected from an insurance company's unfair practices, contact an experienced Los Angeles Car Accident Lawyer such as Martin Gasparian for a free case consultation. Mr. Gasparian works closely with victims and families to earn them the compensation they'll need to safeguard themselves as they try to rebuild their lives.