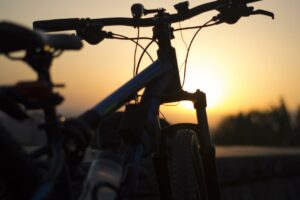 Cyclists in Fresno County may travel with a helmet, but otherwise, they may only have thin clothing to protect them during an impact with a car. A careless driver may come along and could be staring into the distance or at a cell phone and not be looking out for a nearby rider.
An impact may follow, and vulnerable riders could be thrown from their bikes to suffer broken bones, head and neck trauma, and brain injuries. After a serious accident, victims must receive the best care available and get help paying for that care from a negligent driver.
Cyclist Badly Injured in Evening Hit-And-Run Accident in Fresno County
A potential hit-and-run collision in Fresno County inflicted severe injuries on a bicyclist Saturday evening. KFSN-TV reports the accident occurred sometime before 7 p.m. It happened south of Fresno near the intersection of Central Avenue and Fig Avenue on October 22, 2022.
A witness found the victim and stayed with the rider until emergency crews could arrive. The California Highway Patrol says that the victim had suffered major injuries. The rider was rushed to Community Regional Medical Center in Fresno.
California Highway Patrol investigators continue to go over the circumstances of the accident to determine what happened. They have not issued a description of the driver or the vehicle possibly involved.
Finding Assistance for Injured Cyclists After a Fresno County Collision
Victims of Fresno County bicycle accidents must often deal with long and difficult recoveries. A claim for damages can be filed against an at-fault driver's car insurance company in order to protect the victim from enormous medical bills. The claim also demands reimbursement for the time at work the victim has lost. Victims may file to seek support or a family member can file on behalf of the victim.
If a hit-and-run driver is responsible for a bike accident and remains on the run, victims may still be able to file for recovery support. A claim can be filed on the cyclist's own car accident coverage or on a family member's auto insurance policy that covers the victim. This claim would utilize the policy's uninsured motorist coverage.
Unfortunately, when victims are filing with their own insurance companies, it won't mean they won't have to fight for the proper amount of compensation to pay their medical bills. Insurance adjusters from a family's own provider will still try to unfairly limit the support victims receive.
Contact a Fresno County Bicycle Accident Lawyer
After an accident involving a serious injury or the tragic loss of a family member, contact an experienced Fresno County Bicycle Accident Lawyer such as Martin Gasparian. Mr. Gasparian offers a free consultation for victims and family members that's completely confidential.
He works closely with clients to make sure victims and families receive everything they need from insurance companies so they can begin rebuilding their lives. That includes the important goal of getting a rider back on a bike.