Fresno doesn't share the same levels of traffic that Los Angeles or San Francisco experience each day, but unfortunately, Fresno still has its share of careless drivers. They can put anyone on the roads at risk. That can include the people who depend on bicycles for transportation, for exercise, and family fun.
Pedal-power is something a lot of riders come to rely on and enjoy. Yet, Fresno must install many more bike paths and greenways before the city can be known as a safe haven for cyclists.
A Free Consultation with Fresno Bicycle Accident Lawyer
If you are seriously injured on your bike by the negligence of a driver, you should never face the consequences of your injury alone. The costs of recovery and eventually returning to a bike again should fall squarely on an at-fault driver's insurance provider.
Sadly, bicycle accident victims must often strongly demand this basic compensation from insurance representatives. To make sure you're aware of everything that's available to you as you heal, contact Maison Law of Fresno for a free consultation on your case.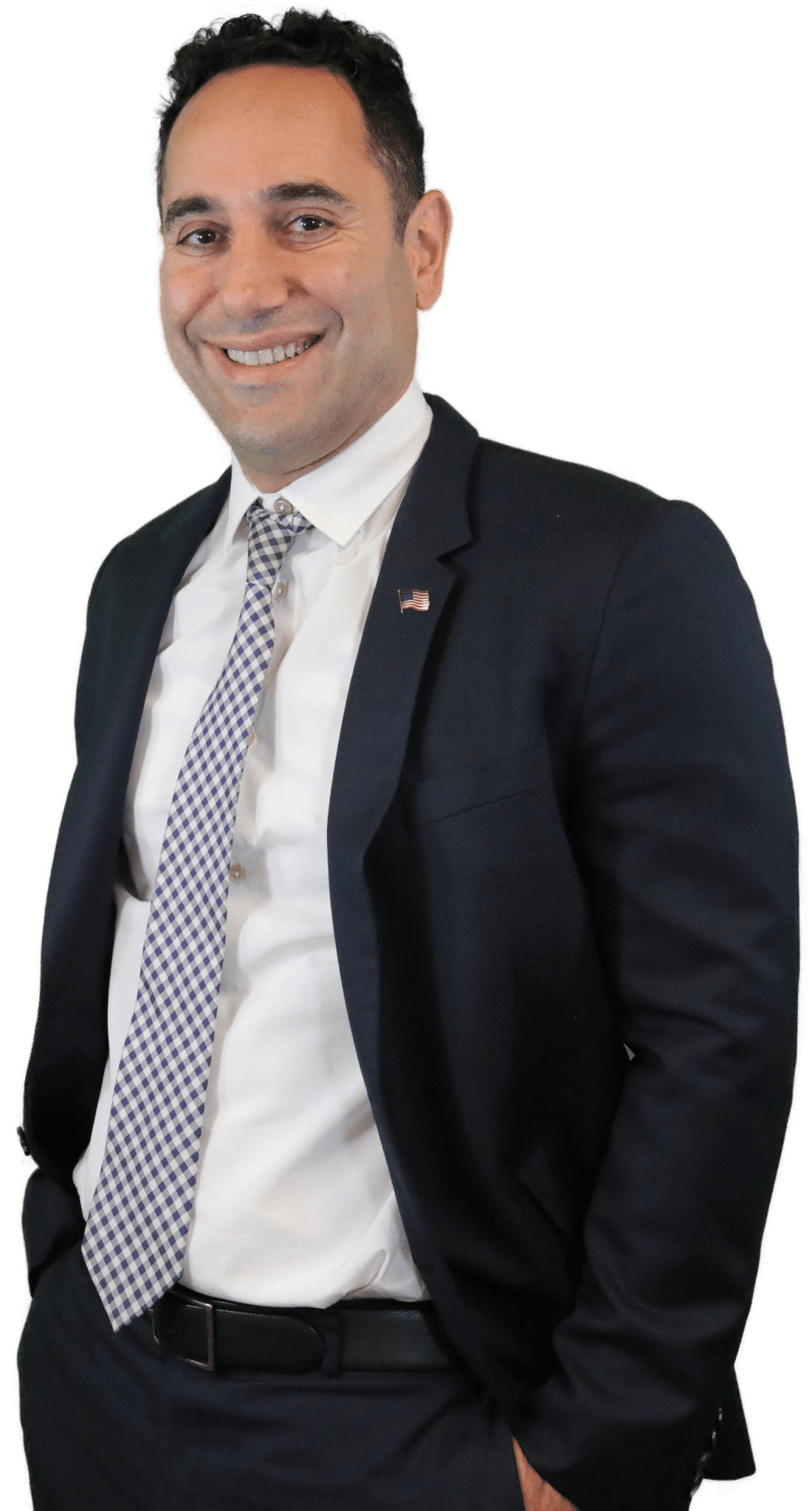 Fresno Bike Accident Injury Claims Process Call Us For A Free Consulation
Call us 24/7 with No Obligations Describe Your Accident Details
We will then discuss your legal options and decide whether to move your case forward. Retain Maison Law w/ No Upfront Fees
We work on contingency. No attorney fees unless you win your case. Receive Your Compensation
We will fight for you to earn the highest possible payout for your damages.
Fresno Bicycle Accident Dangers
A bicycle ride in Fresno may be the best part of someone's day. Riders may utilize the bike paths along Kings Canyon Road or up West Avenue. However, at some point, whether at an intersection or along a street without a bike path, a rider may have to venture alongside the rush of traffic.
These encounters in traffic would be much less dangerous if drivers stayed focused on the roads and didn't allow themselves to become distracted or reckless.
Fresno Emergency Crews document the frightening consequences of the carelessness inflicted on bicyclists each year. Their tragic report shows there were 46 collisions involving bicyclists in 2020 across Fresno. Those accidents cost 5 people their lives and left another 42 people to heal from injuries.
The numbers in 2020 were shockingly higher than the incidents reported the year before. In 2019, there were 17 bicycle accidents recorded with two tragic deaths and 15 injuries involved.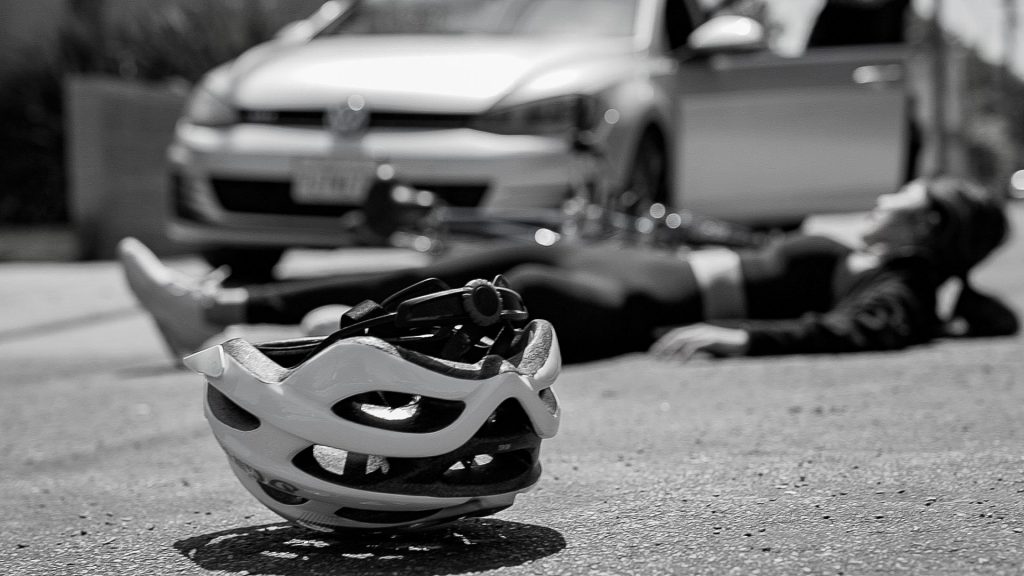 What to Do After a Fresno Bicycle Accident
Bicycle accidents often involve defenseless riders being hit by large vehicles going at unreasonable speeds. The fault of the driver can be very apparent in some cases, and yet insurance companies can quibble over details and try to shift some of the blame back to the person on the bike.
This is a terrible way to treat victims, and a personal injury lawyer on your side will be securing evidence and building your case to make sure insurance companies don't have the chance to skip out on supporting you through recovery.
You can also help strengthen your own case by securing your own evidence in the moments after a collision. These are just a few of the goals you should have on-scene:
See to injuries first. Don't try to do anything but call 911 if you are injured. Give the police and paramedics every detail about your injuries and about what led to your crash. If you don't feel up to gathering evidence ask someone with you or a helpful bystander to grab a few items for you.
Take out your cellphone and snap pictures. Document the damage to your bike and the vehicle involved. Show street signs, bike lanes, and traffic lights leading up to the collision site. Get pics of any injuries that are visible including any road rash. If you are wearing a helmet make sure your photos show that. Note the time of day and the weather on the scene.
Talk with witnesses, find out what they saw. Ask them about the driver and if they saw him or her driving while using a phone or being otherwise distracted. If witnesses want to write out their testimony make sure they sign and date it. They may also allow you to record them making a statement.
Exchange information with the driver but don't make any statements about the circumstances of the accident. Don't say you're uninjured because at that point you may not know if you're injured. Insurance agents can use these statements against you later.
Schedule an appointment with your own doctor. Get injuries documented that appeared the next day after the shock of your traumatic accident wore off.
Keep your damaged bicycle and any damaged clothing or personal items.
Common Bicycle Accident Injuries Treated at Fresno's Community Regional Medical Center
Securing full compensation after a bicycle accident is critical to a victim's physical and financial recovery. The injuries routinely suffered in bicycle collisions involving vehicles are often traumatic and long-term.
An insurance company may happily pay for one night in an emergency room. Yet, that may only be a small fraction of your actual recovery costs. You'll need support for physical therapy, potential surgeries necessary in the future, and perhaps a lifetime of support when a permanent physical disability is involved.
These are all likely scenarios after a serious Fresno bicycle crash. A list of the most common injuries suffered by riders makes it clear why full support must be provided in a settlement check:
Traumatic Brain Injury (TBI) – Cyclists can take multiple blows to the head in a car collision. A TBI can cause many different symptoms. Patients can forget how to speak or lose the ability to understand language. Light sensitivity is also possible. Seizures are another potential side effect.
Bone Fractures – Broken bones in the chest are commonly suffered. Clavicles, the sternum, and ribs often break. Arms, wrists, hands, legs, knees, ankles, and hips can shatter in a collision.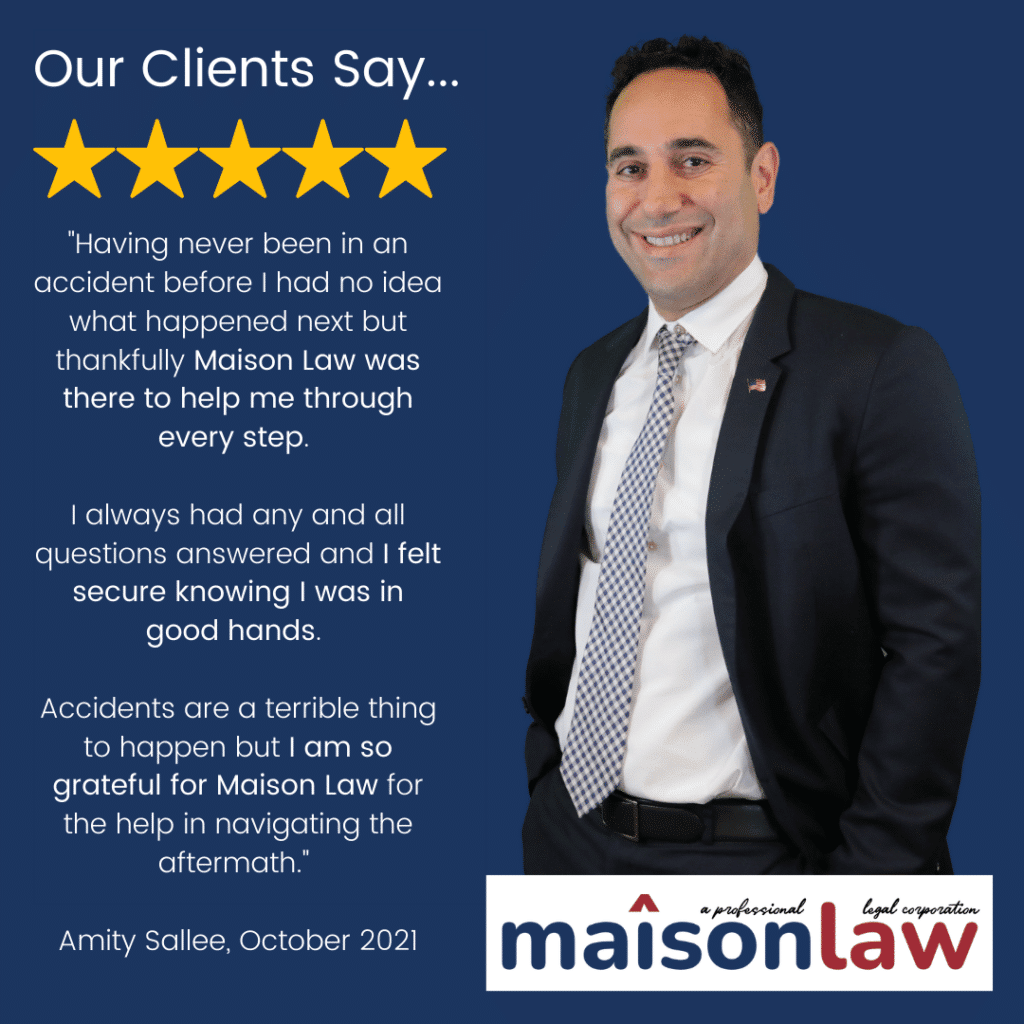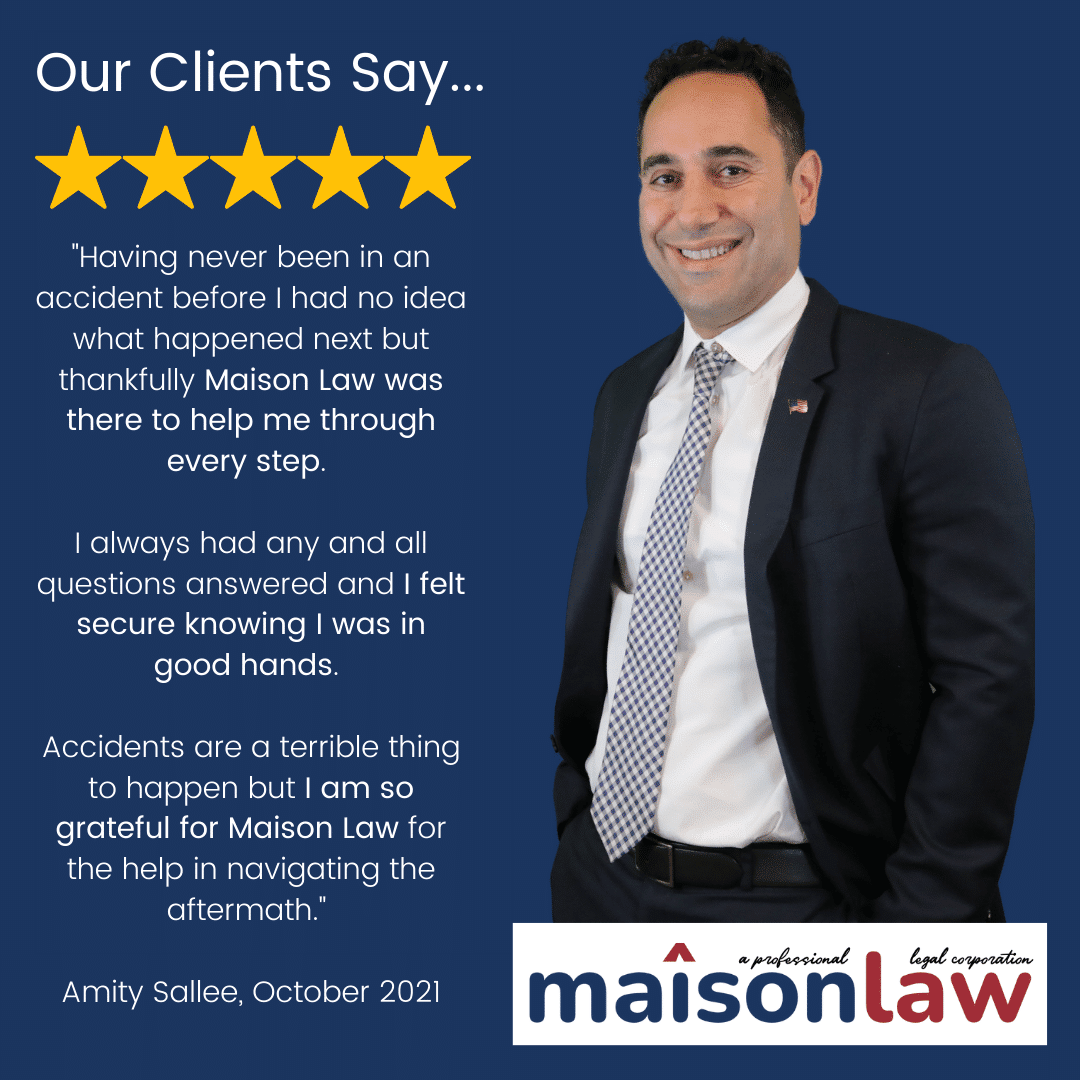 Amputation – Amputation can be necessary when a bone is crushed by the weight of a car. A bad bone break could also result in a surgical amputation.
Paralysis – A spine injury or a brain injury can leave a victim without the ability to control body parts. For bike riders, a serious injury could keep them off their bikes temporarily, or in the worst cases, permanently.
Facial and Dental Injury – Cyclists are often sent over their handlebars in a powerful collision. The facial bones and the teeth could be the first thing to absorb damage. Permanent disfigurement is possible.
Joint Dislocation – These often occur when bicyclists try to break their fall when sent off their bikes. The wrists or shoulders may be dislocated upon impact.
Skin Abrasion – Hard Road surfaces can deeply damage the skin. This damage is known as "road rash." Skin may have to be taken from other parts of the patient's body for skin grafts.
"I was involved in an accident about 3 years ago and Maison Law and their team helped me every step of the way. It was a long journey and a lot of time and hard work in getting me what I deserved. I couldn't have asked for a better law firm. I highly recommend!"
I got into a fender bender in January and was left dealing with a very unresponsive and terrible insurance adjuster who was basically forcing me to accept only 1k to close my claim prematurely. Thankfully I found Martin and Maison "Law who truly helped ease my mind, took care of my car, rental, treatment and got me an AMAZING settlement in time for Christmas."
"Martin Gasparian and the whole Maison Law team were there for me when I was involved in an accident. They held my hand every step of the way and took care of all my needs. They listened to all my concerns and put my mind at ease and made the whole process pain free. I would definitely refer friends and family to Maison Law.
Earning Compensation for Bicycle Accident Victims
Bicycle accident victims don't have to have been wearing a helmet when they got hit to expect help with their recovery. Only bicycle riders under 18 must wear a helmet according to California law. Even if you aren't wearing a helmet, drivers can still be held accountable for their mistakes that target bicycle riders.
Bicycle accident victims can require expensive and long-term medical care after an accident. These are a few of the hardships that can be demanded from an at-fault driver's insurance company:
Current and future medical bills.
Current and future lost earnings.
Any permanent disfigurement or disability.
Physical and emotional anguish.
Cost of counseling and psychological services.
Replacing or repairing the bicycle.
Loss of the ability to do the things you enjoy.
Wrongful death benefits. Support for the family of a rider taken in a tragic bicycle accident.
As any bicycling fan will tell you, the loss of time on your bike will be a very difficult mental challenge to overcome. This loss of enjoyment of life can lead to depression and anxiety. It's vital that cyclists receive everything they need to recover physically, emotionally, and financially so they can one day hop back on a bike again.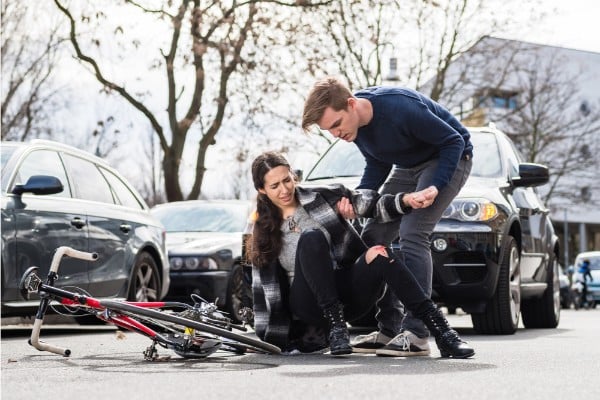 Our Clients Frequently Ask...
Yes. California does not require that riders 18 years old and older wear a helmet. If a helmet may have lessened some of your injuries, a judge may reduce the compensation you receive, but a driver could still owe you support.
Accident settlements can happen quickly when insurance companies know their policyholder was fully to blame. But if there's even a little bit of doubt, insurance adjusters will drag their feet and look for any chance to question your innocence.
These are a few factors that can extend personal injury case resolution beyond a few months:
There are questions over fault.

Multiple parties are involved.

Serious injuries and/or permanent disabilities are involved. Disputes over how badly you are hurt.

Your injuries haven't fully healed.

Cases involving potentially enormous settlement amounts.
When insurance companies stall and delay and won't make a fair settlement offer, it can sometimes be necessary to file a lawsuit and take them to court.
When cases must be proven in court, it can take up to a year simply to get a court date. This will extend the length you may be waiting to earn justice. Luckily the overwhelming majority of personal injury cases are settled out of court.
Two years. You have two years from the date of your bike crash to file a claim against an at-fault driver. Taking action as soon as possible is best. This gives your attorney time to collect fresh evidence and keep track of witnesses.
After a bike accident involving a serious injury, you'll probably benefit from having an attorney negotiate your settlement. An attorney guards against the tactics insurance companies use to limit the support cyclists receive.
Contact a Fresno Bicycle Accident Lawyer
After a bicycle accident involving a serious injury or the loss of a loved one, contact an experienced Fresno bicycle accident lawyer such as Martin Gasparian for a free case evaluation.
The law protects the victims of careless drivers and allows them to seek help for what can be a long and expensive recovery. Mr. Gasparian takes a hands-on approach to every case. He believes that clients and their families should work directly with their lawyers, get honest advice, and receive the personalized attention to detail their cases deserve.