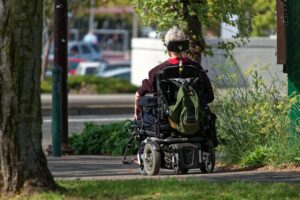 Pedestrians traveling Santa Cruz are owed a legal "duty of care" by all local drivers. This means motorists should monitor the road at all times, especially at night, for any vulnerable road user. They must slow down when they spot someone on foot or on a bicycle to prevent any chance of a collision.
This legal safeguard is due to the fact that pedestrians travel without protection when compared to a driver or passenger enjoying the safety of seatbelts, airbags, and four metal walls.
Those that travel by wheelchair must be shown even more care from Santa Cruz drivers. Wheelchair users may take longer to cross a road and struggle to get back on a sidewalk. Drivers must always give them their full attention. Drivers must also remain clear-headed and not drive while impaired to even begin to show the proper level of caution from behind the wheel.
Santa Cruz Hit-And-Run Suspect Arrested After Man in Wheelchair Killed
A man in a wheelchair was struck and killed in a hit-and-run accident in western Santa Cruz over the weekend. KION-TV reports the tragic accident occurred along Capitola Road west of 7th Avenue, Sunday evening September 11, 2022.
California Highway Patrol officers responded to the scene sometime after 10:10 p.m. They determined that someone driving a 1999 Mercedes Benz struck a man in a motorized wheelchair who was trying to cross the street.
The victim, a 69-year-old man from Santa Cruz, was transported to Natividad Medical Center where he was later pronounced dead.
The driver involved left the scene and did not assist the victim. Investigators found the Mercedes Benz abandoned nearby. They later arrested a 39-year-old woman from Santa Cruz at her residence. She is charged with a DUI, vehicular manslaughter, and hit-and-run.
Financial Assistance for Families After a Tragic Santa Cruz Pedestrian Accident
Families will never completely recover from the emotional pain of losing a loved one. However, they must be allowed to mourn without worry over the bills that arise after a tragic collision.
That monetary support can be harder to secure when the drivers responsible choose to leave the scenes of accidents and attempt to avoid liability for their mistakes. But after a suspect is in custody, a wrongful death claim can be filed on behalf of the loved ones left behind. This civil claim can move forward against the at-fault driver's insurance company even as the suspect faces hit-and-run charges and in some cases DUI charges. The criminal and civil cases would be resolved separately.
A wrongful death claim asks for help for the family with the enormous costs of a funeral and leftover medical bills. It would also seek to replace the income victims can no longer provide for their families in the future.
Contact a Santa Cruz Pedestrian Accident Lawyer
If you or a loved one were the victims of a careless driver, don't allow an insurance adjuster to determine how much support you should receive. Adjusters work for their insurance companies and want to save money for their shareholders. Your recovery and your family's recovery are much more important than their profits.
To make sure your family is protected from unfair insurance company tactics, contact an experienced Santa Cruz pedestrian accident lawyer such as Martin Gasparian for a free case consultation. Mr. Gasparian works closely with victims and families to earn the compensation they'll need to rebuild their lives.