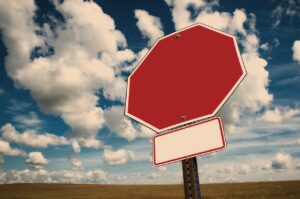 Two-way stop-sign intersections in and around Porterville can be dangerous spots for drivers. Motorists who have the right-of-way and don't have to stop must be able to trust that vehicles entering the roadway will observe stop signs. When drivers get careless and proceed without the right-of-way, they can draw all other vehicles around into devastating accidents.
Drivers and passengers could suffer broken bones, traumatic head injuries, and other serious injuries. In the worst cases, a small mistake can lead to a tragic loss of life.
One Person Killed and Two Injured in Porterville Stop Sign Accident
A man lost his life and two other people suffered injuries after a two-vehicle collision in Porterville on Wednesday morning. KSEE-TV reports the accident occurred at the intersection of Main Street and Locust Avenue on September 7, 2022.
Porterville police officers responded to the scene around 8 a.m. They believe a man driving a pickup truck ran the stop sign at the two-way intersection and then struck a car.
The man in the pickup was found suffering from major injuries and was later tragically pronounced dead at the scene. The 19-year-old female driver of the car and her passenger were both taken to a local hospital with what were thought to be moderate injuries.
Porterville police investigators continue to work to determine the circumstances surrounding the crash. If you have any information about this accident, please call the Porterville Police Department.
Assistance for Victims and Their Families After a Porterville Traffic Accident
Surviving victims of traffic accidents will need support through injury recovery and will likely require help replacing the income they lose while missing work. A skilled Tulare County Car Accident lawyer is able to help victims and their families maximize the insurance support they receive so they have everything they need to begin rebuilding their lives.
For families who are forced to say goodbye to a loved one after a tragic accident, bills can quickly come due. The expense of a proper funeral and burial and remaining medical fees may create a financial crisis for a grieving family. The family also faces these costs while the income the deceased may have provided will have suddenly been taken away.
Families may ask for support for these and other hardships from the at-fault driver's car accident insurance through a wrongful death claim. If a hit-and-run suspect remains unidentified, a family may still be able to secure financial help.
Contact a Porterville Car Accident Lawyer
Injured victims often don't know how much their injury is worth and insurance companies can take advantage of this fact. They can work to talk a victim out of filing a claim or move to provide far less in compensation than a victim will need to fully recover. The families of deceased victims may also not know about the benefits available to them.
After you or a loved one has become the victim of a careless driver, reach out to a Porterville Car Accident Attorney for a free consultation on your best options and to learn about your rights.