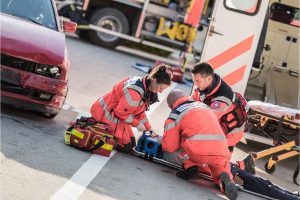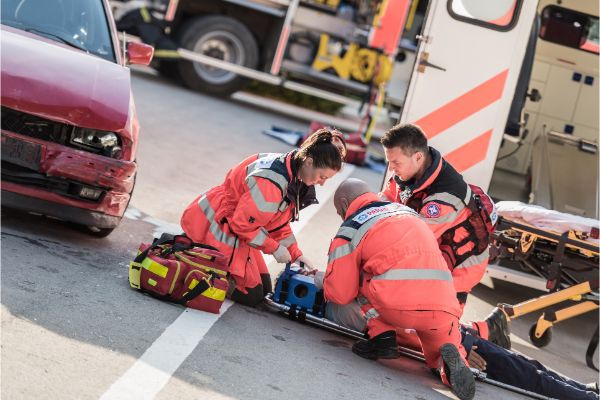 Foot travel on the busy roads of Fresno can be frightening enough for pedestrians trying to cross in front of careless drivers. But in some situations, customers inside businesses are also at risk when a mistake by a motorist sends a vehicle into a building.
Pedestrians inside might be subjected to falling debris and shattered glass and suffer an impact from the vehicle itself. Victims may receive broken bones, traumatic head injuries, and other serious wounds and later wonder how they'll pay their hospital bills over such an unexpected accident.
Truck Rams Fresno Bank and Injures Six People
A woman at the wheel of a pickup accidentally ran her truck into a business and injured six people Wednesday morning in northern Fresno. KFSN-TV reports the collision occurred around 10:30 a.m. at a Chase Bank in the River Park Shopping Center on August 17, 2022.
Fresno police responded to the scene near the intersection of Blackstone Avenue and Ness Avenue. They found that a woman in her 70s driving a Chevy Silverado with her husband in the passenger seat had crashed into the wall of a Chase Bank location.
Six people reported injuries after the frightening crash. Three of those victims were rushed to the hospital, including one woman who was inside the bank and was struck by the truck. Information on the severity of the injuries has not been released.
Investigators say the driver involved was parking when she accidentally hit the gas and smashed through the wall. Investigators do not believe alcohol or drugs played a part in the accident.
Support for Victims After a Fresno Car Vs. Building Accident
Victims of a frightening building or wall collapse caused by a vehicle impact can suffer serious injuries and be left to pay for long and expensive injury recoveries. This should never be the case when they've been hurt through no fault of their own.
Victims must file a claim for damages against an at-fault driver's car insurance provider in order to receive fair support for their hardships. This civil claim seeks compensation for all medical bills associated with a crash. It would also secure money for the victim's missed time at work and forfeited paychecks. The emotional trauma of such a frightening incident should also be considered when an insurance settlement amount is negotiated.
Victims who are struck while at a place of business could also earn compensation from the business's insurance coverage. This would be a possibility if an investigation reveals the business wasn't keeping its customers as safe as possible.
Contact a Fresno Pedestrian Accident Lawyer
After you or a loved one has become the victim of a careless driver, reach out as soon as possible to a Fresno Pedestrian Accident Attorney. Maison Law offers a free consultation on your best options to secure full benefits after an accident.
Martin Gasparian, the founder of Maison Law, works to protect those hurt in serious accidents. He strives to see that pedestrian collision victims receive everything needed to help ease their hardships through such a difficult time. Mr. Gasparian also wants to make sure victims and family members aren't left facing financial hardships years down the road.