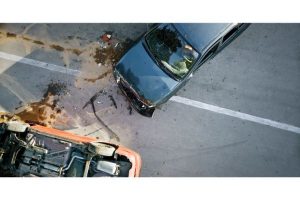 Careless drivers can make any drive in Arroyo Grande a dangerous trip. Reckless motorists can have a cellphone to their ear or be trying to eat lunch as they veer in and out of lanes and ignore the vehicles around them.
Powerful impacts can occur and send vehicles rolling. Victims in an overturned vehicle can suffer some of the most serious injuries of any type of car accident. Drivers and passengers may absorb blows from car seats, steering wheels, windows, and the roof. They may be left with head and brain injuries and broken bones that require weeks of expensive medical care.
Three-Vehicle Accident Leaves One Vehicle on Its Roof in Arroyo Grande
Arroyo Grande emergency officials responded to a frightening crash involving three vehicles Monday morning. KSBY-TV reports the accident happened in the 900 block of East Grand Avenue on July 25, 2022.
Five Cities Fire Authority officials responded to the scene in the westbound lanes sometime before 11:40 a.m. They confirmed that three vehicles were involved in the collision and that one vehicle had been overturned.
The driver was helped out of the overturned car and was being assessed by emergency crews. Information was not released about the severity of the injuries to the driver or anyone else involved.
The Arroyo Grande Police Department continues to investigate the circumstances surrounding the crash.
Seeking Assistance for Victims After an Arroyo Grande Car Accident
The victims of frightening accidents must try to secure the most out of a car accident claim because they won't always be sure how long recovery will take. They may not even know they've suffered an injury until the shock of what's happened wears off and they can visit a doctor.
A week's long stay in the hospital and several months of physical therapy will cost thousands of dollars. Those expenses should never fall on victims hurt through no fault of their own.  A claim for damages filed against an at-fault driver's car insurance company protects victims and their families from the financial damages of an accident.
Victims should receive full compensation to pay for all medical bills and to replace the lost income and benefits the victim forfeits while missing work. Victims can also secure compensation for non-economic damages. This includes additional support for the pain they suffer and the emotional trauma they are left to cope with.
Contact a San Luis Obispo County Car Accident Lawyer
After an accident has left you or a family member the victim of a careless driver, please contact an experienced San Luis Obispo car accident attorney serving Arroyo Grande victims. Martin Gasparian, the founder of Maison Law, uses his experience with insurance companies and their tactics to help protect accident victims. He offers a free and no-obligation consultation and case evaluation.
Mr. Gasparian takes a hands-on approach to every case and works directly with families to make sure they only receive legal help that's in their best interest.