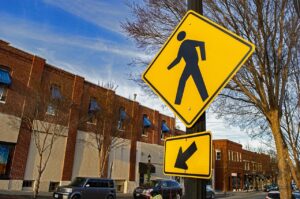 People who travel Modesto on foot can face miles of walking before reaching a safe crosswalk. They can also be asked to cross multiple lanes in a short amount of time to avoid extreme traffic levels.
This struggle to find safe paths to walk puts local pedestrians in far too much danger. Careless motorists who don't pay enough attention to the road can fail to slow down at the sight of someone on foot and cause a devastating collision.
Pedestrian's Life Taken in a Car Crash in Modesto
A pedestrian was killed in a collision with a car in northeast Modesto early Thursday morning. The Modesto Bee reported the tragic accident occurred along East Briggsmore Avenue west of Roselle Avenue on May 5, 2022.
Modesto Police say a person on foot was struck and killed by a driver in a white car. The victim's identity hasn't been released.
Modesto police say the driver involved pulled over near the scene and is cooperating. Investigators are still trying to determine how the accident occurred.
Seeking Assistance for Families After a Modesto Pedestrian Accident
A fatal pedestrian accident can suddenly leave families without the care and support of a loved one. Grieving families are left to wonder how justice can be served and how to protect themselves from the financial damages that follow a traffic accident.
Close relatives will see bills arrive for a funeral and burial and emergency response. Close relatives also face the loss of income the victim may have provided family members through a weekly paycheck.
A civil wrongful death claim can immediately be filed against an at-fault driver's auto insurance provider. This claim would seek to protect the family financially in the present and in the years down the road.
Careless drivers are often held liable for pedestrian strikes, even if someone on foot wasn't in a crosswalk. All drivers are legally required to monitor every lane for pedestrians and must slow down to prevent any chance of a defenseless walker getting hit.
Contact a Modesto Pedestrian Accident Lawyer
If you have had a loved one taken from you by a careless driver, don't trust insurance companies to treat you and your family fairly. A Modesto Pedestrian Accident Lawyer is a valuable safeguard for families and makes sure each close relative is fully supported after a tragedy.
Martin Gasparian offers a free case evaluation for all victims. It's a no-risk way to find out about every benefit available to your family. Contact Mr. Gasparian to schedule a free and confidential consultation today.