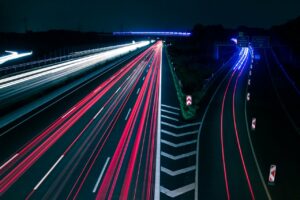 Traveling around Fresno in the early morning hours can be dangerous for even safe drivers. Visibility is reduced and it's hard to know when other motorists are traveling while impaired by drugs or alcohol.
It's often possible to avoid drivers that are swerving or going too fast or too slow. But it's difficult to protect yourself from vehicles approaching from behind that may be driving by someone intoxicated. A failure to stop or slow down when approaching an intersection or an accident scene can cause serious harm to all involved.
Fresno DUI Accident Badly Injures Woman in Fresno
A woman suffered serious injuries after being hit by a DUI suspect in east Fresno early Sunday morning. The Fresno Bee reports the accident occurred around 1:45 a.m. on Chestnut Avenue just south of Highway 180 on May 9, 2022.
Fresno Police say the collisions involved three vehicles. A Chevy truck was stopped at a red light when the driver of a Chevy Car struck it from behind. A man and a woman got out of the truck to talk to the people in the car. At that point, another driver in an approaching Lexus struck the woman.
Police officials say the woman was transported to Community Regional Medical Center with a broken shoulder and head injuries. She is in stable condition.
Officers said they would be charging the drivers of both cars involved with felony DUI. One of the drivers was also suspected of driving with a suspended license. The driver of the truck was not suspected of driving while impaired.
Support for Fresno Victims After a DUI Accident
Victims in collisions around Fresno often face enormous healthcare costs when working to recover from serious injuries. They may also be losing out on valuable time at work and getting behind on normal monthly bills during recovery.
These hardships should be entirely in the lap of the at-fault driver's auto insurance provider. By filing a claim for damages, victims are requesting help with all current bills and any bills for healthcare expected in the future.
When the drivers to blame are charged with DUI, they'll be facing criminal charges. However, injured victims don't have to wait on the outcome of a trial to receive support. Their civil claim can move forward independently of any criminal proceedings.
Contact a Fresno DUI Accident Lawyer
Injured victims often don't know how much their injury is worth and insurance companies for at-fault drivers can take advantage of this fact. They can work to talk a victim out of filing a claim or move to provide far less in compensation than a victim will need to make a full medical recovery.
After you or a loved one has become the victim of a careless driver or a driver under the influence, reach out to a Fresno Car Accident Attorney for a free consultation on your best options and to learn about your rights.