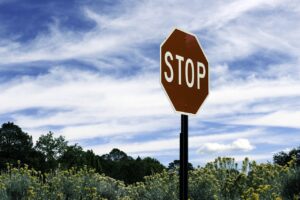 Rural roads across Tulare County can carry more traffic than they were designed for. This increased traffic can bring additional dangers, especially at intersections. Just one driver not observing the right-of-way can put several other vehicles in danger at once.
A collision caused by a careless driver becomes even more heartbreaking when a hit-and-run driver decides to leave injured victims at the scene. This leaves the victims and their families to face the financial consequences of a terrible accident alone often with perhaps no chance to seek justice.
Woman Killed in Weekend Tulare County Hit-And-Run Crash
A woman was tragically killed in a hit-and-run accident in southwest Tulare County Sunday Afternoon. ABC30-TV reports the accident occurred just before 5:30 p.m. at the intersection of Avenue 120 and Road 80 west of both Pixley and Tipton on April 4, 2022.
The California Highway Patrol says a 47-year-old woman was driving west on Avenue 120 in a Honda Civic when a driver in a truck ran a stop sign and hit her. The woman died at the scene.
The driver of the pick-up left the scene and so far, has not been identified. Anyone with information about the driver or the truck involved in the accident should call the California Highway Patrol.
Support for Families After Hit-And-Run Accidents in Tulare County
Families will never completely recover from the grief and emotional pain of losing a loved one. However, they should be left free to mourn their loss without worrying over the bills that arise after a tragic accident.
Close relatives can face paying for a funeral and burial and emergency services fees. They'll also have to find a way to meet these bills after losing the financial support a loved one may have provided through income from a job.
When a hit-and-run suspect hasn't been arrested, family members can still hope to earn insurance support to protect themselves. Families may be able to call upon their own car insurance policies. The victim may have had uninsured motorist coverage that could help out the family financially at such a difficult time. If the victim did not carry car insurance, he or she may have been covered by a family member's policy.
When a suspect is apprehended, a wrongful death claim can be filed against the driver's auto insurance company. The suspect would likely be facing a criminal trial, but the family's civil claim would proceed separately and could be filed immediately.
Contact a Wrongful Death Accident Lawyer Serving Tulare Families
To secure protection for you and your family after a tragedy, talk to a Tulare Wrongful Death Accident Lawyer like Martin Gasparian. Mr. Gasparian has a long, extensive background in safeguarding families in Tulare County after terrible accidents.
Contact Maison Law for a free and confidential case consultation. Martin Gasparian believes that families should be informed of everything available to them and remain completely protected after losing a loved one.