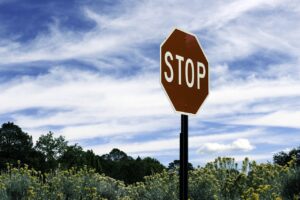 Rural two-way stop sign intersections in Fresno become very dangerous spots when drivers don't obey the right-of-way. Traffic on one road may not be required to stop and will be traveling at full speed. Drivers with a stop sign may become careless and fail to make a full stop and suddenly be in the path of other vehicles.
These errors in judgment have the potential to cause a dangerous accident that encompasses drivers and passengers traveling in every direction. Victims may end up in the hospital and wonder about the most effective ways to earn insurance support.
Two Drivers Injured in a Four Vehicle Accident in Fresno
A multiple-vehicle collision in southwest Fresno sent two people to the hospital Tuesday afternoon. KMPH-TV reports the accident happened at the intersection of Brawley Avenue and Jensen Avenue on January 11, 2022.
The California Highway Patrol says the intersection accident involved four vehicles, including one semi-truck. They say a woman driving a Nissan Sentra entered an intersection and was struck by the big rig. A Chevy pick-up and a Range Rover were also struck in the accident.
The woman in the Nissan and the driver of the Range Rover were taken to the hospital with injuries. Updates on their conditions have not been released.
Investigators do not believe alcohol or drugs were involved in the crash. They continue to investigate the circumstances surrounding the accident.
Securing Assistance for Fresno Intersection Accident Victims
It's understandable that victims of major car accidents would worry over their physical health, while at the same time stress over the hospital bills stemming from their recoveries.
Victims injured through the negligence of another driver must be encouraged to file a claim for damages against that driver's auto insurance provider. This civil claim asks for help with every medical cost built up over recovery and those expected in the future. The claim also hopes to secure compensation to provide money to meet normal monthly bills as victims lose more and more time at their jobs while they recover.
Contact a Fresno Car Accident Lawyer
After an accident involving a serious injury, contact an experienced Fresno car accident lawyer such as Martin Gasparian for a free and confidential consultation. Mr. Gasparian takes a hands-on approach to every case. He believes that every client should receive full compensation for their physical and financial hardships. He believes they should also be allowed to focus on recovery free of the worry of debt and paying bills from an accident they weren't to blame for.