Southern California has a long way to go before it can do any boasting about traffic safety and care for its pedestrians. Yet, places like Anaheim and Los Angeles saw their streets become a lot safer for drivers, pedestrians, and bicyclists in 2020. Unfortunately, it took a worldwide pandemic and lockdown to reduce the tragic accident numbers that have plagued the biggest cities in California.
Now all eyes are on 2021 as Orange County and Los Angeles County emerge (fingers crossed) from the shadow of COVID-19. Will those gains earned by people on foot continue or will we lose ground and return to the tragic numbers of the past several years?
Pedestrian Steps Forward During A Pandemic
Quarantines and shelter in place orders quickly left Southern California freeways and streets with a lot of empty real estate. Once packed lanes suddenly saw only a trickle of traffic.
The empty lanes were an unnerving sight at times, but people stuck at home did build their courage and hit the sidewalks on foot and on their bikes. They found the crosswalks they used to have to hold their breath to cross over proved much more manageable.
It was a much-appreciated side effect during such a difficult year because for an entire decade before, pedestrian safety was not traveling in a positive direction.
Ten Years of Frightening Pedestrian Accidents in the U.S.
Researchers at Smart Growth America looked at pedestrian safety across the nation over the past decade. What they found was a disturbing rise in pedestrian tragedies that often hit new highs with each turn of the calendar.
Their report found an astonishing 45% leap in the number of pedestrians struck and killed by drivers from 2010-2019. The decade saw over 53,000 victims hit and killed in traffic accidents across the U.S.
The raw numbers revealed that 2016-2019 saw the most pedestrian fatalities in 30 years. In 2019 alone, 6,237 pedestrians lost their lives, averaging out to almost 17 victims a day in America.
Orange County and Los Angeles County: A Decade of Pedestrian Danger
The plight of anyone on foot was no better on a local scale across Southern California. In their discouraging report, Smart Growth grouped the Los Angeles/Long Beach/Anaheim areas together when comparing other metropolitan regions across America.
Los Angeles/Long Beach/Anaheim ranked 49th on their Pedestrian Danger Index (PDI) that compared pedestrian accident statistics with population figures. Of course, the region still recorded more pedestrian fatalities over that ten-year span, 2,717, than almost any other place in the country.
Only the New York/Newark/Jersey City metro area saw more deaths at 3,112. Sadly, other California cities ranked much higher when statistics were adjusted for population. The list named Bakersfield as the second most dangerous city in America to travel on foot. Stockton/Lodi, Fresno, and Riverside/San Bernadino all made the infamous top 25.
Three Years of Pedestrian Hazards in Orange County
A more focused look at Los Angeles and Anaheim pedestrian numbers bears out the study's conclusion that we can't do enough to make sure the one-year dip in pedestrian accidents carries over to 2021.
Risks for pedestrians in Orange County remained elevated from 2018 to 2019 but dipped in 2020. Although the number of lost lives on local streets in 2020 didn't drop quite as much as we'd hope.
Local law enforcement felt this tragic anomaly could be explained by drivers traveling at higher speeds than normal. It seemed that motorists who did get out on the roads in 2020 felt more empowered to hit the gas with fewer cars around them. In short, there were fewer crashes involving pedestrians but this extra speed led to more severe outcomes when accidents did occur.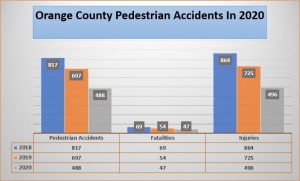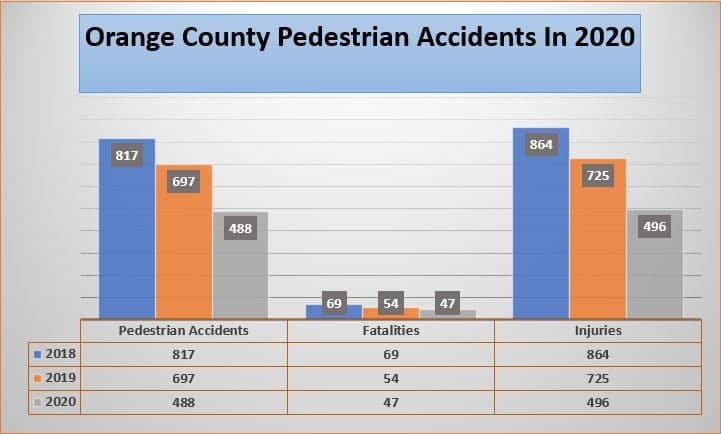 Numbers collected from California's Transportation Injury Mapping System (TIMS).
Los Angeles saw a similar trajectory on pedestrian accident numbers, but of course, on a much greater scale. It's easy to glance at these statistics and gloss over the toll that over 6,000 pedestrian injuries and nearly 300 lost lives in a year takes on victims, families, and our communities.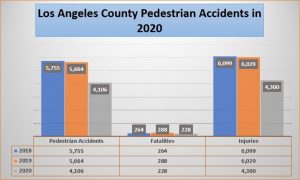 A Safer Walk in Orange County and the Valley in 2021
The gains made in pedestrian safety happened in large part because more cars were parked in garages in 2020. It would be nice to think that drivers also took more care in a year lost to the pandemic because it emphasized the importance of each human life.
The pandemic also provided local cities and municipalities some breathing room to try some new traffic patterns and lane additions to reduce the dangers of traveling Southern California on foot. Without the constant buzz of speeding traffic, these improvements were easier for crews to install and mark off.
We need to fight to make sure these changes aren't temporary. Tell your city council representatives that those new lanes and barriers should remain in place wherever you live, work, and play.
Finding Assistance After a Pedestrian Accident
After getting struck by a vehicle, victims can be left with the pain of an injury and perhaps feeling the most vulnerable they've ever felt. Injury victims may face a long, expensive recovery and have no means of paying for the thousands of dollars in hospital bills that will follow.
Under these difficult circumstances, it's important to talk to an experienced personal injury lawyer about what happened. Contact Martin Gasparian, the founder of Maison Law, for a free consultation on your case. Once you've gone over the details of your accident, Mr. Gasparian can help you determine the best path to getting the support you need in recovery.
Maison Law serves clients in the Central Valley and over all of Southern California and defends their rights as victims.