As more and more Californians are relying on their feet to get around, the hazards pedestrians face on local streets have only multiplied.
California reported 3,723 traffic deaths in 2020, up 5% from 2019 despite fewer drivers taking the wheel. In just the first half of 2020, 485 of the state's reported traffic accidents involved a pedestrian. The early figure put California on pace for one of the biggest year-to-year increases in pedestrian tragedies ever.
At a time when families in Fresno had a worldwide pandemic, statewide quarantines, and national shortages to worry about, another danger went far underreported in California. The still increasing threats to anyone who travels on foot.
Pedestrian Safety: How Does Fresno Compare?
Fresno is one of many California cities in need of major strides when it comes to pedestrian safety. Our city is part of a string of towns situated along Highway 99 that see greatly elevated pedestrian accident numbers each year.
Smart Growth America's 2021 "Deadly By Design" pedestrian study paints a truly tragic picture for those who travel on foot in Fresno. They rank Fresno as the 21st most dangerous city for pedestrians in America. Their ranking placed Bakersfield at number two on the list when taking population into account. The Stockton-Lodi area ranked 15th.
According to the study, Fresno recorded a heartbreaking 235 pedestrian fatalities over a ten-year span from 2010-2019 equating to 2.4 deaths a year per 100,000 people. By comparison, Bakersfield saw 260 deaths on their roads equal to 2.9 tragedies a year per 100,000 people.
How Did Fresno Fare in 2020?
In a year lost to the pandemic, 2020 saw many people sheltering in place and parking their cars for weeks at a time. With the greatly reduced vehicle traffic around Fresno for much of the year, the natural assumption would be that there were fewer dangers for people on foot. Sadly, that didn't end up being the case.
In just a comparison with 2019 pedestrian accident statistics, 2020 in Fresno did lead to fewer fatal incidents, but the number of accidents and the number of people injured almost doubled from the year before.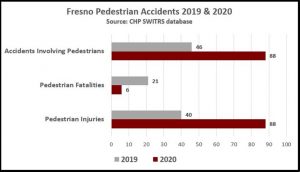 In further contrast, in 2020 Fresno authorities reported 1,147 total accidents across the city. That meant around 7.5 % of accidents for the year involved pedestrians. In 2019 there were 759 total accidents and 6% of those incidents involved a pedestrian.
Pinpointing Fresno Pedestrian Accidents
Below, we'll review some of Fresno County's most dangerous roads and intersections for pedestrians. At the end of this piece, we'll also share helpful tips and resources people in Fresno County could use to improve pedestrian safety.
Fresno County's Deadliest Roads for Pedestrians:
Before getting into the specific street names, please bear in mind all of the numbers listed below are the totals for Fresno between 2008 – 2018.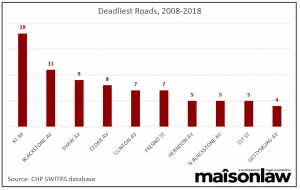 Fresno's deadliest roads for pedestrians are:
| | |
| --- | --- |
| Street Name | Number of Fatalities |
| RT 99 | 18 |
| Blackstone Ave | 11 |
| Shaw Ave | 9 |
| Cedar Ave | 8 |
| Clinton Ave | 7 |
| Fresno Street | 7 |
| Herndon Ave | 5 |
| N Blackstone Ave | 5 |
| 1st Street | 5 |
| Gettysburg Ave | 4 |
Fresno Intersections with the Most Pedestrian Accidents Over the Past Decade: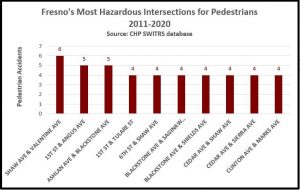 Fresno's most dangerous intersections for pedestrians are:
| | |
| --- | --- |
| Intersection Name | Number of Accidents |
| Shaw Ave & Valentine Ave | 6 |
| 1st St & Angus Ave | 5 |
| Ashlan Ave & Blackstone Ave | 5 |
| 1st St & Tulare St | 4 |
| 6th St & Shaw Ave | 4 |
| Blackstone Ave & Saginaw Way | 4 |
| Blackstone Ave & Shields Ave | 4 |
| Cedar Ave & Shaw Ave | 4 |
| Cedar Ave & Sierra Ave | 4 |
| Clinton Ave & Marks Ave | 4 |
Dangerous Roads and Pedestrian Injuries
When analysts first reviewed Fresno's road safety data from 2008-2018, they immediately zeroed in on North Blackstone Avenue. There were 44 pedestrian crashes on this major avenue within the decade, which was the highest number for any street in the County.
Not far behind North Blackstone Avenue, however, was Fresno Street. Located mostly in Downtown Fresno, Fresno Street experienced 43 pedestrian collisions within the same timeframe.
Although both of these streets had the most pedestrian-related accidents, they actually weren't the deadliest. Route 99 retains its title as Fresno's most dangerous road with 18 pedestrian fatalities out of 38 crashes.
A look at the intersections where Fresno's pedestrian collisions most frequently occurred through 2020 again highlights several streets that pop up more than once on the list. These well-known dangerous stretches included 1st Street, Blackstone Avenue, and Shaw Avenue.
Why is Route 99 So Bad?
Fresno is home to one of the nation's most infamous highways: Route 99.
Route 99 is a hazardous place for even safe drivers. And it may be hard to believe, but pedestrians end up traveling Highway 99 more than you'd think. In 2020, the California Highway Patrol responded to at least 12 pedestrian collisions on Highway 99 in Fresno. Those crashes left 10 victims injured and also claimed four lives.
A shocking study released in 2018 and updated in 2021 by ValuePenguin suggested Route 99 isn't just the most dangerous road in California—it's the most dangerous in the USA! Looking at crash data between 2011 – 2015, analysts found there were about 62 fatal collisions per 100 miles on Route 99. To make matters even worse, researchers said the highest frequency of fatal collisions occurred in Fresno.
ValuePenguin found that many of these fatal crashes happened after the sun went down, which makes Route 99 the deadliest road in America after dark. They also ranked Route 99 the second highest in the USA for fatal crashes involving alcohol-induced DUI.
Interestingly, ValuePenguin didn't factor in speeding when conducting their analysis of different American roads. Some members of the California Highway Patrol (CHP), however, said excessive speed is often a cause for accidents on Route 99. Although the official speed limit is 70 mph, officers on Route 99 regularly hand out violations to drivers traveling 90 mph or higher.
Safety Troubles With Fresno's Trains
As of March of 2021, Fresno has seen 17 deadly traffic collisions for the year. Five of those tragic accidents have involved pedestrians and at least one accident involved a train. That's according to the research of ABC30-TV.
There have been at least two deadly pedestrian accidents involving trains in Fresno since that study. The tragedies occurred in about a two-week span. A woman was killed on April 21st after getting struck by a train on Mono Street near G Street. A man lost his life on May 7th after being struck near Illinois and Diana Streets.
To combat this growing problem, Fresno police officers are working closely with local railroad companies. Some railroad employees have put up extra fencing and prominent warning signs to deter pedestrians from walking on tracks. The non-profit group California Operation Lifesaver is also working on education campaigns to improve the safety standards near railroads.
For more information on this issue, you could visit CA Operation Lifesaver's website at www.caol.us.
Three Effective Strategies for Reducing Pedestrian Fatalities
The Centers for Disease Control and Prevention (CDC) has three major suggestions for improving pedestrian safety in the USA. Putting these simple strategies into practice could potentially save a pedestrian's life here in Central Valley and across the nation.
First, the CDC strongly recommends pedestrians wear bright-colored clothing if they must walk during the nighttime. Obviously, it's difficult for drivers to see pedestrians dressed in dark clothing. You might also want to consider using a flashlight to increase visibility. In the past, Fresno police have suggested wearing reflective clothing or bright green.
Next, the CDC urges pedestrians to only use officially designated crosswalks when crossing the street. Even when you use these crosswalks, Fresno police encourages pedestrians to be extra vigilant. Sometimes reckless drivers can speed through red lights, so wait a few moments before crossing.
Third, the CDC recommends pedestrians only use sidewalks when walking alongside vehicles. If there aren't pedestrian-only sidewalks in your area, then it's best to walk towards traffic as close to the shoulder as possible.
About this study:
This study was created in an effort to raise awareness and reduce pedestrian fatalities in Fresno County. We worked with OptimizeMyFirm who compiled the data and created the charts.