The Golden State doesn't have such a golden reputation in the pedestrian safety department. A recent study published by U.S. News & World Report found that roughly 430 Californian pedestrians were tragically killed in the first six months of 2018.
Pedestrian Safety: How Does Fresno Fare?
Fresno isn't immune from California's pedestrian safety woes. According to a 2018 police report, 64% of fatal crashes in Fresno involved both a pedestrian and vehicle.
We gathered all data from the CHP for Fresno County to find out out exactly where pedestrian accidents occurred from 2008 – 2018. The 10 years of data is below in this interactive map:
Please note that points within a half block will get combined to the nearest intersection, so the deadliest intersections really show deaths "at or near the intersection". Also, a larger, full screen map is available here.

Below, we'll review some of Fresno County's most dangerous roads and intersections for pedestrians. At the end of this piece, we'll also share helpful tips and resources people in Fresno County could use to improve pedestrian safety.
Fresno County's deadliest roads for pedestrians:
Before getting into the specific street names, please bear in mind all of the numbers listed below are the totals for Fresno between 2008 – 2018.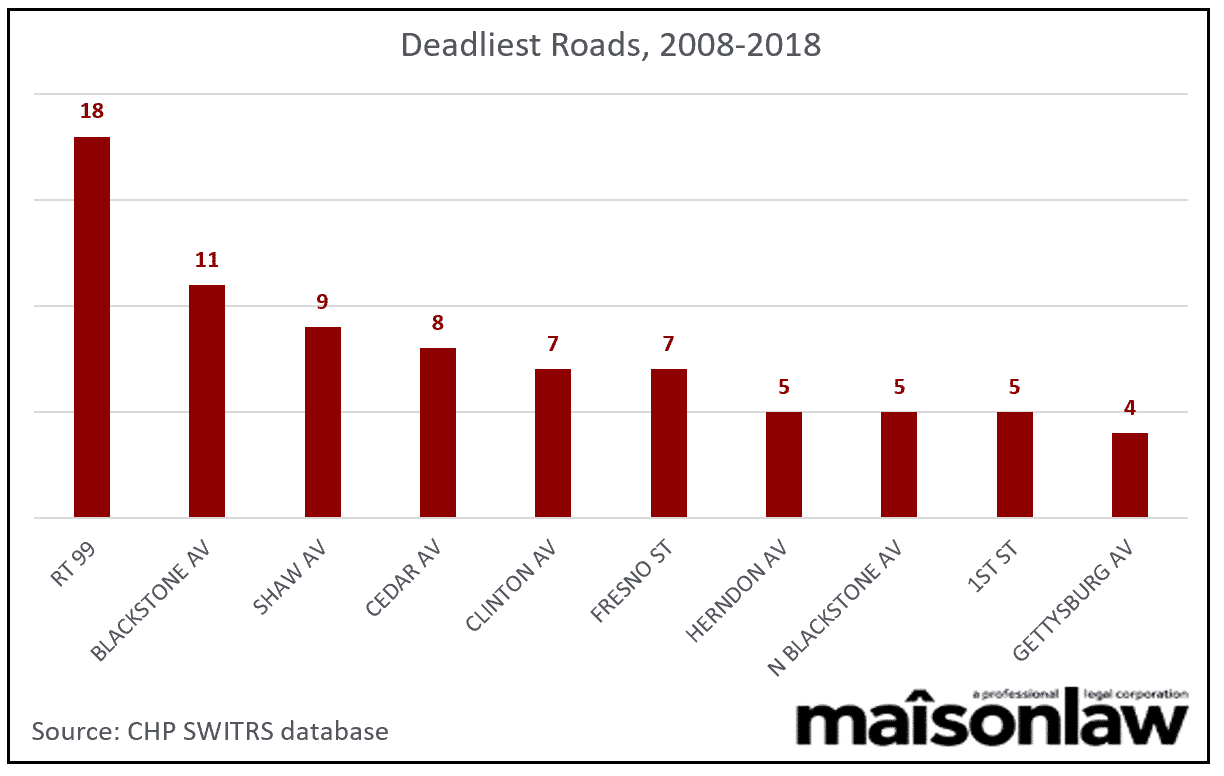 Fresno's deadliest roads for pedestrians are:
| Street Name | Number of Fatalities |
| --- | --- |
| RT 99 | 18 |
| Blackstone Ave | 11 |
| Shaw Ave | 9 |
| Cedar Ave | 8 |
| Clinton Ave | 7 |
| Fresno Street | 7 |
| Herndon Ave | 5 |
| N Blackstone Ave | 5 |
| 1st Street | 5 |
| Gettysburg Ave | 4 |
Fresno County's deadliest intersections for pedestrians: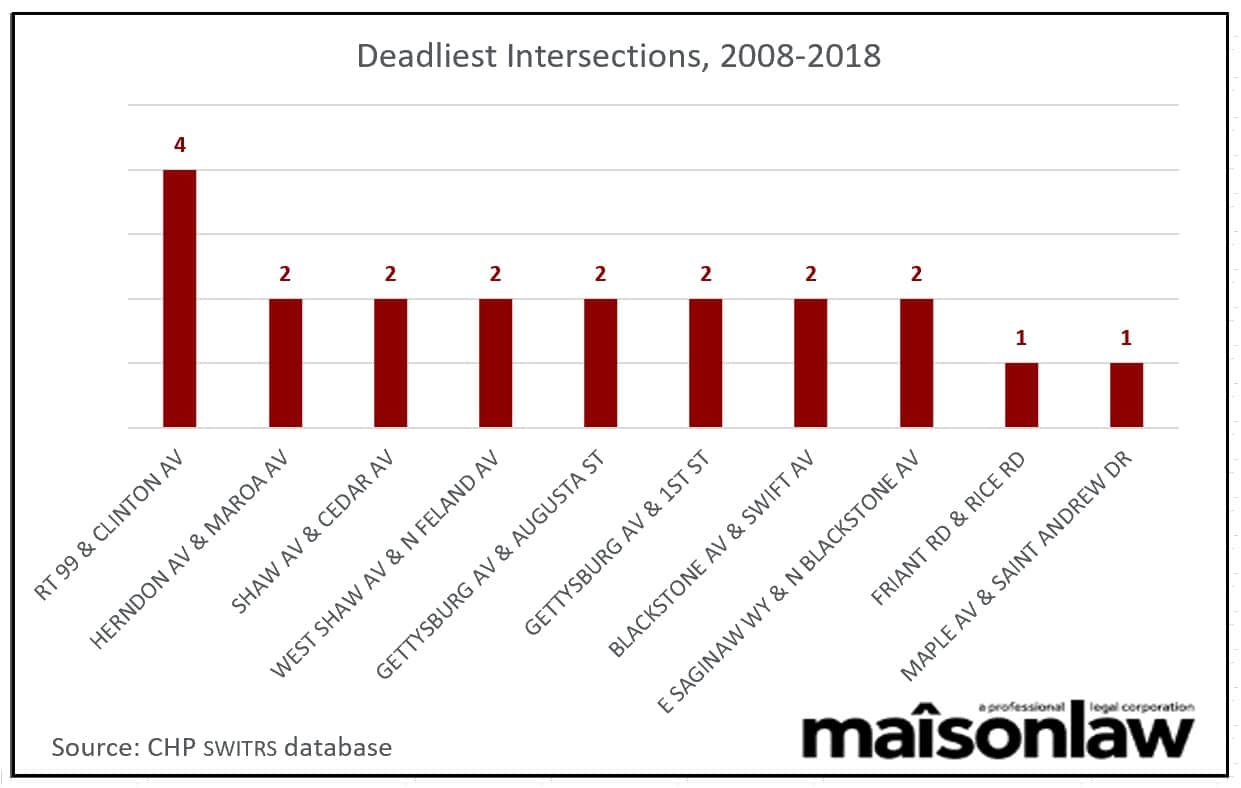 Fresno's deadliest intersections for pedestrians are:
| Intersection name | Number of fatalities |
| --- | --- |
| RT 99 & Clinton Ave | 4 |
| Herndon Ave & Maroa Ave | 2 |
| Shaw Ave & Cedar Ave | 2 |
| W Shaw Ave & N Feland Ave | 2 |
| Gettysburg Ave & Augusta St | 2 |
| Gettysburg Ave & 1st St | 2 |
| Blackstone Ave & Swift Ave | 2 |
| East Saginaw Way & N Blackstone Ave | 2 |
| Friant Rd & Rice Rd | 1 |
| Maple Ave & St Andrew Dr | 1 |
Dangerous Roads and Pedestrian Injuries:
When analysts first reviewed Fresno's road safety data, they immediately zeroed in on North Blackstone Avenue. There were 44 pedestrian crashes on this major avenue within the decade, which was the highest number for any street in the County.
Not far behind North Blackstone Avenue, however, was Fresno Street. Located mostly in Downtown Fresno, Fresno Street experienced 43 pedestrian collisions within the same timeframe.
Although both of these streets had the most pedestrian-related accidents, they actually weren't the most deadly. Route 99 retains its title as Fresno's most dangerous road with 18 pedestrian fatalities out of 38 crashes.
The other two intersections with the highest number of pedestrian collisions were at Shaw and Cedar avenues (13 crashes) and East Saginaw Way and North Blackstone Avenue (12 collisions).
While Route 99 gets all the headlines, there are other roads with alarmingly high pedestrian fatality figures. For instance, there were 11 pedestrian deaths on Blackstone Avenue and 9 deaths on Shaw Avenue. Two other roads that had 8 fatalities each include Belmont and Cedar avenues.
To sum up: a total of 337 pedestrian accidents and 82 fatalities occurred on Fresno County's top ten most dangerous streets between 2008 – 2018. 94 of these crashes and 24 fatalities occurred at intersections.
Why Is Route 99 So Bad?
Fresno is home to one of the nation's most infamous highways: Route 99.
A shocking study put out by ValuePenguin in 2018 suggested Route 99 isn't just the most dangerous road in California—it's the most dangerous in the USA! Looking at crash data between 2011 – 2015, analysts found there were about 62 fatal collisions per 100 miles on Route 99. To make matters even worse, researchers said the highest frequency of fatal collisions occurred in Fresno.
ValuePenguin found that many of these fatal crashes happened after the sun went down, which makes Route 99 the deadliest road in America after dark. They also ranked Route 99 the second highest in the USA for fatal crashes involving alcohol-induced DUI.
Interestingly, ValuePenguin didn't factor in speeding when conducting their analysis of different American roads. Some members of the California Highway Patrol (CHP), however, said excessive speed is often a cause for accidents on Route 99. Although the official speed limit is 70 mph, officers on Route 99 regularly hand out violations to drivers traveling 90 mph or higher.
Safety Troubles With Fresno's Trains:
Besides getting hit by cars, many CHP officers are concerned about the uptick in pedestrians who have been killed by trains. In September of 2018, for instance, three pedestrians were killed by oncoming trains in just a few days. These trains were located at the intersections of Ashlan and North Fruit avenues, NW Shields and Van Ness, and SW Blackstone and McKinley.
To combat this growing problem, Fresno police officers are working closely with local railroad companies. Some railroad employees have recently put up extra fencing and prominent warning signs to deter pedestrians from walking on tracks. The non-profit group California Operation Lifesaver is also working on education campaigns to improve the safety standards near railroads.
For more information on this issue, you could visit CA Operation Lifesaver's website at www.caol.us.
Three Effective Strategies for Reducing Pedestrian Fatalities:
The Centers for Disease Control and Prevention (CDC) has three major suggestions for improving pedestrian safety in the USA. Putting these simple strategies into practice could potentially save a pedestrian's life.
First, the CDC strongly recommends pedestrians wear bright-colored clothing if they must walk during the nighttime. Obviously, it's difficult for drivers to see pedestrians dressed in dark clothing. You might also want to consider using a flashlight to increase visibility. In the past, Fresno police have suggested wearing reflective clothing or bright green.
Next, the CDC urges pedestrians only to use officially designated crosswalks when crossing the street. Even when you use these crosswalks, Fresno police encourages pedestrians to be extra vigilant. Sometimes reckless drivers could speed through red lights, so wait a few moments before crossing.
Third, the CDC recommends pedestrians only use sidewalks when walking alongside vehicles. If there aren't pedestrian-only sidewalks in your area, then it's best to walk towards traffic as close to the shoulder as possible.
About this study:
This study was created in an effort to raise awareness and reduce pedestrian fatalities in Fresno County. We worked with OptimizeMyFirm who compiled the data and created the charts.