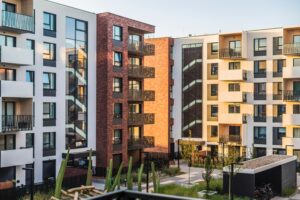 In California, the owner of an apartment building has a legal duty to maintain the building and property that it sits on. As such, both must be free from dangers or unreasonable risks of personal injury to tenants and their guests. If you're injured as a result of the negligence of an owner when you're a tenant or a guest on the premises of an apartment building or complex, you're likely entitled to seek compensation for the damages that you suffered.
That's because every landlord in California owes every person who is lawfully on that landlord's property a duty of care. This means the property must be free from negligent acts or omissions that affect the safety of the property. So, if you or a family member were in an apartment slip-and-fall or trip-and-fall at a California apartment complex, contact us here at Maison Law right away for a free consultation and case review.
Does an Apartment Building Owner Become Liable if I Slip and Fall and Injure Myself
It doesn't matter where a property might be located in California. The owner of that apartment building or complex must repair all dangerous conditions in the building or elsewhere on the property. Furthermore, that includes sidewalks, parking lots, hallways, elevators, swimming pools and playgrounds. Periodic inspections of the apartment building and surrounding real estate are a legal requirement. As such, if there is a dangerous condition that might injure someone who is lawfully on the property, the landlord must address it as soon as possible. In the interim before repairs, warnings or barricades must be placed around it.
What Should I Do if I Slip-and-Fall or Trip-and-Fall at a California Apartment Complex?
After a fall at a California parking lot, there are certain things that Maison Law recommends you do so to preserve and protect your rights. For example, here's how you should proceed:
Don't leave the scene. Report your fall to the apartment owner or manager immediately
Insist that the person in charge completes an accident report and don't leave the property without a copy of it
Obtain the name and contact information for the owner or manager who took your report
Take photos of the dangerous condition that you allege caused you to fall
Call 911 if you need medical assistance. They can take you to a nearby urgent care center or emergency room
Contact us here at Maison Law for a free consultation and case evaluation
Who Do I Bring My Personal Injury Claim or Lawsuit Against?
The owner of the apartment building or complex is responsible for keeping the area free from hazards. Many owners hire companies for purposes of maintaining common areas and removing snow or ice. After an aggressive and full investigation of the facts surrounding your case, our California slip-and-fall or trip-and-fall attorney at Maison Law can bring claims or personal injury lawsuits against any of these entities.
Did Your Accident Occur Inside of an Apartment?
Depending on the circumstances surrounding your apartment slip-and-fall, you might even be able to bring a personal injury claim against an apartment's renter. Most renters at reputable units carry liability insurance coverage. Whatever the facts might be, Maison Law will include all necessary parties in efforts to maximize the value of your claim or lawsuit.
Contact our California slip-and-fall and trip-and-fall lawyers for that free consultation and case review. We're going to listen to you carefully and explain every aspect of your case to you. No up-front legal fees are even due to retain us. Once you retain our firm, our goal is to obtain the maximum settlement or award that you deserve.