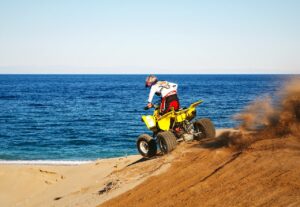 Maison Law represents the victims of California ATV accidents. Our California ATV Accident Lawyers assist victims in getting the support they need to make a full recovery. Please contact us after a serious accident caused by someone else's negligence. We provide a free, no-obligation consultation for all California accident victims. It's a no-risk opportunity to find out what a personal injury case may be worth and how to hold those at fault fully responsible.
Do I Need a Lawyer After a California ATV Accident?
If your ATV accident injury went beyond a few minor cuts and bruises, you should speak to a California ATV Accident Lawyer. If someone's mistake contributed to you getting seriously hurt, you have the legal right to file an accident claim and seek compensation from an at-fault party.
Your lawyer investigates what happened to you and identifies every party that may bear some fault in an accident. Your lawyer files an injury claim backed with strong evidence so that insurance companies can't find ways to dismiss your case. Your lawyer then demands the maximum in compensation for your ATV accident injury so that you aren't left paying medical bills out of your own savings.
California ATV Accident Dangers
All-Terrain Vehicles (ATVs) are very popular in California. They provide thrills and the chance to enjoy the open air for many different age groups. People can ride them along mountainsides and even on the dunes in Pismo Beach. ATVs are considered Off-Highway Vehicles (OHVs) in California and are part of the same category as dirt bikes, golf carts, snowmobiles, and even 4×4 off-road trucks.
Unfortunately, reckless ATV operators or careless drivers sharing roads with ATVs can make riding one a true injury risk. The U.S. Consumer Product Safety Commission (CPSC) finds that over a recent three-year span there were 2,211 deaths in the United States associated with OHV use. It's estimated that in 2020, OHV accidents caused 112,300 injuries across the country. Over five years, ATVs were found to be the vehicle involved in 96% of OHV injuries.
California requires OHV riders to stay off of highways. When they use ATVs on public lands, they must wear a helmet. You'll find age restrictions and other safety guidelines on the California State Parks website.
These safety statutes are in place because of the potential for traumatic injuries caused by ATV use. Like on a motorcycle, drivers and passengers aren't secured by seatbelts. They also don't usually enjoy the safety of four walls like passengers in a car. In a collision or rollover, occupants are often thrown from the vehicle to endure an impact with the pavement or ground.
It's up to a skilled California ATV Accident Lawyer to make sure victims with serious injuries have the support they need to pay for the best medical care available. That support should come from the at-fault party that contributed to a frightening accident.
Who Can Be Held Responsible After an ATV Accident?
Your California ATV accident attorney also identifies every at-fault party involved in an accident. Because in some cases, there may be several individuals or companies that could be liable for causing harm to drivers and passengers.
These and other parties could be liable for helping you recover physically and financially after a personal injury accident:
Another ATV Driver – Other OHV drivers could make reckless moves that put themselves and other ATV occupants in danger. They may simply be careless and not watch for other ATVs nearby when they cause a collision. An injury claim could also be leveled against the driver of the ATV you're in if a reckless move puts you in harm's way.
A Driver in a Car, Truck, or SUV – SUVs, Jeeps, and 4×4 trucks may all be on roads shared with ATV riders. A driver's car insurance company may be fully liable for the victim's recovery costs.
ATV Tour or Rental Company – You may sign waiver forms when you book an ATV tour or rental, but that doesn't protect the business owner from all liability. If a business caused hazards that were well beyond the normal risks associated with ATV use, their commercial liability insurance provider could be accountable for your injury costs. That may include the failure to provide maintenance and safety checks on their vehicles.
ATV Maker – The manufacturer of an ATV may allow a design flaw or defect to make it out to the public. A tire maker could also be liable for a blown-out tire that causes an overturned ATV accident.
Property Owners – Riding on someone's property could lead to a lawsuit over unsafe conditions if you are hurt.
Common Injuries for ATV Riders
California ATV riders often travel while very exposed to other vehicles and natural obstacles. They generally won't have seatbelts and airbags to protect them if they are struck by another vehicle or if a roadway crumbles and sends someone into a tree or rock.
Like in a motorcycle accident, victims are often injured in the initial impact and then thrown from the vehicle to suffer another collision with the ground or pavement. The blunt force trauma can leave visible injuries on the outside and internal injuries that aren't immediately noticeable.
ATV injuries can quickly become life-threatening. That's why it's so important for victims injured due to the mistakes of others to get the support they need to pay for emergency room visits, surgeries, and physical therapy so they can, one day, ride again.
These are some of the most common injuries treated by emergency room doctors after an ATV Accident:
Head trauma — Traumatic Brain Injury (TBI) can be something as mild as a concussion or something with much more serious consequences. A TBI can cause seizures, blurred vision, and memory issues among other symptoms.
Broken Limbs – ATV riders may try to cushion a fall in a collision by throwing their hands and feet out. This can lead to broken bones in both the arms and legs. The hips are also vulnerable when victims are sent flying. A skull fracture may lead to internal bleeding in the brain.
Chest Injuries – An impact to the chest can break ribs, the breastbone, and the collarbones.
Neck, Back, and Spine Damage – Of course, these injuries can lead to paralysis for weeks, months, or a lifetime. Victims can have their necks and torsos bent upon impact with an object or the ground.
Organ Damage – Damage to the chest can threaten harm to the lungs and heart. Impacts to the back can hurt kidneys and a side impact can damage the liver.
Road Rash – The skin's contact with pavement causes severe damage to skin layers. Infections easily develop. A skin graft may be needed.
What Is My California ATV Accident and Injury Worth?
It will be hard to estimate what an injury insurance claim is worth until a skilled California ATV Accident Lawyer can fully investigate what happened. But certain factors will play a big role in the amount you may see on an ATV accident settlement check.
The severity of your injury and the length of your recovery will help determine what you'll be awarded. Everyone heals at a different pace. A long recovery will mean more doctor and hospital bills that an at-fault party should be covering for you.
Those injuries could also end up having a permanent effect on your life. A disability could rob you of participating in family activities and going to work to provide for your children. The estimates on the lifetime of home care and medical equipment you'll need would also figure into the value of your case.
The amount on your ATV accident settlement check will be determined by these factors and more:
Totals on medical bills and physical therapy expenses.
All medical bills for children and teens injured in ATV collisions, including any care needed in the future. Children are still maturing and an injury now can affect their development as they grow to adulthood. They'd need additional support to pay for any surgery necessary in the years to come.
Estimated costs for a lifetime of care and support for a permanent physical disability.
Compensation for the physical pain endured in recovery and perhaps bouts of chronic pain in the future.
Emotional trauma. Depression and anxiety can affect victims who may suffer a loss of enjoyment of life in recovery while unable to participate in their favorite hobbies.
Past and future lost earnings and benefits while victims are forced to miss work hours.
Money for property damage, including repairs or replacement of an ATV.
Frequently Asked Questions
How long do I have to file an injury claim over an ATV accident?
California grants ATV accident victims up to two years to file an injury claim. It's critical to act quickly after an accident so that your lawyer has time to gather fresh evidence and track down witnesses.
Can I ask for injury compensation if I'm struck by another driver when I don't have a helmet on?
Yes. You may or may not have been required to wear a helmet while on your ATV, but that doesn't excuse the dangerous actions of the other driver. The driver could be liable for at least some of your hospital bills and other recovery costs.
Can my family receive support if a loved one is killed in an ATV accident?
Yes. Families are empowered to file wrongful death claims against anyone who contributes to a fatal accident. This support can cover the cost of a funeral and burial and any remaining ambulance and hospital bills. Families should also earn support to cover the loss of the income the deceased would have contributed in the years to come.
Contact a California ATV Accident Lawyer
ATV accident victims and their families should know about every insurance benefit available before an insurance adjuster tries to tell them otherwise. They should know what their injuries are worth before an insurance provider has the chance to try to devalue the pain and trauma a victim experiences.
If you or a loved one are the victims of a careless driver, take advantage of a free case consultation from a real California ATV Accident Lawyer with Maison Law. This evaluation comes with no obligation to you or your family. We only want to make sure you and your family are treated fairly and receive the support you need to rebuild your lives.
Remember, you won't need any money upfront to hire a lawyer to represent you as you heal. Maison Law doesn't get paid unless we win your case. Then our fee comes out of the settlement money you are awarded.
Additional Resources:
Who Can Be Held Responsible for my ATV Accident?
Does Homeowners Insurance Cover ATV Accidents?
Who Is Responsible if a Child Is Hurt in an ATV Accident?
Who Is Liable for Passenger Injuries in a California ATV Accident?