Long Beach attracts plenty of visitors who come for the sand and sun and the oceanfront attractions. It's also the seventh most populous city in California, so plenty of residents work, go to school, and enjoy retirement living within the city limits.
Unfortunately, Long Beach suffers from some of the same hazards that most of Los Angeles County is famous for. Traffic reaches dangerous levels on the 405 Freeway and there are frequent pileups. Property managers and landlords can neglect necessary repairs and leave tenants at risk of dangerous accidents. Store owners and operators can fail to keep their aisles free of hazards until someone comes along and takes a painful slip-and-fall.
In each case, California empowers personal injury victims to seek recovery support from any at-fault party who causes someone harm. But securing full compensation through an injury claim can be challenging without the help of a skilled Long Beach Personal Injury Lawyer.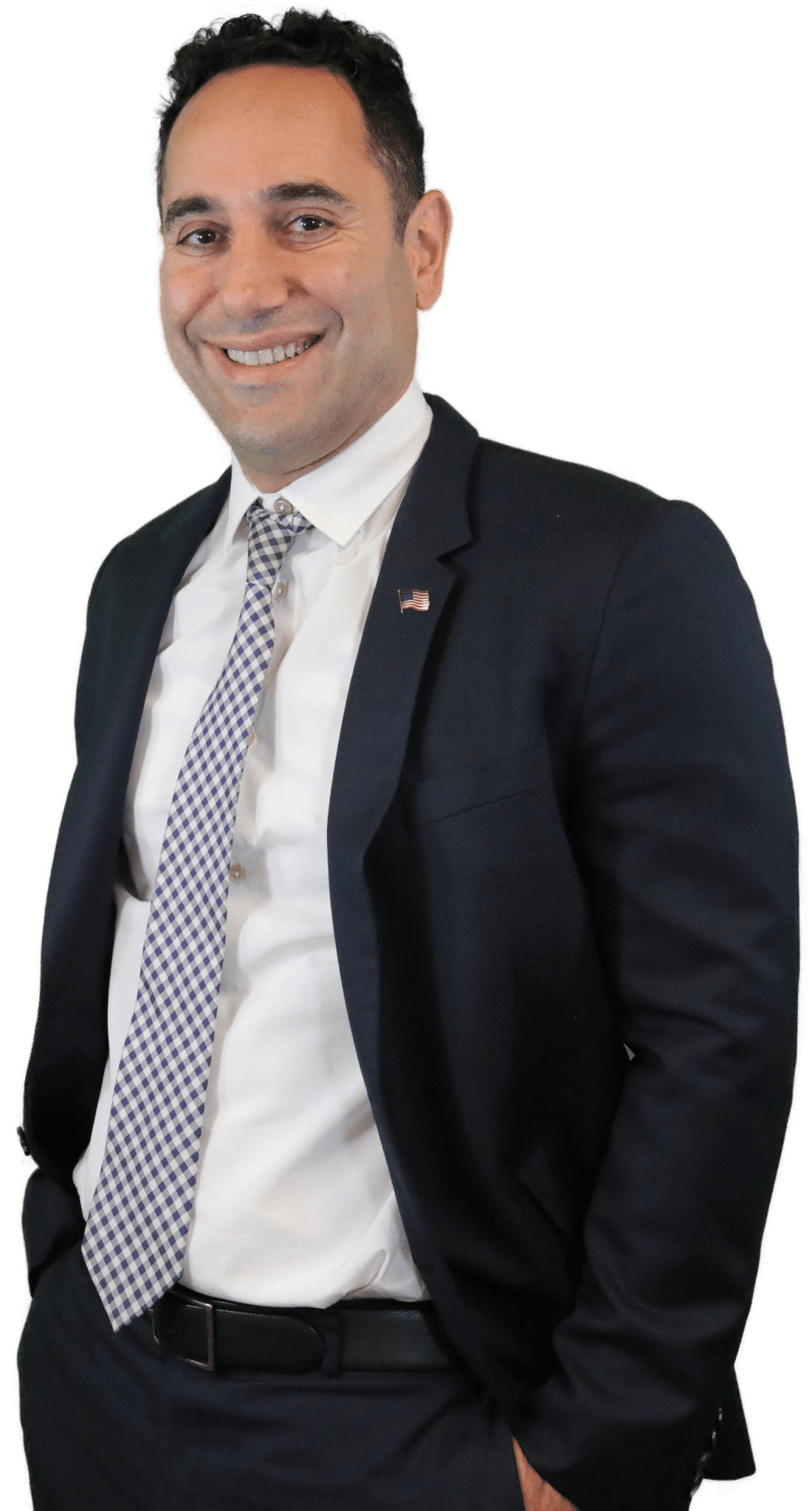 Long Beach Accident Injury Claims Process Call Us For A Free Consulation
Call us 24/7 with No Obligations Describe Your Accident Details
We will then discuss your legal options and decide whether to move your case forward. Retain Maison Law w/ No Upfront Fees
We work on contingency. No attorney fees unless you win your case. Receive Your Compensation
We will fight for you to earn the highest possible payout for your damages.
Contact Maison Law for a Free Consultation for Long Beach Victims
If you or a loved one are seriously injured in an accident in Long Beach, you should be free to focus on healing from injuries and rebuilding your life. Unfortunately, the doctor bills and rehab expenses arriving in your mailbox might leave you with overwhelming financial stress while still trying to recover.
If someone's negligence caused your accident, you shouldn't be facing these expenses alone. Contact us before speaking with any insurance representative. Maison Law of Long Beach offers a free consultation to all victims. It's a chance to find out what your injury may be worth.
Personal Injury Hazards in Long Beach
Personal injury claims are possible whenever someone owed you a "duty of care," neglected that duty, and as a result, you were injured. Long Beach motorists owe this caution to other drivers, motorcyclists, pedestrians, and cyclists. Business owners owe this care to customers, clients, and employees. Landlords owe it to their tenants.
When they fail in this legal duty, injured victims and their families may sue the at-fault party's insurance provider for support.
The most common examples of personal injury cases are car collisions. A careless or reckless driver on the 710 Freeway, Highway 1, or Highway 19 may ram your vehicle from any angle. If you are hurt, you'd be calling on the driver's auto insurance for support with medical bills and more.
Car accidents are only one type of case Maison Law's Personal Injury Attorneys help clients with. These are only some examples of other types of personal injury cases:
Long Beach Car Accidents – Drivers and passengers and those on motorcycles, may suffer severe injuries in a traffic collision.  Car insurance adjusters like to try to shift blame from their policyholders to innocent victims. It's important to have a legal professional protecting your interests and working to get the most out of your Long Beach car accident claim.
Big Rig Accidents – Accidents involving big rigs on Long Beach freeways often lead to serious injuries. A Long Beach Truck Accident Lawyer helps identify if truck drivers or the companies they work for should be targeted in an insurance claim. In some cases, both parties may have to provide you with support.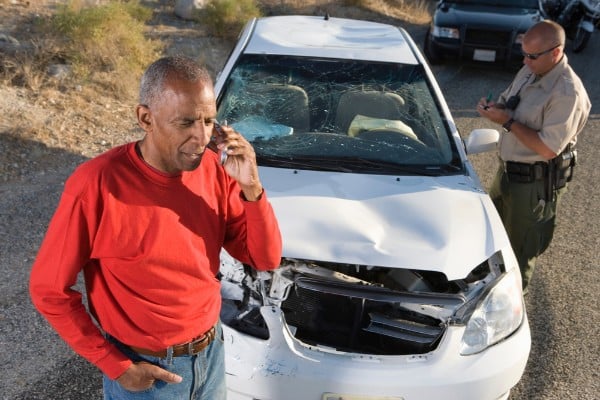 Pedestrian and Bicycle Accidents – These are the least protected victims in roadway accidents. Pedestrians struck in and outside of crosswalks must seek injury support from careless drivers. Walk Score placed Long Beach on their top ten list of most walkable large cities in the nation and finds the city very bikeable. People love to get out in the sunshine, but walkers and riders must still beware of dangerous motorists. Reckless drivers who fail to safely share the lanes with those on bicycles must also be held fully accountable for all medical care.
Motorcycle Accidents – Long Beach has perfect conditions for motorcycle riding, but this also means that accidents can happen. Due to their small size and lack of protection, motorcycles are more vulnerable to collisions than other types of vehicles, and the consequences of a crash can be severe or even deadly. In Long Beach, many motorcycle accidents are caused by a variety of factors. Our team can help you determine who is liable for any damages you suffer in one of these unfortunate accidents.
Workplace Accidents — Long Beach is home to one of the largest ports in the world. Hardworking employees for the Port of Long Beach and on local construction sites put their safety at risk doing hazardous jobs. Victims may file for workers' compensation, but there are some hardships that workers' comp won't cover. Employees at any job might be subjected to unsafe work environments. Workers for big companies like Boeing or local tech firms must take action before their employers find ways to avoid liability.
Slip-and-Fall Injuries — Grocery stores, malls, and places like Target must provide you with a safe shopping experience. If another customer leaves a spilled drink on those hard floors and you fall, the business owner or company should fully support you through recovery. An apartment landlord or management company for a resort community might neglect to secure a handrail on a set of stairs. A golf course staff may leave a tripping hazard out.  If you fall and get hurt, those owners and operators bear liability.
Dog Bites – California operates under the legal concept of "strict liability" when it comes to dog bites. It means that dog owners can be held liable for wounds even if the dog had never bitten anyone before. Trusting your case to a skilled dog bite attorney is the best way to ensure you receive full compensation for a difficult recovery after an attack.
City Government Liability — Suffering an injury while riding public transportation or at a public park or in a public building might leave Long Beach, or Los Angeles County liable for your recovery. Suing government departments can be more complex than a normal personal injury case, but the attorneys at Maison Law have the experience necessary to negotiate a fair settlement.
Wrongful Death Benefits — Unfortunately, in the worst cases, careless accidents can lead to the loss of life. California allows family members to seek financial support through a wrongful death claim. A spouse or children of the victim or a Long Beach Personal Injury Lawyer can file this civil claim on behalf of the rest of the family. A wrongful death lawsuit would ask for financial help to pay for burial expenses and any medical bills and ambulance fees left behind. The family should also receive reimbursement for the guidance and income the deceased will no longer be able to provide in the future.
What Can I Do After a Long Beach Accident to Get the Most Out of My Claim?
Your Long Beach personal injury attorney will conduct a full investigation into your case, but you'll have the best opportunity to secure evidence in the moments after your accident.
Evidence will be a key factor in building a strong injury claim that an insurance company will have trouble finding excuses to reject.
If you are physically strong enough, make an effort to secure these details on the scene:
Dial 911. Get an ambulance en route if you've been injured. Tell paramedics about every pain you have. See your own physician in the days after an accident and document all injuries. The shock of an accident can mask the pain of injuries until the next day. An X-ray might show you have a hairline fracture you weren't aware of on the scene.
Call for police or highway patrol response after a car accident. Tell investigators everything you remember about what happened, including if you saw the at-fault driver on a cellphone. Officers will submit a collision report your Long Beach attorney will use as evidence later.
Let a manager know what happened. In an accident on someone's property, at work, or at a store, a person in a position of authority will need to create an incident report. This report is also valuable evidence.
Get photos. Take pictures of everything involved in your accident including the damage to cars or to yourself. If you were in a slip-and-fall or trip-and-fall incident, take photos of the obstacle that left you on the ground. This hazard could be fixed or cleaned up shortly after you leave. If you are taken to the hospital, ask someone with you or a helpful witness to get photos for you.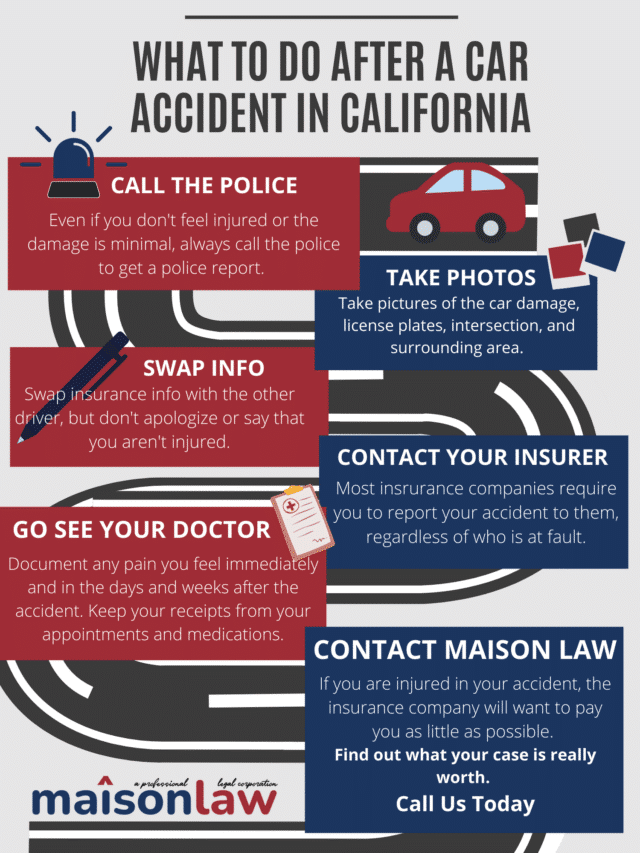 Chat with witnesses. Get contact information to turn over to your Long Beach Personal Injury Lawyer. Witness testimony often provides powerful evidence in an injury claim.
Don't discuss fault or your injury with the at-fault party. Making statements like "I'm okay" or "my bad" will hurt your case later. Also, decline to make recorded statements when an insurance representative calls you in the days after an accident.
Contact a Long Beach personal injury attorney. You should speak with an experienced legal professional before talking with any insurance company. Insurance companies work to limit how much you'll receive on a settlement check. They will purposely make you wait until you are desperate. Adjusters will then offer you far less than what you need to pay your bills, hoping you'll jump at their first offer. Your lawyer protects you from these tactics and makes sure you are earning the most from your accident claim.
What Can I Earn Compensation for After a Long Beach Accident?
After a highway accident, a dog bite, or a slip-and-fall, it's critical to make sure an at-fault party's insurance provider takes responsibility.
To make sure no financial burdens are left in your lap, you'll need to create a complete list of your damages and hardships. Your Long Beach Personal Injury Lawyer works with you to provide a thorough list because anything left off could become your responsibility.
These are just a few of the things that will play a major role in the value of your settlement check:
The totals for your hospital care and physical therapy expenses.
The estimated costs for care in the years to come if you suffer a long-term injury or a permanent physical disability.
Travel costs while making doctor's appointments and going to see specialists. This includes the cost of shuttle services if you can't be on your feet or drive.
Non-economic damages such as the physical pain and emotional distress you endure. This includes depression and anxiety and a loss of enjoyment of life due to your injuries.
Past and future lost income while you must miss work. Estimates on your lost earning capacity if you have a permanent disability.
Damage or destruction of property.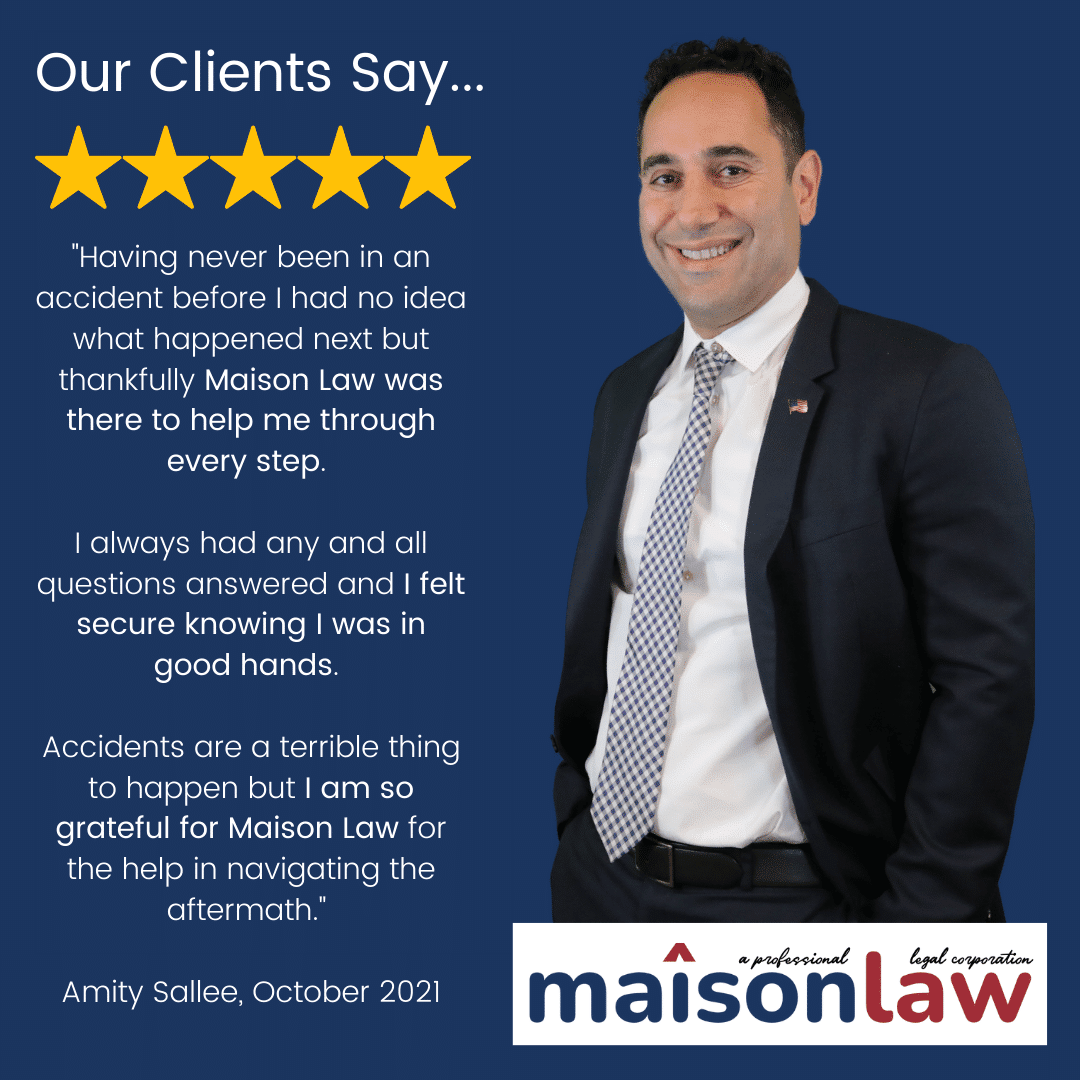 Things to Remember to Get The Most Out of Your Long Beach Injury Claim
Deadlines are important when filing a claim over an injury. In California, you have up to two years from the date of the accident to file an injury claim. The same time limit applies to families filing a wrongful death claim. When a city, state, or government agency is involved in your claim, your deadline could be much shorter.
It's critical to get your case into the hands of a skilled Long Beach legal professional as soon as possible. The longer your wait, the harder it becomes to secure evidence and documents and keep track of the whereabouts of important witnesses.
Frequently Asked Questions
You'll want to provide your attorney with your medical invoices. Bring pay stubs showing the income you've lost while out of work. If you have collision reports or store incident reports, you should bring those too.
You won't need any upfront money to pay your Maison Law attorney. Your attorney won't get a fee unless your case is successful. Then, the costs for legal representation will come out of the settlement you receive.
Usually not. Only a small percentage of personal injury cases are decided in court. Insurance companies would much rather settle with you instead of facing you and your attorney in a trial.
"Maison law is outstanding. The entire team was very attentive to my question and concerns. They even went out of their way to find a chiropractor closer to me because I was not able to commute far for my appointments. I was confused on what was next after my accident but The Maison Law team quickly made me feel comfortable. They are here to work for you."
I got into a fender bender in January and was left dealing with a very unresponsive and terrible insurance adjuster who was basically forcing me to accept only 1k to close my claim prematurely. Thankfully I found Martin and Maison "Law who truly helped ease my mind, took care of my car, rental, treatment and got me an AMAZING settlement in time for Christmas."
"Martin Gasparian and the whole Maison Law team were there for me when I was involved in an accident. They held my hand every step of the way and took care of all my needs. They listened to all my concerns and put my mind at ease and made the whole process pain free. I would definitely refer friends and family to Maison Law.
Contact a Long Beach Personal Injury Lawyer
If you have been seriously injured or lost a loved one due to the negligence of another person or party in Long Beach, take action as soon as possible. Insurance companies aren't required to inform you of every benefit available to victims. Avoid talking to insurance adjusters before you know what your case is really worth.
Martin Gasparian, the founder of Maison Law, offers a free, no-obligation case consultation to all Long Beach victims. Mr. Gasparian has worked for major corporations and dealt with some of the biggest insurers in the world. He now uses his inside knowledge to make sure everyday people aren't taken advantage of by corporate lawyers and insurance adjusters.