Glendale offers a little bit of everything to tourists and residents. There's the scenery, the shopping, the small-town feel, and it provides a quick getaway option for people living in greater Los Angeles. Unfortunately, all of the upscale features we love can also lead to an increased accident risk for anyone who travels in and around Glendale.
A car accident on the 134, a slip-and-fall in a retail space, even a workplace accident can leave you with a stack of hospital bills and cost you valuable paychecks from missed work.
If you suffer a serious injury anywhere in Glendale talk to Martin Gasparian, ESQ. He founded Maison Law after working at the oldest law firm in Los Angeles.
Now Mr. Gasparian draws on his insider knowledge to help everyday people fight back when insurance agents try to hassle them at the worst possible time, while they are trying to recover from a serious injury. Contact Maison Law for a free, confidential, no-obligation evaluation of your case.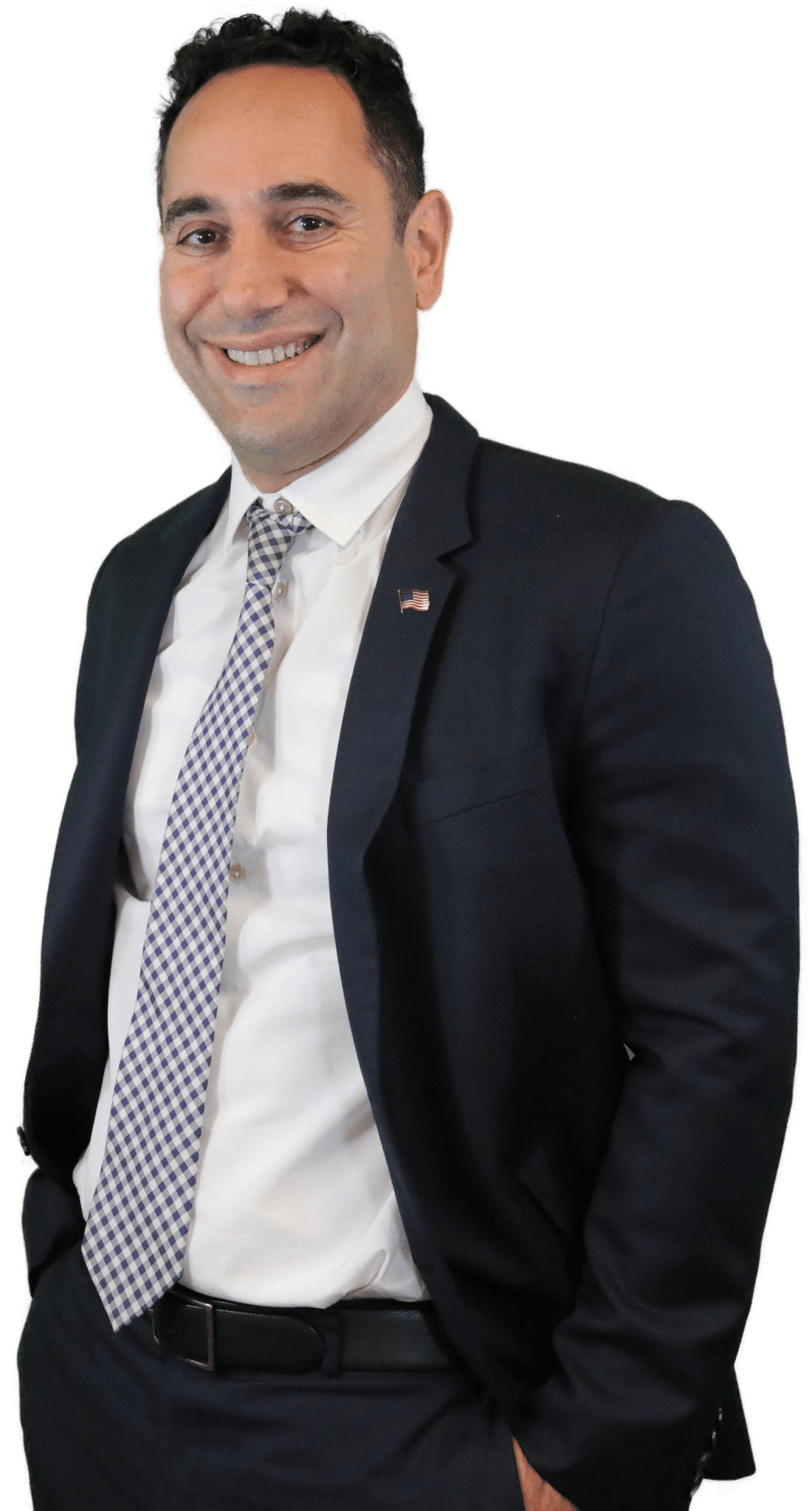 "Maison law is outstanding. The entire team was very attentive to my question and concerns. They even went out of their way to find a chiropractor closer to me because I was not able to commute far for my appointments. I was confused on what was next after my accident but The Maison Law team quickly made me feel comfortable. They are here to work for you."
I got into a fender bender in January and was left dealing with a very unresponsive and terrible insurance adjuster who was basically forcing me to accept only 1k to close my claim prematurely. Thankfully I found Martin and Maison "Law who truly helped ease my mind, took care of my car, rental, treatment and got me an AMAZING settlement in time for Christmas."
"Martin Gasparian and the whole Maison Law team were there for me when I was involved in an accident. They held my hand every step of the way and took care of all my needs. They listened to all my concerns and put my mind at ease and made the whole process pain free. I would definitely refer friends and family to Maison Law.
Personal Injury Threats In Glendale
Between car accidents and slip and fall accidents, there are personal injury threats just about any time you leave the house. Whether a distracted driver runs a red light or a store owner neglects important repairs, people in the Glendale community are at risk of injury from others' negligence. Some of the most common types of injuries that our clients need legal support for include: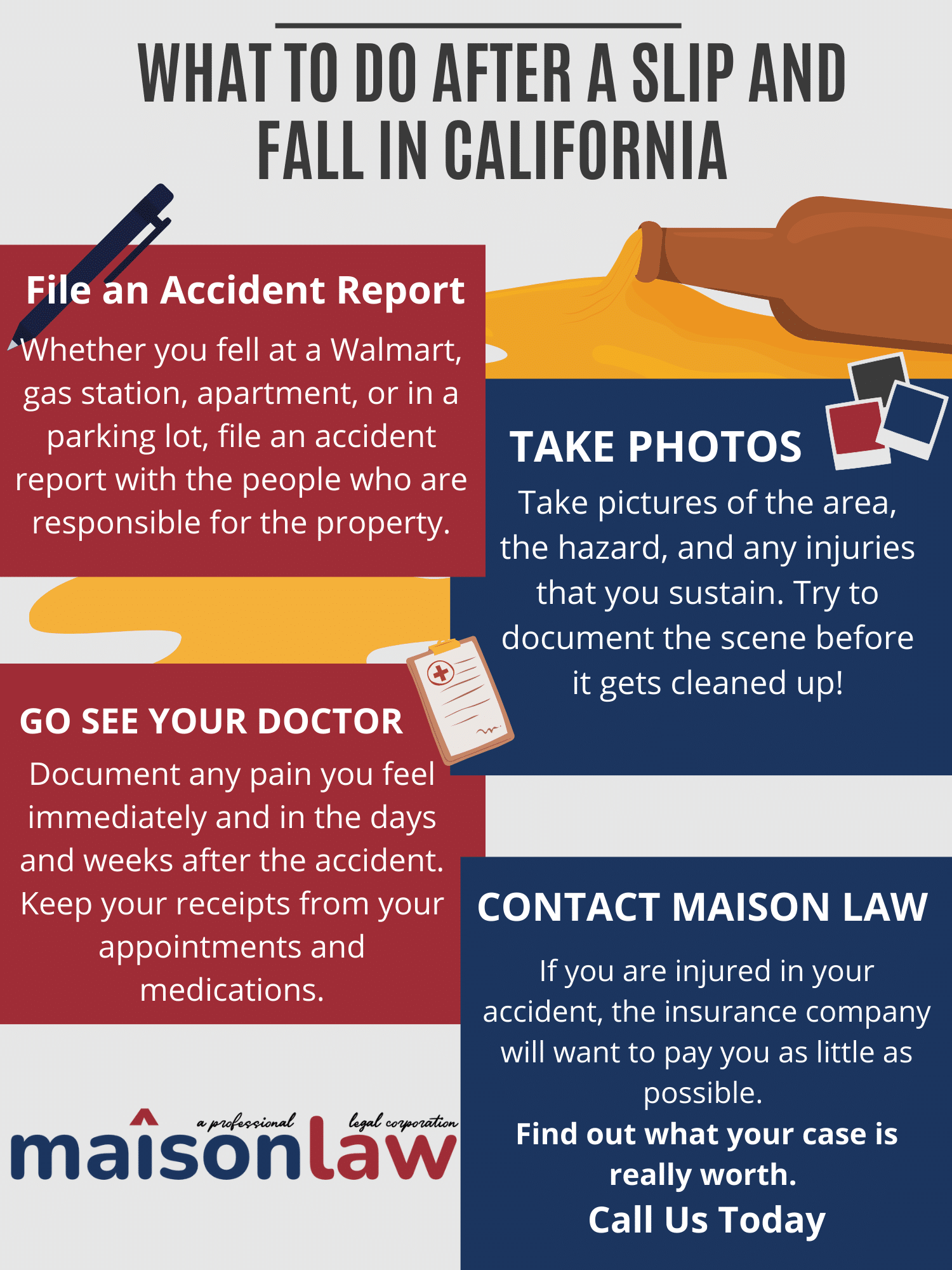 Slip-And-Fall Accident Dangers in Glendale
Retail is king in Glendale. A quick trip to the grocery store, a gas station, or a high-scale excursion to the Glendale Galleria may be on your agenda. The prices will vary greatly, but the legal responsibility to your safety doesn't change no matter the setting.
Property owners and business proprietors are required to show any visitor a duty of care. The legal concept ensures that you are kept completely safe from harm no matter if you're in the parking lot, on an aisle or in the bathroom. If you are hurt by an obstacle that should have been cleaned up or repaired, under premises liability law, the owner and operator can be held liable and owe you compensation.
These are just a few of the slip-and-fall and trip-and-fall hazards around Glendale:
Inside – A child may have spilled apple juice along the 3rd floor of the mall. A broken jar of spaghetti sauce may be left out on a supermarket aisle. A floor mat may become folded from heavy use and suddenly send you falling forward. All of these hazards should be monitored by employees and managers and fixed or mopped up in a reasonable amount of time.
Outside – The care you're owed starts when you pull into the parking lot. Potholes can be the biggest trip-and-fall hazard. Oils deposits from hundreds of vehicles may build up and send you sliding. Stairwells and railing can be damaged or crumbling and send you into a dangerous tumble.
All of these threats have the potential to cause serious injuries like broken bones and head trauma. The devastating consequences can rob you of your mobility and even take your memories from you. These accidents should be taken seriously and victims should never have to manage a physical and financial recovery alone.
For more information, read our full Glendale Slip and Fall Accident Page
Glendale's Personal Injury Lawyer
You shouldn't have to worry about your safety every time you head out into Glendale. But if you are hurt through no fault of your own, the last thing you should have to worry about is monumental hospital bills and possibly having to return to work before you feel up to it.
After an accident involving a serious injury, contact an experienced Personal Injury Lawyer such as Martin Gasparian for a free evaluation of your case. Mr. Gasparian can prepare you for the bad faith practices insurance agents my try on you and make sure you're taking the steps to earn the most compensation available.
Frequently Asked Questions
Yes. Even if you don't feel like you're injured, it's best to seek prompt medical attention. Sometimes, crash victims don't feel the effects of a Glendale motorcycle accident until weeks later. Unfortunately, by that time, it's far more difficult to prove causality in your accident case.
The best way to recover funds from an at-fault driver who doesn't have insurance is to use your uninsured/underinsured motorist coverage. Although this coverage is optional, it's the best way to protect yourself in a Glendale car crash. Unfortunately, many Californian drivers are uninsured or underinsured, which will make it difficult to recover damages after a crash.