California's sunny weather and beautiful scenery encourage many residents to hit the streets each morning and evening for runs. The popularity of jogging is hard to miss, especially when you consider that over 20,000 people laced up their shoes for the Los Angeles Marathon in 2023.
Unfortunately, California streets and boulevards aren't always friendly places for people wanting to get in a run. Careless drivers and busy intersections leave joggers vulnerable to strikes from cars, SUVs, trucks, and even buses.
Maison Law of California wants to highlight these dangers that runners encounter to bring more attention to dangerous collisions for runners that could be prevented. It's a reminder to all local drivers to pay more attention to the roads and anyone on foot.
How Many Runners Are Hit by Cars Each Year?
It can be hard to gauge how many joggers traveling along California roadways are injured in accidents each year. Official accident reports generally don't differentiate between pedestrian victims who are out for a walk, run, or just crossing a parking lot.
The overall numbers taken from United States statistics are not positive. RoadID estimates that there are over 122,000 runners, walkers, and cyclists hit by cars in the U.S. each year.
Run TriMedia studied runner accidents over a single year and estimated that there were about 35,000 serious runner accidents (involving a hospital visit) in the U.S. in 2012. There wasn't specific data for joggers hit by cars, but overall, about 12% of pedestrians injured that year were hurt due to traffic collisions.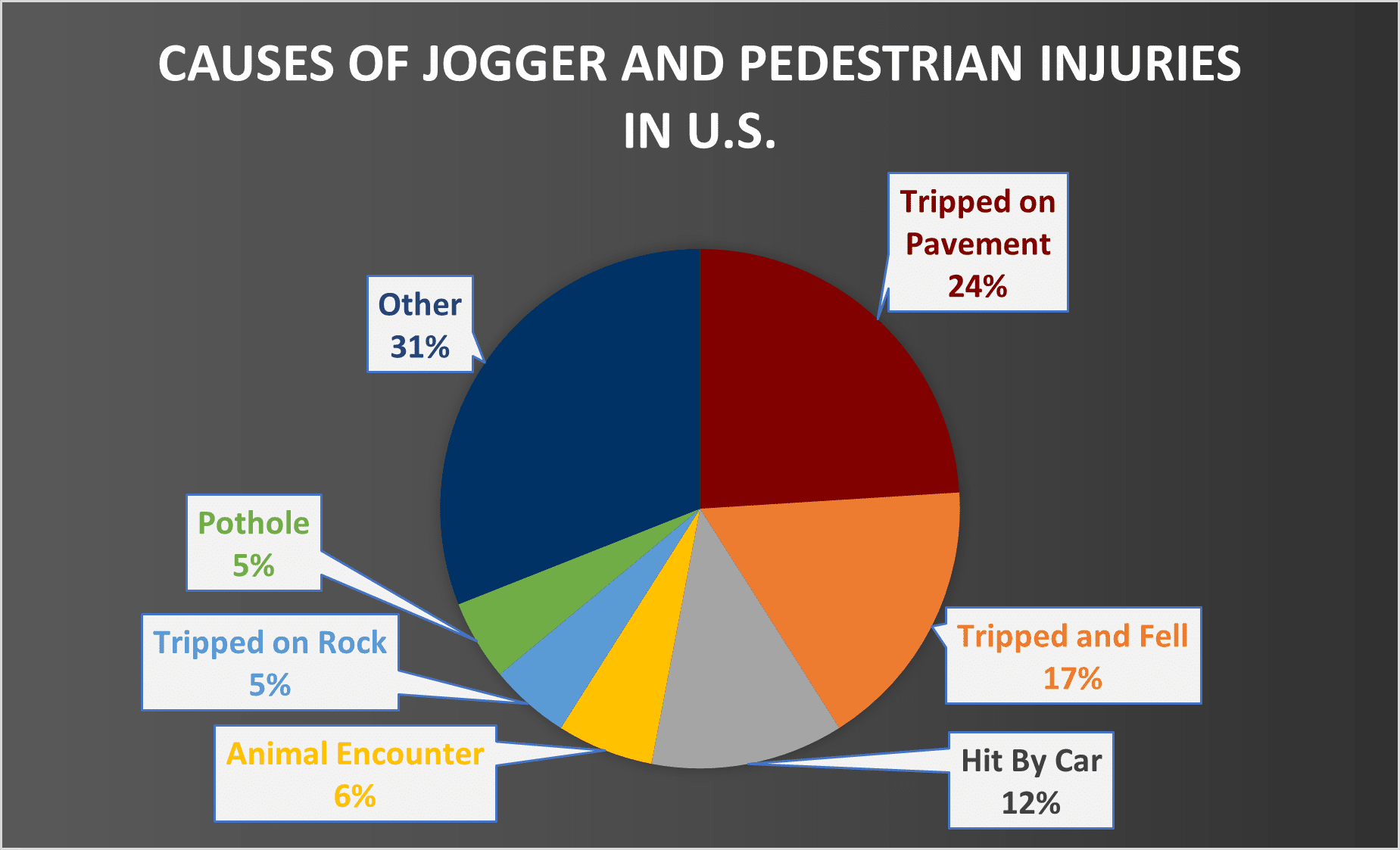 California's Safest Cities and Most Dangerous Cities for Joggers
A recent study ranked some California cities as the best places in America for a running lifestyle. Arris looked at factors like weather, distance to city parks, air quality, and other factors to determine where runners had the best access to jogging paths and could feel the safest as they counted down the miles.
San Francisco proudly ranked #1 on the 2023 list, with San Diego (4) and San Jose (9) right behind. Los Angeles was farther down on the list, ranking at 17th.  Fresno actually made the top ten for most dangerous U.S. Cities for runners, they were ranked 10th on that list.
The study took into heavy consideration the physical security of runners. The pedestrian fatality rates  (for runners, walkers, and stationary victims) were determined for each city based on their populations. The biggest percentage of those deaths were caused by traffic accidents.
A look at the fatal accident rates for some California cities was discouraging when compared to the rest of the nation.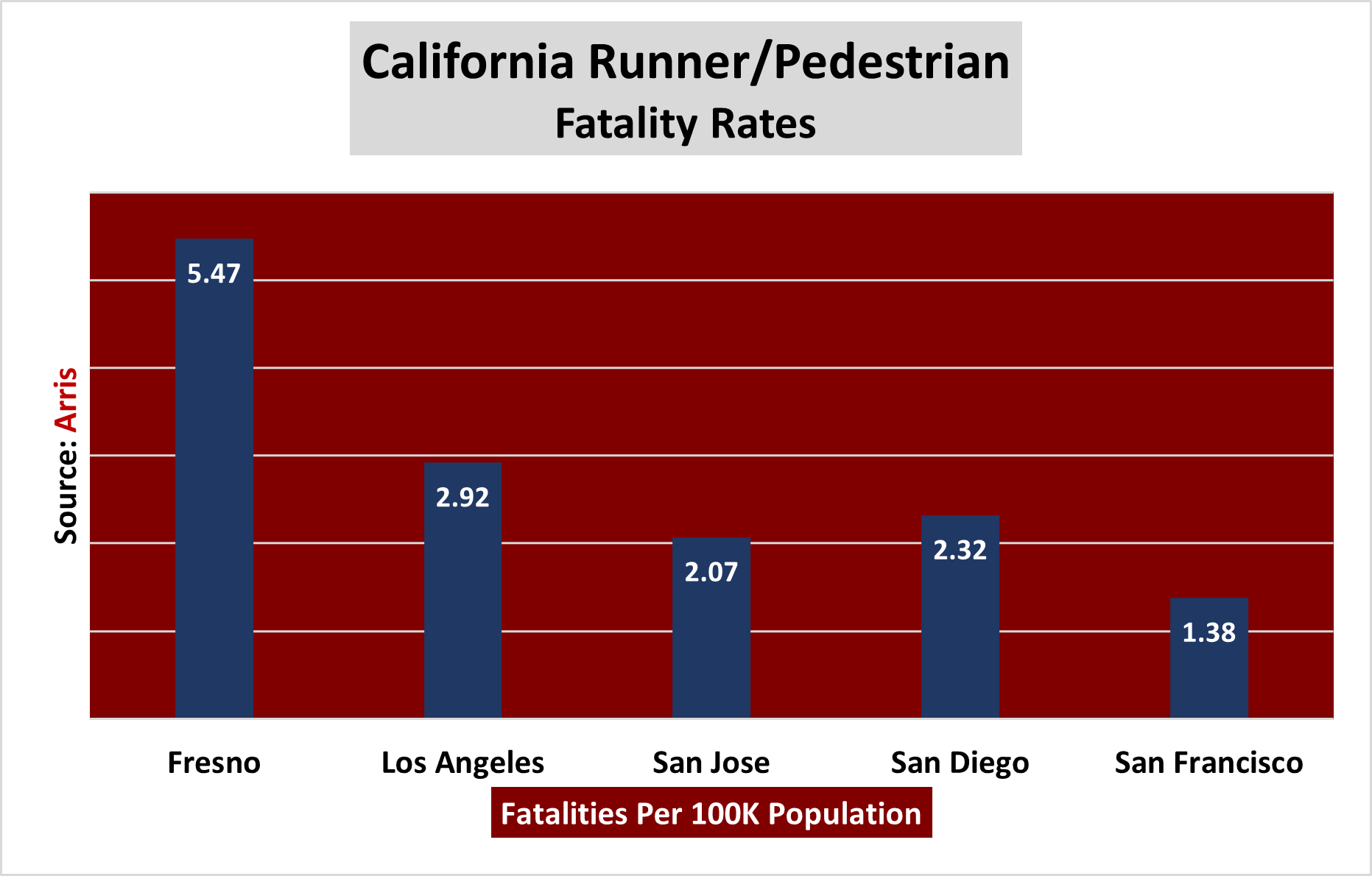 In real numbers, the threat to runners and other pedestrians is clearly a heart-breaking concern. Los Angeles leads all California cities each year for the number of deadly jogger and pedestrian accidents involving cars.
According to California's Transportation Injury Mapping System (TIMS), Los Angeles recorded around 1,354 serious pedestrian accidents in 2022, leading to at least 162 tragic deaths. But the fatality rates in some smaller cities were even more concerning when you consider that they have far fewer residents, and runners, on the streets every day.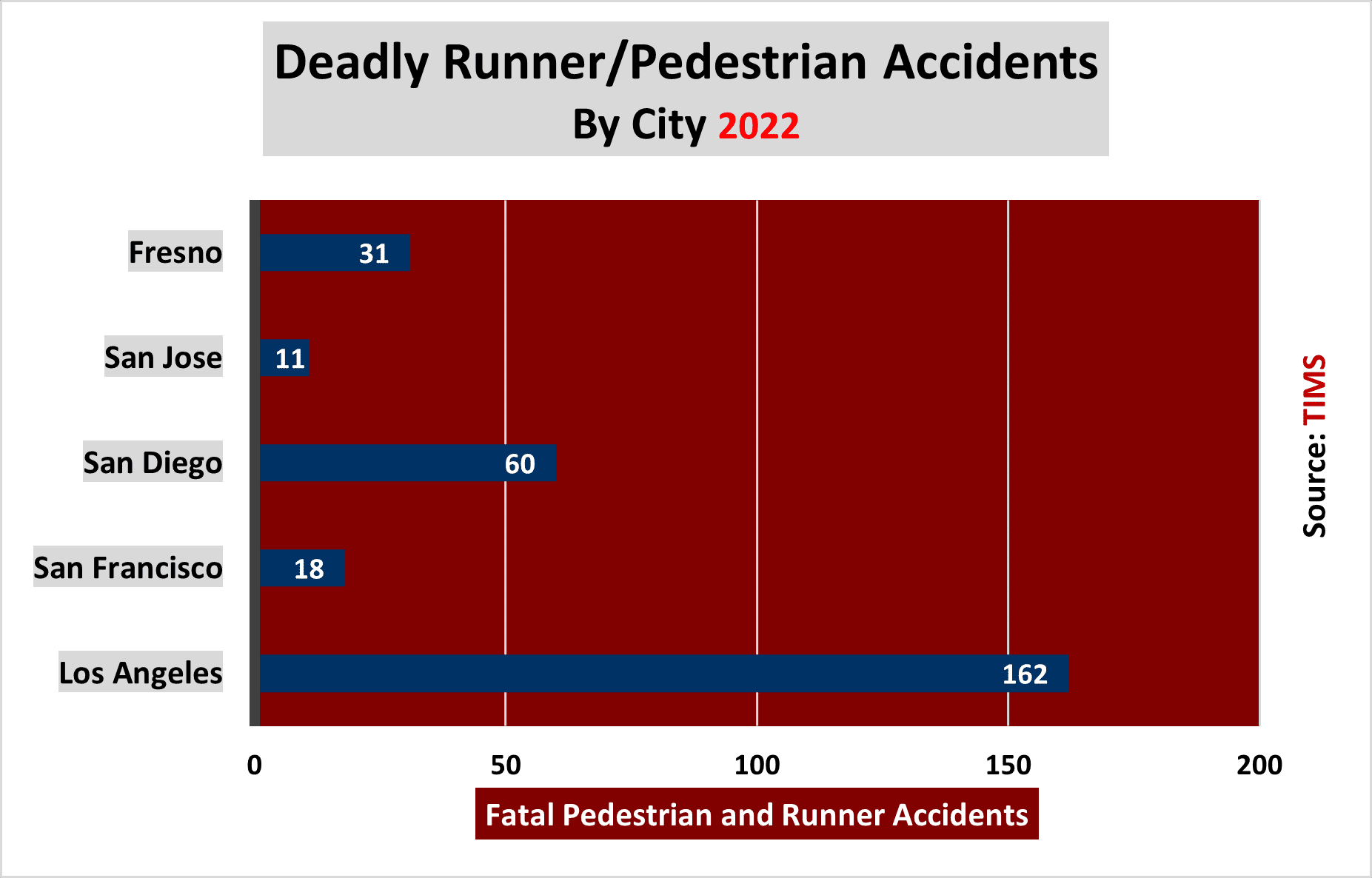 Safer Streets for California Runners
While the number of joggers hurt every year by careless drivers is hard to separate from normal pedestrian collisions, the impact California traffic has on runner safety is undeniable.
Runners are likely struck by California motorists almost daily across the state. That's not to count the number of close calls that leave many joggers breathless for the wrong reasons. Victims can suffer broken bones, neck and back injuries, and life-threatening head trauma.
If you or a loved one were seriously hurt by a careless driver while running, please contact a California Pedestrian Accident Lawyer to talk about your options. Maison Law offers a free, no-obligation case consultation to all running accident victims. Car insurance companies will try to blame you for what happened or try to discount your injuries, so they don't have to offer you what you need in support. Make sure you are armed with the knowledge you need to demand help with your recovery bills.