Some of the worst accidents can happen when you're walking as a pedestrian. This usually involves you or someone you care about getting hit by a moving car, which is very dangerous. According to data from the Insurance Institute For Highway Safety (IIHS), fatal accidents involving pedestrians increased 13% between 2020 and 2021.
If you or someone you know has been hurt in a pedestrian accident in California, it's important to act quickly to protect your legal rights. These accidents can cause serious problems like physical injuries, medical bills, loss of money from not being able to work, and other things that can make your life difficult. That's where our team of California pedestrian accident lawyers at Maison Law can help. Contact us today for a free consultation.
Number of Pedestrian Accidents in California
Because pedestrian accidents are often so severe, the California Highway Patrol's Transportation Injury Mapping System (TIMS) tracks the number of pedestrian accidents that occur throughout the state. Over the last five years, there has been an annual average of almost 13,000 pedestrian accidents statewide that resulted in injuries or fatalities.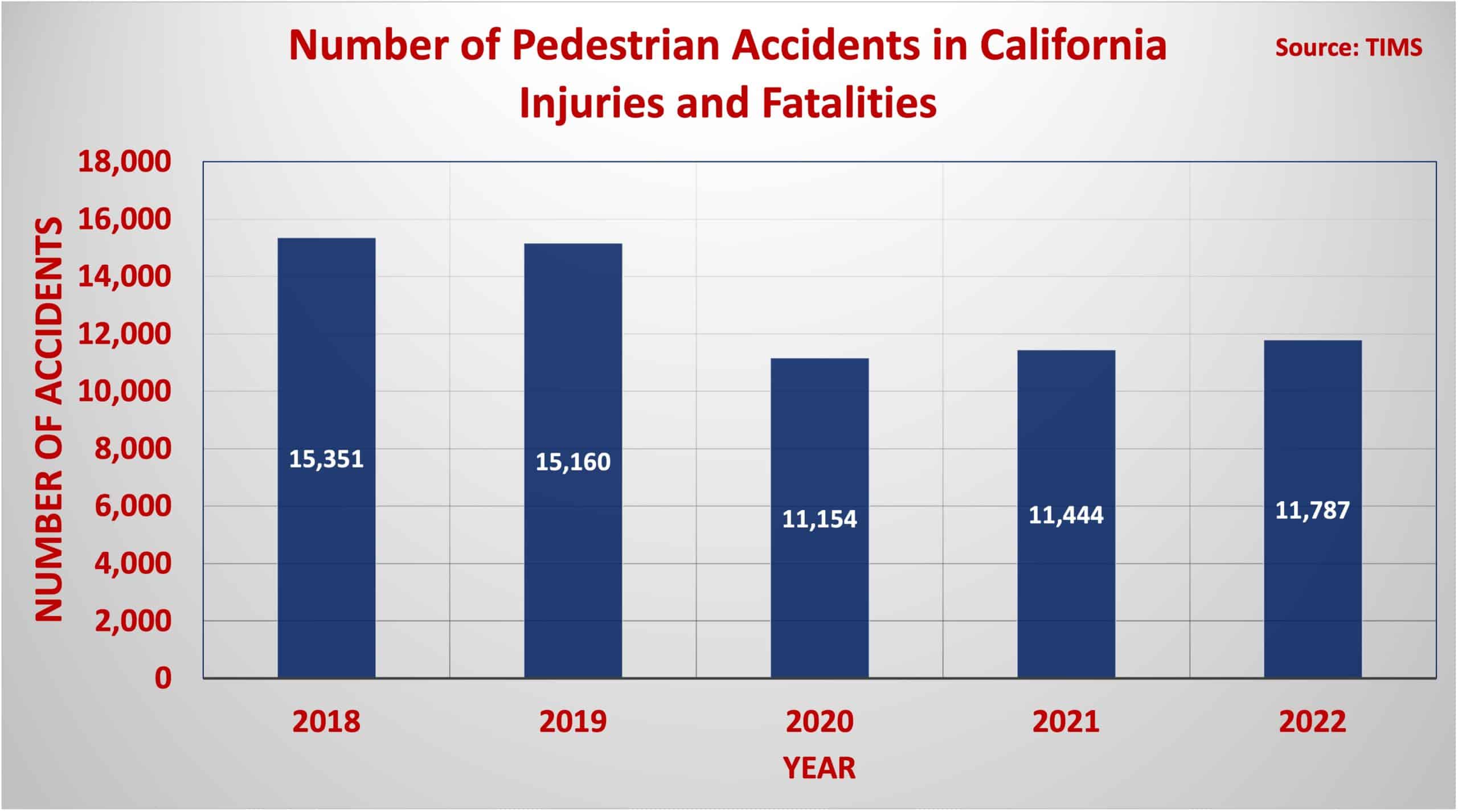 Source: TIMS
What this data shows, aside from the volume, is that pedestrian accidents are often quite severe in terms of their resulting injuries. This is made all the more serious by the fact that California has a number of densely populated urban areas, where these accidents are much more likely to occur. While every accident is unique, pedestrian accidents frequently result in the following injuries for victims:
Broken bones or fractures
Head trauma and brain injuries
Torn ligaments
Cuts and bruises
Burns
Who is More Likely To Suffer Pedestrian Accidents in California?
Although every pedestrian runs the risk of suffering an accident with a vehicle in California, the reality is that certain pedestrians are even more vulnerable. Not surprisingly, those most vulnerable are ones with either limited mobility–like older adults–or ones that may not grasp the situation–like younger children.
Older Adults
TIMS data shows that older adults have seen a rather large involvement in pedestrian accidents over the last several years. In 2022 alone, there were 1,777 pedestrian accidents involving older adults that led to fatalities and injuries.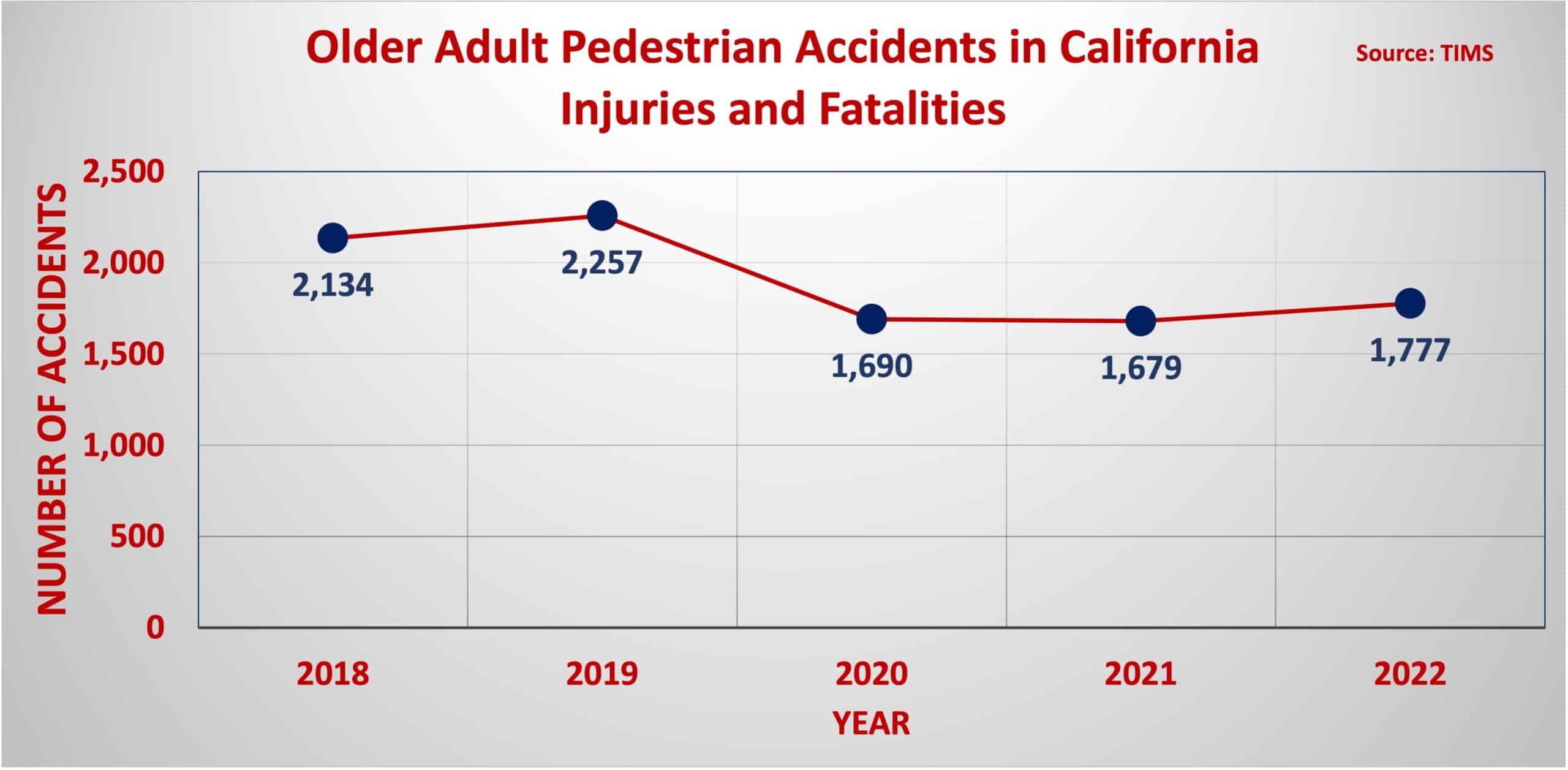 Source: TIMS
Generally speaking, older adults are more vulnerable to pedestrian accidents due to the following factors:
Slower walking speed
Reduced hearing and vision
Physical frailty and balance issues
Slower reaction times
Medication issues
Lack of awareness
Younger Children
Another category that frequently sees pedestrian accidents in California is young children, specifically those that usually require adult supervision when crossing the street. According to TIMS, there were 1,073 pedestrian accidents statewide involving children that resulted in injuries or fatalities in 2022.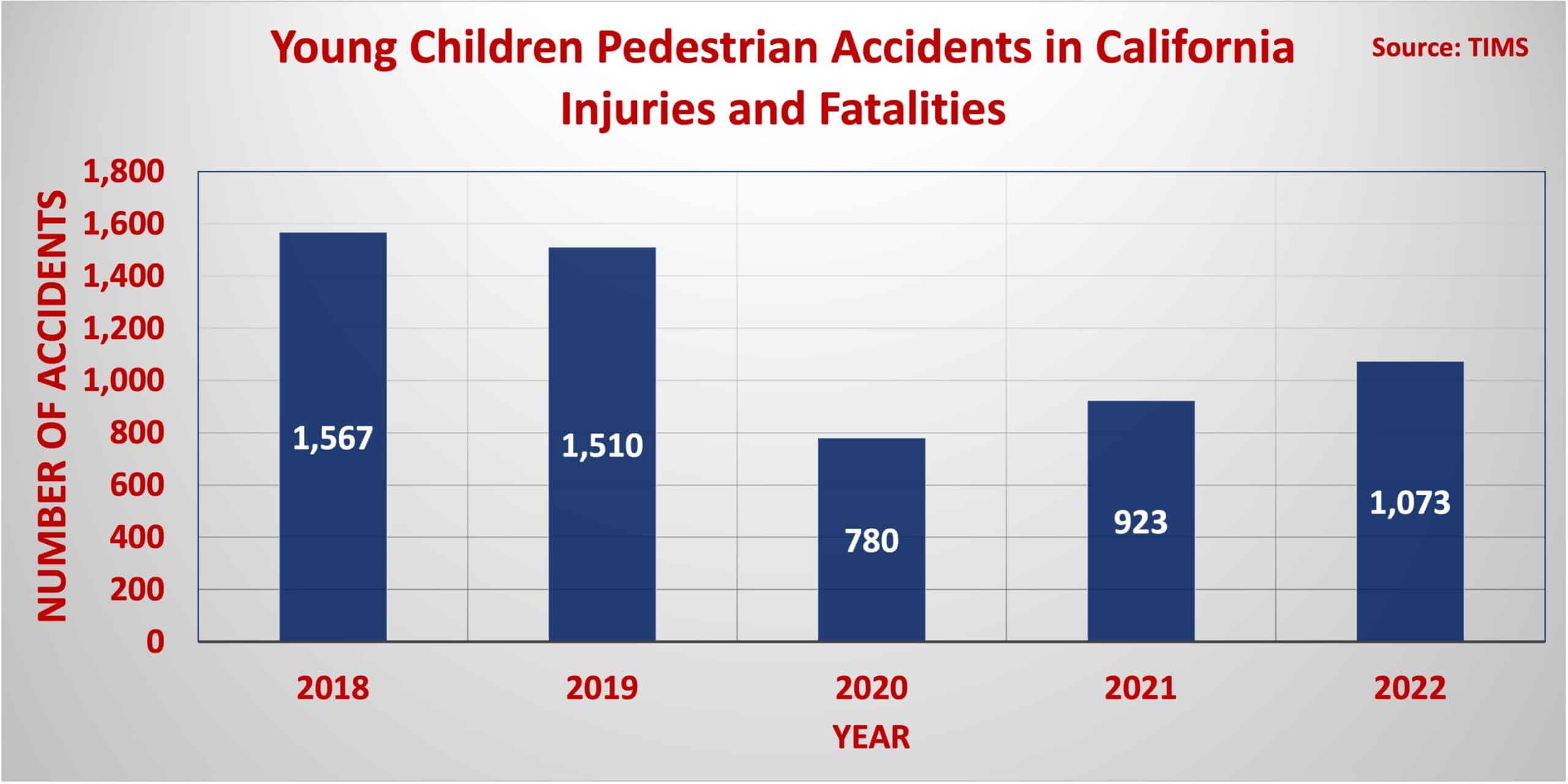 Source: TIMS
Much like older adults, young children have certain characteristics that make them more vulnerable to these types of accidents. While an older person's physical limitations usually make them more vulnerable to injuries, it's often a child's misunderstanding of the situation that leads to accidents:
Children may not have the experience to grasp traffic situations or make safe choices when crossing roads.
Many children can act suddenly or impulsively, which can challenge drivers in reacting quickly.
Children aren't always familiar with traffic signs and signals or may not fully comprehend them.
Physically, some children may have slower reactions and find it hard to move swiftly to prevent accidents.
Regardless of a child's limitations, it's very important to always supervise them as they cross the street and make them aware of potential dangers. Obviously, this can be more difficult in certain areas and scenarios.
What California County Sees the Most Pedestrian Accidents on Average?
As you might expect, certain areas in California see more pedestrian accidents on average than others. The reasons for this aren't complicated: some areas in California are much more crowded and densely populated than others, which leads to more pedestrians in areas with many drivers and vehicles interacting with each other. This, in turn, leads to more accidents.
According to TIMS, Los Angeles County had the most pedestrian accidents in 2022, with 3,573. This is over 2,500 more than the second place county, San Diego, which had 1,008 pedestrian accidents in 2022.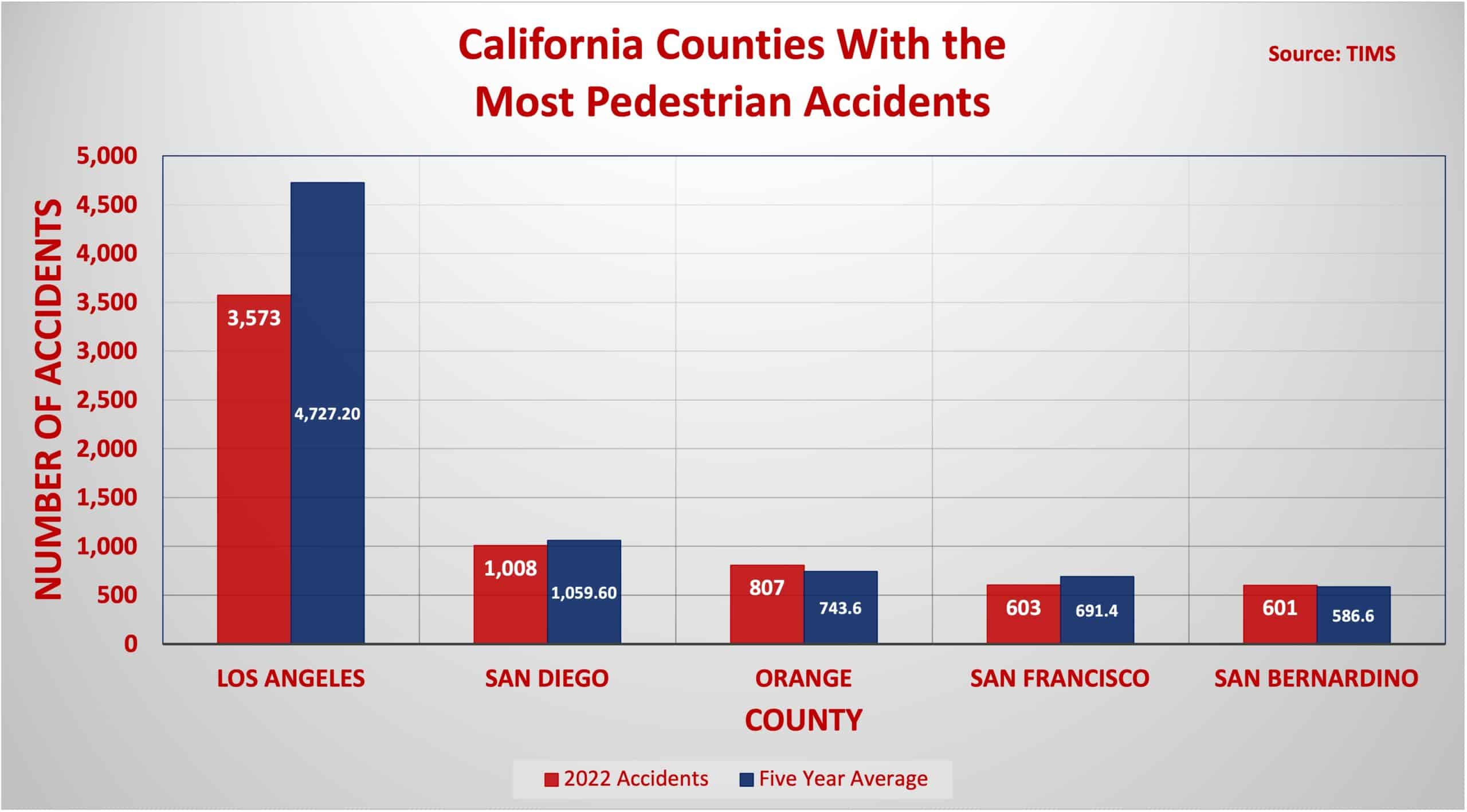 Source: TIMS
While the number of pedestrian accidents differs from place to place in California, it's important to understand the common underlying causes of these accidents from the perspective of drivers:
Using phones while driving or being distracted
Failure to yield to these pedestrians at crosswalks
Failing to check both directions when turning at intersections
Speeding or driving recklessly
Not following posted speed limits
Driving drunk or under the influence of drugs
Issues with the design of crosswalk locations, including not considering traffic patterns
California Pedestrian Accident Victims Can Count on Maison Law
No matter what causes the accident, when a vehicle hits a pedestrian, injuries are highly probable. However, California law allows you or any other injury victim to file a claim for damages to recover from your injuries. Our team of experienced California pedestrian accident lawyers can help you navigate the claims process and support you from start to finish.
Generally, the following damages can be recovered in a California pedestrian accident:
Medical bills
Costs for ongoing care
Wages or income you couldn't earn due to the accident
Pain, suffering, and emotional distress
Loss of enjoyment in life and harm to relationships.
The amount you get depends on your specific situation and the seriousness of your injuries. Also, California's comparative negligence rule means your recovery is reduced by the percentage of fault you had in the accident.
If you're a pedestrian and have an accident in California, it's a challenging and stressful experience. Our skilled California pedestrian accident lawyers at Maison Law are here to help you get the support and benefits you need to recover. We handle everything for your claim, so you can focus on getting better. Contact us for a free consultation and trust our team to assist you.