According to data from the Centers for Disease Control (CDC), a child is treated for an injury every four seconds nationwide. Obviously, an accident can happen at any time. Worse yet, children are much more vulnerable to accidents and injuries for a variety of reasons–particularly in California, where there's a lot of people and things to do. Looking at various statistics and data on children's accidents and injuries in California underlies the importance of this issue.
When your child suffers an injury in an accident, it can be overwhelming. Depending on the severity type of accident, your child may need years of treatment and surgeries. At Maison Law, our team of experienced child injury lawyers understands how difficult this situation is on you and your family and can help. Contact us today for a free consultation to get started.
How Many Children Are There in California?
While the numbers vary depending on the location and just how you decide to classify them, there is nonetheless a sizable population of children in California. According to data from Kidsdata.org, there are nearly 9 million children in California as of 2021. While these children are spread out throughout the state, over two million reside in Los Angeles County alone.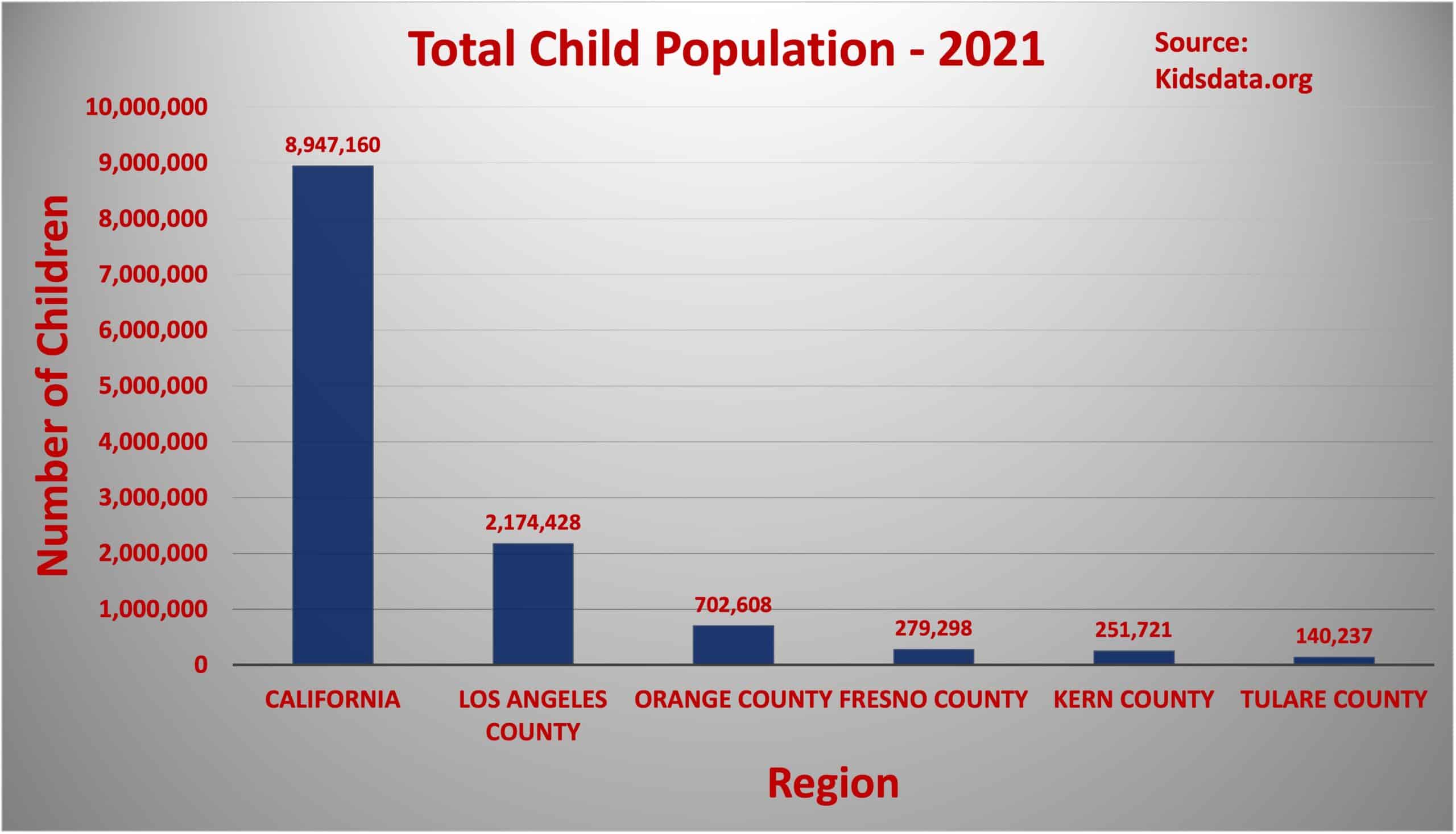 Source: Kidsdata.org
Regardless of their location, a child is still vulnerable to being injured in accidents. While every accident is unique, children are vulnerable to these injuries because:
Children often lack the experience and awareness that adults have. They may not recognize potential dangers in their environment.
Children's physical and cognitive development varies with age. Younger children may not have the motor skills or judgment to avoid accidents.
While they're naturally curious, children may explore their surroundings without understanding the risks involved.
Some children can act on impulse without thinking through the consequences, which can lead to accidents.
Motor skills are still developing in children, making them more prone to tripping, falling, or mishandling objects.
Sometimes, accidents occur when children are not adequately supervised, allowing them to engage in risky behaviors.
Many children in California are inexperienced in recognizing and responding to danger signals, which can lead to accidents.
When in new or unfamiliar places, children may not be aware of potential hazards.
While children are vulnerable to accidents and injuries, it's often the type of accident they're involved in that shows just how impactful their injuries can be in California.
What Are the Most Common Types of Accidents Happen to Children in California?
Obviously, a child doesn't have a lot of control over many of the situations they're in. Worse yet, it's often this lack of control that results in injuries and accidents for them. While specific statistics can change over time, some of the most common types of accidents that happen to children in California include: car accidents, bicycle accidents, and burn accidents.
Car Accidents
Like many people in California, a child is particularly vulnerable to being involved in car accidents–albeit as a passenger rather than a driver. According to data from the California Highway Patrol's 2019 Statewide Integrated Traffic Records System Annual Report (SWITRS), there were nearly 19,000 injuries involving children between the ages of 0 and 17 in car accidents.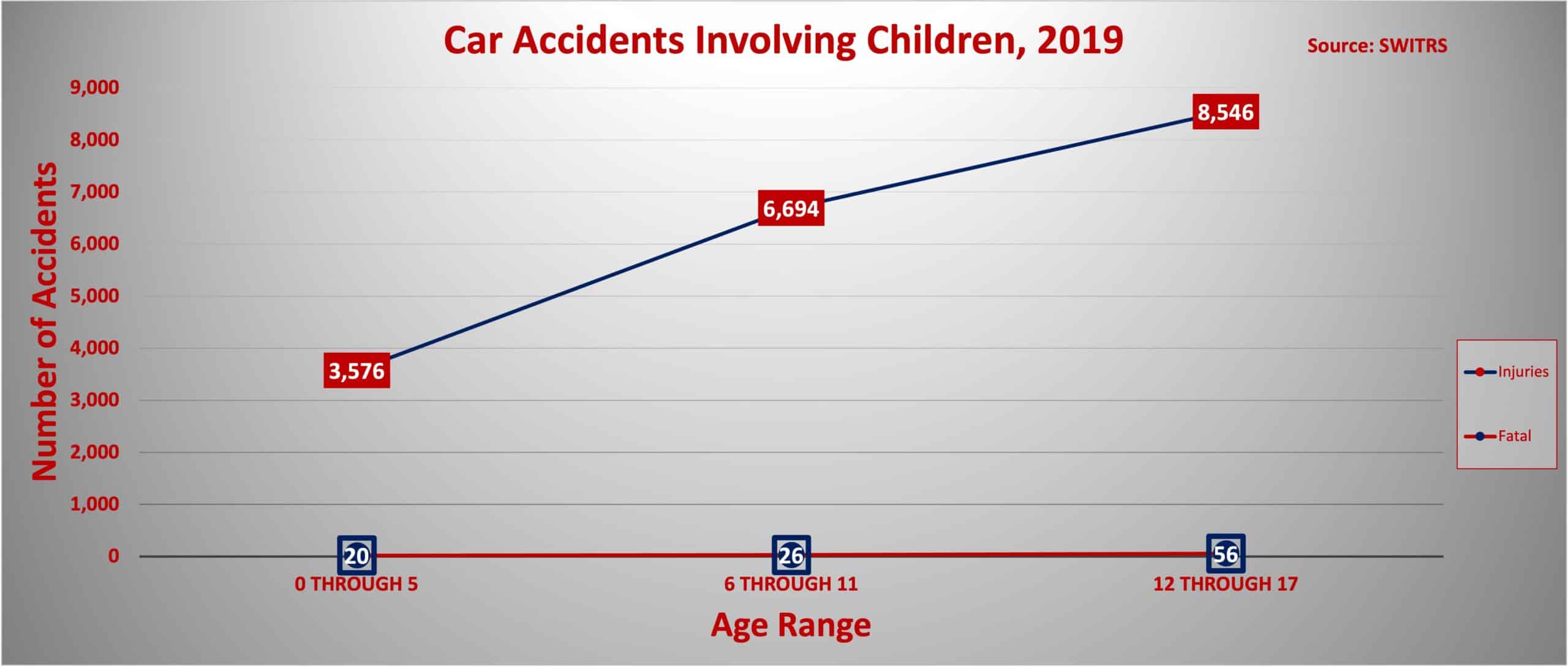 Source: SWITRS
Being in a car accident often results in various injuries for children, all of which usually depends on the type and circumstances. Still, some of the more common injuries that happen to children include:
Traumatic Brain Injuries (TBI)
Concussions and head trauma
Broken bones and fractures
Road rash and other skin injuries
Torn ligaments
Burns
Bicycle Accidents
Another common type of accident that California children find themselves involved in are bicycle accidents. Despite an increased use of protective gear, bicycle accidents involving children in California frequently result in injuries. According to SWITRS data, children aged 12 through 17 suffered the most injuries in bicycle accidents in 2019 at 1,349 statewide.

Source: SWITRS
Similar to bicycle accidents involving adults, bicycle accidents with children happen for a variety of reasons:
Failing to wear helmets or appropriate protective gear.
Riding without the supervision of an adult.
Lacking riding skills.
Violating traffic rules.
Becoming distracted while riding.
Facing poor road conditions.
Vehicles and drivers not being cautious around them.
Burn Accidents
Another unfortunate type of accident that children in California are frequently involved in involve burn injuries. Burn injuries have various causes, resulting in distinct types of burns. Among these, thermal burns are the most prevalent, particularly among children. Thermal burns happen when:
The child's skin is exposed to excessive heat, like an open flame or hot surface.
Scalding burns from steam and electrical burns also rank as common types of burn injuries in children in California.
According to data from the United States Fire Administration (USFA), there were nearly 14,700 reported burn injuries in 2021. Of these, 3.6% involved children four and younger, while 1.9% involved children aged 5 through 9 and 2.9% involved children aged 10 through 14.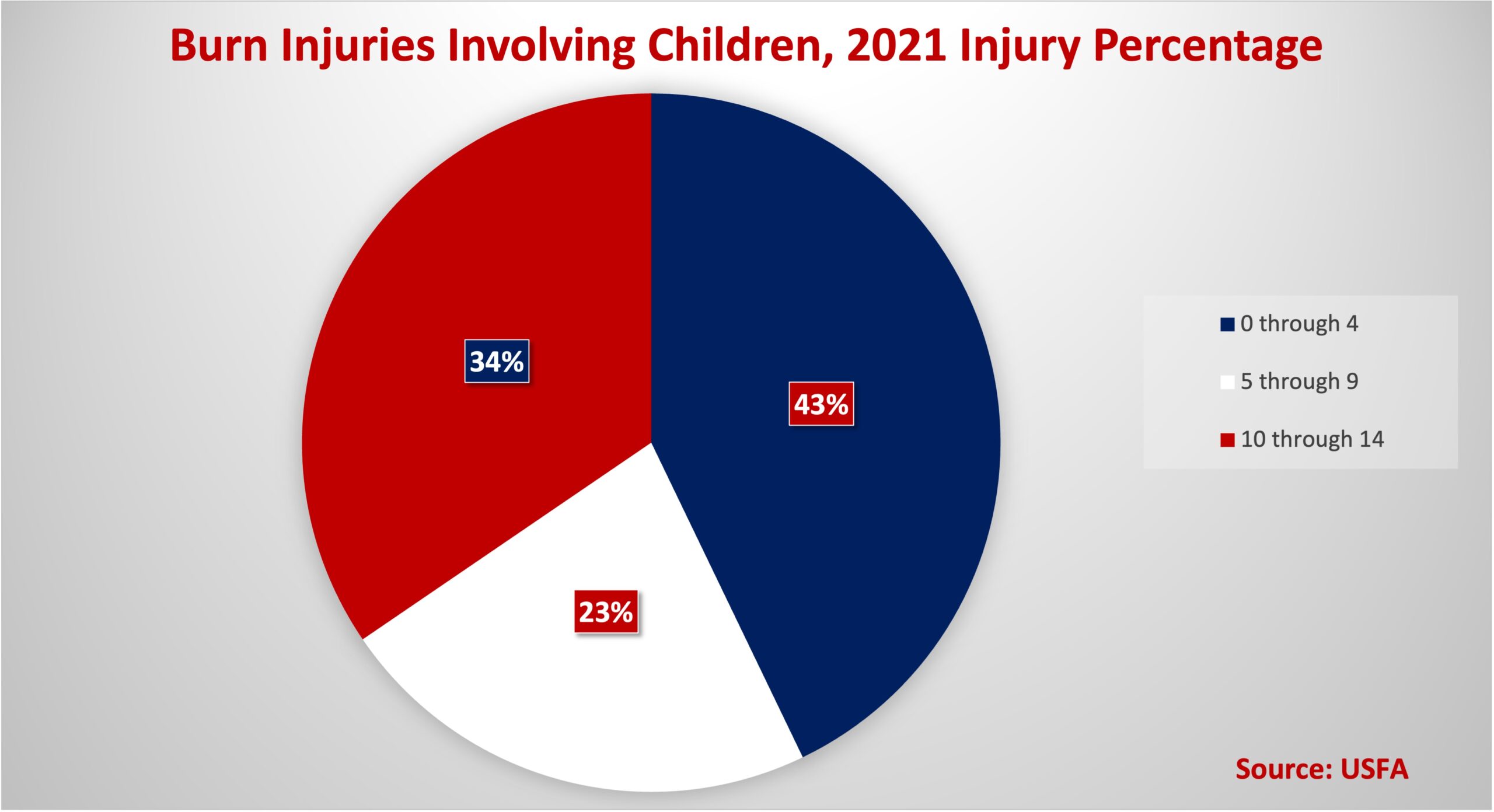 Source: USFA
Regardless of the type of accident your child is involved in, it can be extremely troubling when injuries and potential complications take over your child's life. That's where our team of experienced California child injury lawyers at Maison Law can help. We'll help you navigate the legal process and get the available financial support for your child's injuries and continuing treatment.
Contact Maison Law Today For a Free Consultation
When your child is injured in an accident, the experienced team of child injury lawyers at Maison Law will be there to help. We understand that accidents can happen at any time, but they carry an added layer of challenge when they involve your children. If your child has been hurt in an accident in California due to someone else's negligence, contact us today to set up a free consultation to learn more about your options.