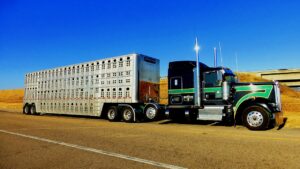 San Joaquin County drivers are used to traveling alongside big rigs from local farms, ranches, and manufacturing centers. They may have noticed careless truck drivers weaving across white and yellow lines. They may have observed trucks that are going too fast for the loads they are carrying.
80,000lb trucks can be difficult to bring to a stop when lights turn red or stop signs loom on the horizon. Truck drivers must stay focused on the road in order to avoid these hazards. But when drivers get reckless, they can cause devastating accidents.
Driver Killed After Collision with Cattle Truck in San Joaquin County
A tragic collision between an SUV and a livestock truck claimed the life of a driver late Tuesday morning just east of Stockton. According to ABC10-TV, the accident occurred on Highway 88 at the intersection of Alpine Road on May 16, 2023.
The California Highway Patrol got word of the accident at around 11:45 a.m. Investigators determined that a semi-truck with a full load of cattle was traveling westbound on the highway when the driver ran a red light. The truck driver struck a gray Toyota SUV in the intersection. The impact left the Toyota overturned and under the cattle trailer.
The woman driving the Toyota was pronounced dead at the scene. The man driving the truck escaped the crash with no visible injuries.
The CHP continues to investigate the circumstances leading up to the crash. They do not believe drugs or alcohol played a role in what happened.
Full Support for Families After a Stockton Big Rig Accident
A tragic truck accident can leave families facing enormous bills at an extremely vulnerable time. They will be coping with the loss of a loved one as funeral expenses come due and ambulance fees arrive in the mailbox. They should never have to face these costs alone when a careless truck driver and perhaps the driver's employer are to blame.
A wrongful death claim can be filed on behalf of a grieving family in order to secure support for the months and years ahead. A truck driver's commercial truck insurance can cover all leftover medical bills and burial expenses. Insurance coverage should also be provided for the future when the deceased will no longer be able to provide weekly income support and emotional guidance to loved ones.
In some cases, a trucking company, a manufacturer, or a farm owner might also be held liable for an accident caused by an employee. Businesses might have neglected to run background checks on an unsafe truck driver. Companies employing truck drivers might not have provided proper safety training and safety checks. A company that owns a truck may not have properly maintained the vehicle and could be responsible if a malfunction contributed to a collision.
Contact a Stockton Truck Accident Lawyer
A Stockton Truck Accident Lawyer helps families determine every party that should be held accountable for a devastating accident. Then a skilled attorney would file a wrongful death claim against the at-fault parties and demand full support for every hardship a grieving family faces.
After you or a loved one has become the victim of a careless truck driver, contact a Stockton Car Accident Attorney for a free consultation on your best options and to learn about your rights.
Martin Gasparian, the founder of Maison Law, works to protect families in San Joaquin after roadway tragedies. He fights to get family members everything needed to help ease their hardships through such a difficult time.
If you feel Mr. Gasparian can help your family get the most possible out of a wrongful death claim, you won't need to worry about being able to afford an attorney. Maison Law doesn't get paid unless we win your case for your family. If we win, our fee comes out of the settlement award your family receives.