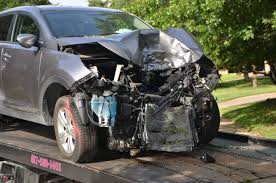 Lunchtime traffic can begin to build in Visalia before and after the noon hour. The increase in traffic levels can put even more motorists at risk of accidents. A careless driver can fail to monitor the road ahead and veer over yellow lines into the opposite lanes.
These lapses in judgment often end in devastating head-on collisions. Drivers and passengers can receive traumatic injuries and have their lives placed in jeopardy.
Major Two-Car Collision in Visalia Claims Two Lives
A tragic accident in southwest Visalia led to two fatalities Wednesday afternoon. KSEE-TV reported the collision occurred on Demaree Street just south of West La Vida Avenue on March 15, 2023.
Visalia Police responded to the scene at around 12:30 p.m. and determined that the driver of a black GMC pickup traveling north on Demaree veered into oncoming traffic for an unknown reason. It struck a southbound black Cadillac sedan. The impact did major damage to the front ends of both vehicles.
Two people in the Cadillac, the driver and a passenger, were pronounced dead at the scene. Their names have been withheld until family members can be notified. The man driving the pickup was rushed to a local hospital with injuries.
The Visalia Police Department continues to investigate the circumstances surrounding the accident.
Seeking Assistance for Families After a Visalia Car Accident
Families who have lost a loved one in a devastating accident can be unfairly subjected to financial hardships soon after a collision.
A wrongful death claim may be filed by the family to protect themselves from these losses and more in the wake of a terrible accident. The civil claim would target the at-fault driver's car insurance provider.
The family would seek help to pay the bills for a burial and emergency response fees. The mourning family might also be left without the monthly income and benefits a family member had always provided and should ask for support to protect relatives in the years ahead.
Contact a Visalia Wrongful Death Lawyer
The families of car collision victims can't be expected to know what their accident claims are worth and insurance companies often take advantage of this fact. They can work to talk families out of filing a claim. Insurance adjusters may also attempt to provide far less in compensation than those affected will need to rebuild their lives and safeguard their futures.
After your loved one has become the victim of a careless driver, reach out to a Visalia Wrongful Death Car Accident Lawyer for a free consultation on your best options and to learn about your rights.
If you decide we can help you earn more for your wrongful death claim, you won't need any upfront money. Maison Law doesn't get paid unless we successfully earn settlement money for your family. Then, our fee comes out of the award you receive.