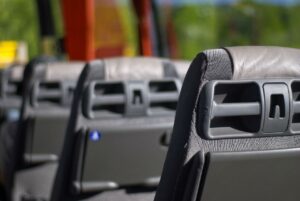 When passengers buy tickets for tour bus trips, they should expect more for their money than just a good view of sights along the way. Tour bus companies and attraction owners and operators have a legal obligation to see to the safety of passengers and visitors.
When passengers are injured due to the negligence of a tour company or of California state employees, victims have the right to sue to secure financial help with their recovery bills.
Bus Passengers at Hearst Castle in San Luis Obispo County Injured by Antifreeze Leak
Nearly a dozen people suffered burns after a radiator leak ended a tour bus trip to Hearst Castle in northwest San Luis Obispo County.
KSBY-TV reports the accident occurred at the historic estate on Saturday Afternoon, October 22, 2022. A bus tour of the grounds came to a halt at around 2:30 p.m. when a radiator line ruptured. The leak sent hot antifreeze into the cabin of the bus, injuring 10 passengers. State Park rangers evacuated the vehicle.
The San Luis Obispo fire department treated the victims for burn injuries. It was unclear how many victims had to be taken to the hospital.
Operations at Hearst Castle were delayed at the time of the incident. Investigators are working to determine what caused the mechanical failure.
Support for San Luis Obispo County Bus Accident Victims
A day on a guided tour can come to a quick end when the safety of passengers is jeopardized. A personal injury accident involving a tour bus can leave victims with injuries like burns, broken bones, and brain trauma.
Those with injuries can face long, expensive recoveries and may also lose valuable paychecks as they miss time from work. A permanent disability or disfigurement resulting from the negligence of a tour bus company might mean that those at at-fault would owe a lifetime of support to victims
In some cases, it's necessary for victims to have a personal injury attorney protecting their interests to make sure insurance companies can't avoid taking the blame for the mistakes of their policyholders.
A California Tour Bus Injury Lawyer would investigate your accident and determine how many parties might owe you and your family support. That might include a tour bus company, a bus manufacturer, the state of California, and any other party whose negligence played a role in you or a family member getting hurt.
Contact a California Tour Bus Accident Lawyer for a Free Consultation
After you or a loved one have been injured in a bus accident anywhere in California, please speak with a skilled California bus accident lawyer before talking to an insurance representative. Insurance companies make their money by trying to limit the support injured victims receive. That's not fair to you or your family when you get stuck with weeks of hospital bills and physical therapy.
Contact Maison Law to schedule a free consultation. It's a chance to talk with a real California lawyer about what happened and learn of the benefits that are available to you. Martin Gasparian, the founder of Maison Law, has a long history of protecting families who must seek justice from large transportation companies. If you decide you can use his help to get the most out of your California bus accident claim, you won't have to worry about having enough money to pay him. Mr. Gasparian doesn't get paid unless he wins your case for you.