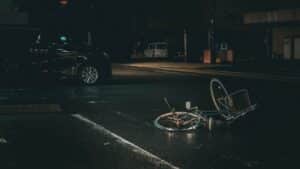 Cyclists in Modesto have some bike lanes available to give riders a bit of cushion from the dangerous rush of traffic. Unfortunately, these bike lanes are absent from some of the busiest stretches of road where they could be used the most.
On Modesto streets without bike lanes, riders must share the lanes with vehicles. They have the same rights to the road as any car, but drivers aren't always aware of this fact. They can fail to monitor mirrors and the lanes ahead to keep an eye out for cyclists. Sadly, it only takes a driver's mistake of just a few inches to place a rider in jeopardy.
Cyclist Killed in Tragic Collision with Vehicle in Modesto
A bicyclist suffered fatal injuries after a Tuesday evening crash involving a driver in northern Modesto. KCRA-TV reports the accident happened at the intersection of McHenry Avenue and Union Avenue on November 15, 2022.
The Modesto Police Department responded to the scene sometime after 7 p.m. Officers located a man who had been on a bicycle down in the roadway. He had been hit by a vehicle. The victim died of his injuries.
No information was released about the driver involved in this accident. Investigators continue to look into the circumstances surrounding the tragedy. If you have information about the incident, please contact the Modesto Police Department.
Support for Families After a Modesto Bicycle Accident
Bicyclists travel with so few protections when they are out among local traffic. They rely on the focused driving of people in cars, SUVs, and trucks. Drivers often fail completely in their duty to monitor the roads for pedestrians and cyclists.
A fatal collision can leave a bicyclist's family grieving, while at the same time facing enormous costs resulting from the accident. Families may have to cover the cost of a funeral and pay any leftover medical bills within just a few weeks.
A wrongful death claim filed against an at-fault driver's car insurance provider requests money to pay these expenses. The family should also demand economic protection in the future when they'll be without the love and care and financial support the victim would have provided.
Contact a Modesto Bicycle Accident Lawyer
If your loved one was the victim of a hit-and-run driver, don't allow insurance adjusters to determine how much support your family should receive. They work for their insurance companies and want to save money for their shareholders. Your recovery and your family's recovery are much more important than their profits.
To make sure your family is protected from an insurance company's unhelpful practices, contact an experienced Modesto Bike Accident Lawyer such as Martin Gasparian for a free case consultation. Mr. Gasparian works closely with families to make sure they receive the support they need through such a difficult period.