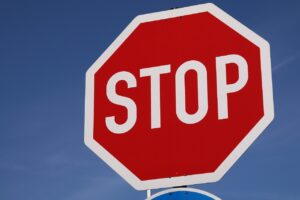 Two ways stop sign intersections in rural sections of Fresno County can be dangerous spots. Many accidents occur because drivers can lose their focus on the road and don't realize that there's a stop sign ahead. They never slow down, and that puts them in the path of drivers with the right-of-way who aren't required to stop.
A vehicle can be struck at full speed to cause traumatic injuries to motorists in both vehicles. Victims can suffer fractured bones and head and neck trauma. In severe cases, victims can have their lives placed in jeopardy.
Fresno Stop Sign Accident Kills One Victim and Badly Injures Another
A woman was killed and a driver seriously injured after a collision at an intersection in Fresno County Monday afternoon. The Fresno Bee reported the accident occurred at the intersection of Temperance Avenue and North Avenue southeast of Fresno on November 21, 2022.
The California Highway Patrol responded to the crash sometime after 5 p.m. They determined that a Toyota Corolla was traveling south on Temperance Avenue when the 25-year-old woman driving failed to stop for stop sign at the two-way intersection. The car traveled into the intersection where it was hit by a Ford Pickup Truck traveling east on North Avenue. The truck broadsided the car on the passenger side.
A 57-year-old Clovis woman riding in the Toyota was badly injured in the collision. She was rushed to Community Regional Medical Center in Fresno where she later died. The driver of the Ford truck, a 47-year-old Fresno man, suffered major injuries and was also taken to the hospital.
The California Highway Patrol continues to investigate the circumstances that led up to the crash. They don't believe drugs or alcohol played a role in the accident.
Support for Victims and Families After Fresno County Collisions
For families who have been forced to say goodbye to a loved one after a driver's mistake, a wrongful death claim will provide a way to secure support to protect close relatives.
Families who face the costs of a funeral and ambulance fees can seek financial help from an at-fault driver's car insurance provider. A claim can ask for help with these bills and other losses, like the weekly wages the deceased can no longer provide the family in the years to come.
Those hurt in frightening accidents must often deal with difficult and expensive recoveries. For surviving victims, a claim for damages against a car insurance company is an important option. This claim asks for help with every medical bill now and in the years to come. It also seeks to support victims while they are unable to work.
Contact a Fresno Car Accident Lawyer
If you or a loved one has been the victim of a careless driver, you can talk over your options with a personal injury lawyer serving victims in Fresno and across Central Valley.
Contact a legal professional from Maison Law for a free, no-obligation consultation. It's a no-risk way to find out what your accident is worth and what you should be holding an insurance company to. Don't depend on an insurance adjuster to tell you about your rights and every benefit available to you and your family.