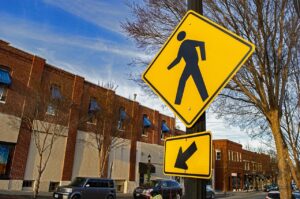 Pedestrians traveling across Turlock will find that walking in certain parts of the city is especially hazardous. Busy sections of Turlock will see more careless drivers who aren't always watching the road or the sidewalks or crosswalks.
Motorists are legally responsible for slowing down no matter where they encounter a pedestrian, but reckless drivers often ignore this duty. These mistakes leave a defenseless person on foot at risk of a devastating impact.
Man Killed in Hit-And-Run Pedestrian Accident in Turlock
A pedestrian tragically lost his life after being hit by a driver who left the scene Tuesday afternoon in eastern Turlock. The Turlock Journal reported the accident happened on Fulkerth Road near the Tully Road intersection on October 12, 2022.
Turlock Police got the call about the accident at 3:31 p.m. They discovered a victim who had been hit by a car. The man was declared dead on the scene.
They say that the driver involved did not remain on the scene. Officers spoke with witnesses and were checking with surrounding businesses to see if any surveillance footage of the collision existed.
Turlock Police are looking for a small white car. It may be a 2004-2007 Acura. The car will have significant damage resulting from the crash. A description of the driver was not released.
If you have any information about the driver or the vehicle involved, please contact the Turlock Police Department.
Support for Families After a Turlock Pedestrian Accident
The families of pedestrian accident victims are often given little time to grieve before the bills that follow a tragic collision come due.
For close relatives, filing a wrongful death lawsuit against an at-fault driver's insurance company will be necessary to cover these sometimes enormous costs.
Family members should receive full support for the cost of a memorial service and burial. They should get help with ambulance fees and any other hospital bills left behind. A claim should also seek economic help for a spouse, children, and grandchildren as they face a future without guidance and financial support from the deceased.
Contact a Turlock Pedestrian Accident Lawyer
To secure protection for you and your family after a tragedy, talk to a Turlock Pedestrian Accident Attorney like Martin Gasparian. Mr. Gasparian, the founder of Maison Law, has an extensive background in safeguarding families across Stanislaus County after terrible accidents.
Contact Maison Law for a free and confidential case consultation. Martin Gasparian believes that families should be informed of everything available to them and remain completely protected after losing a loved one.