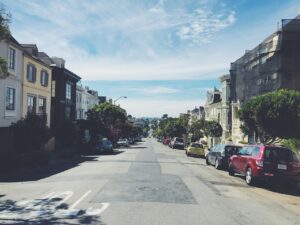 San Francisco is a city known for its hills. The many rises on city streets can make it hard for drivers to see what's ahead, but that's no excuse for motorists who cause pedestrian accidents. Drivers have a legal duty to slow down at an intersection anytime a pedestrian may be nearby.
If a driver can't see what's ahead, it's all the more important to slow down and allow enough reaction time to prevent a tragedy. Pedestrians travel defenseless against a strike from a car and that's why drivers are held to an elevated standard and must always be on the lookout for those on foot.
Two Women in Crosswalk Struck by Car in San Francisco
One woman was killed and another badly injured after a car ran through a crosswalk Monday morning in San Francisco. ABC-7 News reports the pedestrian tragedy happened in the Sunset District at the intersection of 24th Avenue and Santiago Street around 11 a.m. on October 25, 2022.
A witness said that two elderly Asian women were in the crosswalk when a car struck them. A witness says the car appeared to be speeding. San Francisco Police did not release information on the identities of the victims, but they did confirm that one victim was tragically killed. The other pedestrian victim was rushed to the hospital in serious condition.
SFPD Investigators talked with the driver responsible, but have not said if charges will be filed in the collision. One city official says 2022 is on track to become the worst year for traffic fatalities in San Francisco in almost a decade.
Finding Support for Victims and Their Families After a San Francisco Pedestrian Accident
Victims of frightening accidents must often deal with long and difficult recoveries. Families who have lost a loved one will, of course, never completely get over the pain and grief of such a heartbreaking tragedy.
For the close family members of pedestrian accident victims, a wrongful death claim filed against an at-fault driver's insurance company may become necessary. Close relatives may face the costs of a funeral, and emergency response all at once and risk extreme financial difficulties. A claim can ask for assistance with these expenses and other losses, like the wages the deceased had always provided through his or her job.
For surviving victims, a claim for damages can prove the best option when trying to get every cost of recovery reimbursed. A basic insurance settlement may only cover the first few days in a hospital. The settlement could ignore the potential medical expenses that lie down the road including weeks of physical therapy, injury flare-ups, and future surgeries.
Contact a San Francisco Pedestrian Accident Lawyer
A tragic accident can leave victims and close relatives facing unhelpful insurance companies on all sides. It's important to have a legal expert safeguarding a family's interests at such a vulnerable time. Victims should never face a financial crisis now or in the years to come over a careless driver's mistake.
Family members can contact an experienced San Francisco Pedestrian Accident Lawyer such as Martin Gasparian for a free and confidential case consultation. Mr. Gasparian works closely with victims and their families to make sure they get the support they need.