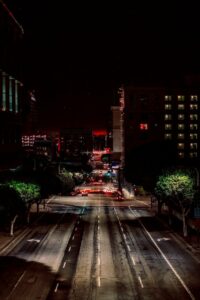 Travel on Los Angeles streets at night can be hazardous. L.A. drivers seem to get more careless and reckless in the early morning hours and they are especially prone to mistakes around busy intersections.
Safe drivers may trust that other motorists will obey the right-of-way in intersections only to find a vehicle suddenly in their path. Drivers may have little time or space to avoid a devastating crash and serious injuries.
Multiple Vehicle Crash Involving Taco Truck Injures Two in Downtown L.A.
Two people were injured in a Downtown Los Angeles overnight crash involving a food truck, a Metrobus, and other vehicles. NBC Los Angeles reported the accident occurred early Friday morning at the intersection of 18th Street and Broadway just off Freeway 10.
Los Angeles Police responded to the scene sometime after 2:30 a.m. on September 16, 2022. Officers say the accident involved several vehicles.
A man in his 70s on the bus was rushed to the hospital with injuries. The driver of the food truck was treated for her injuries but was not transported to the hospital.
The Los Angeles Police Department continues to examine the circumstances surrounding the accident. They believe one driver involved may have left the scene. They are looking for a hit-and-run suspect.
Support for Los Angeles Accident Victims After a Multi-Vehicle Crash
Chain-reaction crashes involving many vehicles can leave drivers and passengers with injuries they may not immediately notice. Some injuries are obvious, but in the shock of what's happened, victims might not realize they are experiencing internal bleeding or suffering from a hairline fracture until a day or two later. It's critical that all victims get even minor car accident injuries checked out to make sure they haven't suffered something more serious than they think.
After victims have suffered an injury, at-fault drivers and their car insurance providers must be called upon to pay for all recovery costs. That may just involve a night in an emergency room, but support could also be needed for weeks of hospital care and physical therapy.
Traffic accident victims could file a claim for damages and also receive compensation for the time they must miss at work and for the physical and emotional pain they've endured.
Contact a Los Angeles Car Accident Lawyer
If you or a loved one were hurt in a car accident talk to a Los Angeles Car Accident Attorney about the benefits you and your family have available to you.
Contact Maison Law to schedule a free and confidential case consultation. Martin Gasparian, the founder of Maison Law, believes that families should be informed of everything available to them and remain completely protected after an accident.