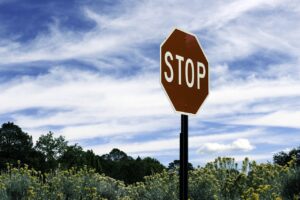 Rural roads across Kern County can feature long straightaways that sometimes lull drivers into inattentiveness. These long stretches may also leave careless drivers unaware of the speeds they are building up.
An unexpected stop sign may appear ahead and a driver could miss seeing it or have too little time to stop. These mistakes can cause devastating impacts and leave drivers and passengers with life-threatening injuries.
Two Killed in Stop Sign Violation Accident in Kern County
Two people were killed and another person was injured in a collision at a 2-way stop sign intersection southwest of Wasco. KERO-TV reports the accident occurred Tuesday night at the intersection of Kimberlina Road and Magnolia Avenue on July 26, 2022.
The California Highway Patrol responded to the scene after 9:30 p.m. They determined that a 28-year-old man driving a Honda north on Magnolia Avenue failed to stop at a stop sign and began to cross Kimberlina Road. A Toyota RAV4 traveling west on Kimberlina Road struck the Honda.
The driver of the Honda and a passenger were both declared dead at the scene. The driver of the RAV4 was rushed to Kern Medical with serious injuries. California Highway Patrol officers continue to investigate the circumstances surrounding the accident.
Finding Support for Victims After a Kern County Accident
Surviving victims in frightening collisions can face long injury recoveries and enormous medical bills. Medical care may be needed for much longer than a night in an emergency room and additional surgeries or physical therapy may be required for months to come.
Injured victims can request financial support from an at-fault driver's car insurance policy. This support should cover all medical expenses. The compensation is also intended to help keep healing victims afloat financially while they may miss days or weeks of work.
For families who have lost a loved one in an accident, a wrongful death claim can provide a financial safety net for close relatives as they grieve. Families may face the incredible costs of a funeral and even emergency response fees. The claim should also help the family deal with a future without the care and financial support the victim could've provided. An at-fault driver's insurance company can be called upon in a wrongful death lawsuit to provide relief to a family forced to endure such a tragedy.
Contact a Kern County Car Accident Lawyer
If you or a loved one was the victim of a careless driver, don't allow an insurance adjuster to determine how much support you should receive. They work for their insurance company and want to save money for their shareholders. Your family's financial security after a tragic accident is much more important than their profits.
To make sure you and your family are protected from an insurance company's unfair practices, contact an experienced Kern County Car Accident Lawyer such as Martin Gasparian for a free case consultation. Mr. Gasparian works closely with victims and their families to earn them support as they rebuild their lives.