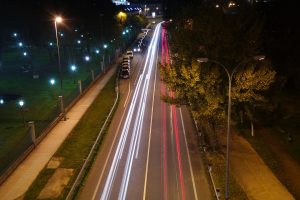 Pedestrians must deal with a lot of hazards and less than safe situations when they travel across Bakersfield. They must often walk a half-mile or more to find safe crosswalks and then must confront careless drivers.
The risks only grow when drivers who have been drinking or using drugs get behind the wheel. An impaired driver can't show the type of caution needed to ensure pedestrians are able to cross streets safely. Accidents can occur and those on foot may suffer life-threatening injuries.
Woman Tragically Struck and Killed By Bakersfield DUI Suspect
A woman lost her life after being hit by a vehicle in southern Bakersfield Wednesday night. KGET-TV reports the accident occurred sometime before 11 p.m. along the 1300 block of Berkshire Road.
Upon arrival, Bakersfield Police officers located the victim down in the roadway. They discovered the woman had been struck and killed by a vehicle. The driver was not on the scene.
The driver involved, a 21-year-old man, later returned to the scene. Police say at that time he was under the influence of a drug or alcohol.
The suspect was taken into custody for two felonies and two infractions, including vehicular manslaughter. Investigators also believe that speed played a role in the accident.
Support for Families After a Tragic Bakersfield Pedestrian Accident
Families can receive word they've lost a loved one in a pedestrian accident and soon face the financial consequences of such a tragedy. Burial costs and ambulance fees can come due and leave close relatives confronting an economic crisis. These bills arise just as a family may be losing the steady income a spouse or a father or mother had always provided.
The family should seek to protect themselves in the present and in the years to come. They may file a wrongful death claim to receive support to cover these costs and seek reimbursement for the love and financial support they've been robbed of in the years to come.
When a DUI suspect is responsible for a deadly accident, families can move forward with a civil claim no matter where the driver's criminal trial stands. These are two separate cases.
Contact a Bakersfield Wrongful Death Lawyer
After your loved one has become the victim of a careless driver, reach out to a Bakersfield Wrongful Death Lawyer to find out how to earn fair support. Insurance companies are often reluctant to provide full compensation for everything a family faces after a pedestrian tragedy.
Martin Gasparian, the founder of Maison Law, works to protect families after a devastating accident. He strives to see that relatives receive everything needed to help ease their hardships through such a difficult time. Mr. Gasparian also wants to make sure the victim's family members aren't left facing financial hardships years down the road.