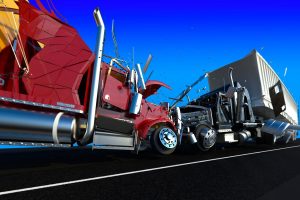 Big rigs and farm trucks travel Bakersfield highways all day long, and they can be part of devastating accidents. With such big vehicles taking up lanes, truck drivers and other motorists can have little room to avoid sudden hazards and steer clear of an impact.
A driver veering into the wrong lane or traveling too fast to brake in time can cause a collision that results in severe injuries for victims.
Nine Vehicle Pile-Up Injures Five People in Bakersfield
A multi-vehicle collision in central Bakersfield left five people with injuries Thursday afternoon. KGET-TV reports the accident took place just before 4 p.m. along Highway 58 near the H Street exit on June 16, 2022.
The California Highway Patrol (CHP) responded to the westbound lanes to find a semi-truck carrying hay had overturned and caught fire. Two other big rigs were involved in the crash as well as six other vehicles.
Two people were transported to the hospital with major injuries, including a semi-truck driver. Three other victims were also treated for injuries. All victims were expected to recover.
Investigators do not believe alcohol or drugs were involved in the accident. The CHP continues to examine the circumstances surrounding the crash.
Finding Financial Support After a Bakersfield Big Rig or Farm Truck Accident
For victims who have survived a frightening highway accident, injury recovery will be the priority. Once injuries have been stabilized, victims will unfortunately also have to focus on getting all parties responsible to pay for every cost of medical care.
Injured victims are encouraged to file a claim for damages against an at-fault driver's insurance company. This claim can ask for help with every recovery expense. It should also seek reimbursement for every paycheck missed while the patient is held out of work.
When a driver who works for a trucking company or a farm causes a collision, there may be more than one insurance company involved in an injury settlement. The driver's own commercial truck insurance could be called upon. Employers may also be forced to cover their driver's mistake and provide a settlement check.
Contact a Big Rig Accident Lawyer in Bakersfield
If you or a loved one were the victims of a careless truck driver, don't speak with an insurance representative before going over your options with a skilled Bakersfield Truck Accident Lawyer.
Your personal injury lawyer will go over every benefit available to you and help you determine every party that should be contributing to your recovery funds.
Contact Martin Gasparian, the founder of Maison Law, for a free case consultation. Mr. Gasparian works closely with victims and families to earn the compensation they'll need to get back on their feet again physically and financially.