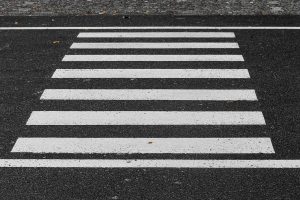 Pedestrians around Visalia's busiest intersections aren't given a lot of protection as they travel. Faded crosswalk lines and short walk times offered by crosswalk signs reduce the chances that those on foot can make it across an intersection safely.
These infrastructure issues don't even cover the threat from careless drivers who should be paying extra attention at intersections to make sure pedestrians are kept safe. Drivers in a hurry may miss spotting a pedestrian and proceed into a frightening accident.
Two Hospitalized After Victims Were Struck By Car in Visalia
Two people were rushed to the hospital after getting hit by a vehicle west of downtown Visalia Tuesday evening. KFSN-TV reports the accident took place around 6 p.m. at the intersection of Demaree Street and Noble Avenue, just off of Highway 198 on May 11, 2022.
Visalia police say a younger driver at the wheel of a car ran a red light and struck a man and woman crossing the street. The two victims were taken to the hospital with injuries.
The driver remained on the scene to cooperate with investigators. Officers do not believe drugs or alcohol played a role in the collision.
Earning Assistance for Visalia Pedestrian Collision Victims
Surviving victims of pedestrian accidents must often deal with difficult recoveries, even when injuries appear to be minor. Sometimes the shock of the accident can mask the pain of a more serious injury that appears in the days that follow.
Filling a claim for damages against an at-fault driver's insurance company can ensure victims don't get charged for even a cent of their recovery costs. Victims can require compensation for an emergency room visit and extended medical care in the weeks to come. They must also ask for help replacing the paychecks they've missed while dealing with too much pain to return to work.
Contact a Visalia Pedestrian Accident Attorney
To secure protection for you and your family after a pedestrian accident, talk to a Visalia Pedestrian Accident Lawyer like Martin Gasparian. Mr. Gasparian, the founder of Maison Law, has a long history of safeguarding victims and their families in Tulare County after terrible accidents.
Contact Maison Law for a free and confidential case consultation. Martin Gasparian believes that victims should be informed of everything available to them and remain completely protected from insurance tactics after a pedestrian accident.